Pelle Santino Shoes will justify the integrity of your tens of thousands rupee Custom Suit. Pelle Santino has all the quality, style, and durability to make it worth invest in Pelle Santino Shoes. Recently, Pelle Santino has propelled Oxfords, derbies, monk straps, and loafers to their rightful place – at the top of the footwear podium, and the designs have never looked better.
Bringing in the most prominent craftsmen and providing them with some of the best materials to work with – The brand puts artisanal expertise into every pair. Pelle Santino Shoes are crafted from smooth Full Grain leather atop sleek leather soles, with a 360° Goodyear welt (the strip that runs along the perimeter of a shoe's outsole).
It's a strong way to craft a shoe for added resilience and reliability. The Goodyear Welted sole affords footwear durability due to reinforced stitching and a leather ribbon that holds all parts of the shoe together. For this level of exclusivity, the starting price of ₹5k is more than reasonable.
What's even better is that Pelle Santino now has a plethora of options in colors and construction methods to choose from. Never before have dress shoes been more fun. Here, we have rounded-up the 4 pairs of Pelle Santino Shoes review that will take you from work to bar in style:
Pelle Santino Shoes
There are numerous styles of shoes out on their official website, but what's great about being a man is that you can do perfectly well by sticking with just a few. You don't need to maintain some Carrie Bradshaw–esque obsession about the latest and boldest. If you invest in a few sensible (and stylish) pairs and take care of them, you'll be set for years. So get your feet ready to look bolder than they ever have before. Here are the four best Pelle Santino Shoes – so far.
Pelle Santino Shoes:
---
Pellé Santino Goodyear-welted Wingtip Oxford
A Premium Dress Shoe, Without A Premium Price Tag!
Pros
Durable

Snug Fit
Versatile
Best Value
---
₹ 73,16,950: that's how many rupees you'll look like when you wear 'em. A case in point is these sophisticated Wingtips that can easily hang with any other dress from a super-luxury brand but will cost you about half as much.
This Wingtip Oxford is from Pellé Santino's Flagship Goodyear-welted range. This range truly represents the highest level of both design and craftsmanship capable of the firm. For this Wingtip Oxford, Santino leverages their full creative and technical resources.
The devil is in the detailing. Their extra texture makes wingtips a mite more casual than plain lace-ups, so they're happy sat beneath your dark denim as well as your suit.
Every now and then, you get a full brogue that just looks a bit too cluttered, with too much detail involved. But with a very high stitch density, Santino's take on Wingtip Oxford is pretty sleek and we get a nice piece of clean leather.
The pattern and the almond toe last design, all showed the type of finesse and balance that one would expect from Santino. Almost all the seam elements are brogued creating an exceptional amount of visual detail on this shoe.
This Wingtip Oxford features a 360-degree Goodyear-welting.
In our opinion, a Goodyear welted shoe, in terms of construction, is what separates the men from the boys. This is not to say that men who wear other constructions are boys, but in terms of a shoe's integrity, Goodyear welted shoes will last you longer than most.
In fact, Pellé Santino's Goodyear-welted range works as a trailblazer and outlines the capabilities of Goodyear welted shoe factories in SE Asia – which are generally excused.
It is generally regarded as the best construction in terms of comfort and durability as well as ease in terms of reparation.
The label takes it one step further by bidding for a 360° Goodyear-welted construction. Now with this construction, we see the welting doesn't stop at the arch or the base of the heel – it goes back around the heel. This allows a little more flexibility in replacing the sole without disturbing the integrity of the upper.
Santino complements such durable sole construction with an equally graceful upper. Featuring a Full Grain Leather Upper (the highest quality grade of leather money can buy) comes from the top layer of the hide and includes all of the natural grain.
It is more expensive for manufacturers to buy and more difficult for them to work with. But Santino makes sure that you put your hands only on "The Best" without stretching your wallets.
Goodyear-welted Wingtip – Black
Goodyear-welted Wingtip – Cognac
Full-grain leather is extremely strong and durable, as the natural grain contains the strongest fibers in the hide. With such leather, this Wingtip Oxford ages, rather than wearing out. it burnishes and beautifies, developing a much sought-after patina and unique character that cannot be easily duplicated.
At ₹7199 (after applying our discount code 'BS99'), this Wingtip Oxford is an exceptional shoe at an incredible value because it is starting to show some nuanced elements of high-end shoemaking that one would expect from a ₹20k shoe.
If you've to Buy one shoe that epitomizes the ethos of Pelle Santino's craftsmanship – this is the one. Although these shoes may cost just ₹7199 if you use our exclusive "BS99" discount code, they can last for many years with proper care.
---
Pellé Santino Goodyear-welted Tan Chelsea Boots
Stylish, Comfy, Affordable, And Hard-Wearing; The Dream Combo.
Pros
Workhorses
Sleek Silhouette
Extremely Versatile
Comfortable
Chelsea boots are a wardrobe staple for every stylish gent. Thanks to their timeless shape and design, these simple yet sophisticated shoes are a must-have for men of all ages and styles.
On to Pellé Santino's Chelsea Boots and it seems they've settled on a simpler shape as a rule. And it's not hard to see why: this versatile design is ideal for the modern-day office, can be worn on the weekend, or even with black tie events.
But just as of its powerful and heavy build quality, the label has managed to rid this classic boot of its Mod-ish connotations and give it a tougher, biker rep.
Thanks to their sleek and smooth aesthetic, these leather Chelsea boots appear smart and can easily be worn as dress shoes with many polished outfits. Full-Grain Leather Upper adds some extra flairs to the versatility of this boot, as with its trendier younger brother – Suede Chelsea Boots.
Constructed from two parts, each made from a single piece of leather: the vamp and the quarters. The vamp and quarters are not sewn one on top of the other. Instead, they are sewn together in one plane below the ankle.
Such leather tells a story and reveals natural imperfections, marks, and even light brands on the surface. Extremely strong and durable, as the natural grain contains the strongest fibers in the hide.
Goodyear-welted Chelsea – Black
Goodyear-welted Chelsea – Tan
Now, what makes this fashionable bad boy a functional gentleman, is the 360° Goodyear-welted construction. It is a process of stitching thin strips of leather to the sole, midsole, and upper of a shoe for added comfort and durability.
To justify their already appealing price tag, Santino submits a Cork Footbed in these Chelsea Boots. Cork is buoyant, elastic, and water-resistant, making it a great material for shoes/boots.
Since it can mold to the shape of your foot, cork is an ideal material for footbeds. Boots with a cork footbed can mold around your foot, giving the orthopedic support and comfort you need.
These Chelsea boots are extremely versatile and can be successfully worn with both casual and more formal styles. Their straightforward and clean design means that they can complement a range of outfits without clashing or seeming uncoordinated.
---
Pellé Santino Goodyear-welted Monk Strap
Time To Step Up Your Shoe Game.
Pros
Timeless Design
Roomy Toebox
You'll turn twice the heads
Versatile
Humble shoes have their place in life. But when you decide you're done kicking around, nothing gets you to that next step quite like an investment in grown-up footwear. We're talking Pellé Santino's Monk Strap – the most enduring footwear styles of all time. Classy yet fashionable, they can be slipped on and off and are perfect for the lace-adverse gentleman.
The perforated cap-toe lends it a dash of formality with a sophisticated note. This double monk strap provides the perfect opportunity to show some personality.
Their edgier appearance works well for casual and business casual occasions, as well as weddings and parties. There is so much more to this shoe than initially meets the eye.
At first glance, Pellé Santino's Monk Strap is a beautiful, elegant, and well-balanced slip-on shoe, especially for a double monk-strap that can easily look clunky and heavy.
Santino uses higher quality leather linings that are more comfortable and more durable. As the materials used to line leather shoes are as important as the materials used to construct the uppers. You can feel the difference the second you slip on a pair of shoes lined in luxurious leather.
Goodyear-welted Double Monk – Black
Goodyear-welted Double Monk – Tan
This Monk-Strap exhibit the beautify of a 360° Goodyear-welted leather shoe is that because it's Goodyear-welted (which is "The De Rigueur" of high-end shoes) is that it is only going to get more comfortable with time as your foot sets into the shoe and the shoe is allowed to begin molding around the foot.
Unquestionably, this shoe is versatile – Ditch your trainers or loafers in favor of these smart monk straps paired with slim-fitting jeans. But do not overlook – The quintessential sartorial accompaniment to the monk strap shoe is a well-tailored suit.
At ₹7199 (if you use our exclusive "BS99" discount code) – Add a little attitude to your ensemble with these handsome devils. Make sure your trouser leg is slim and cropped enough to let them shine.
---
Pellé Santino Cap Toe Oxford
Premium Cap-Toe Without Premium Price-Tag
Pros
Affordable
Classic Design
Snug Fit
Versatile
The budget-minded gent shopping for his first pair of nice shoes should avoid thinking that the more he pays, the better the shoe. With your budget and desired features in mind, Pellé Santino's come up with Sleek Blake Stitched Cap-Toe Oxford.
Despite this presidential pedigree, Pellé Santino remains accessible to the masses with this affordable line and this Cap-toe Oxford stand on peak.
Having a solid arsenal of dress shoes at the ready for your spiffier moments is key. Because nothing can brick a nice outfit like a pair of outdated or just ill-chosen lace-ups and, by the same token, nothing can elevate your style like this pair of Cap-toe Oxford (even if you're on a budget).
These are reliable leather lace-ups you turn to whenever you need to look smart. Nothing else comes close. The style, unsurprisingly, gets its name from the production technique, which sees an additional piece of leather stitched over the toe.
These are smart shoes – proper shoes – particularly in polished leather, so tailoring and formal trousers are a natural pairing.
There's greater flexibility when it comes to your work wardrobe. You won't put a foot wrong in these cap-toe Oxfords, but styles with brogue detailing make them a degree less formal without falling foul of the strictest staff handbooks.
Blake Stitched Captoe – Black
Blake Stitched Captoe – Cognac
That's thanks to the oxford's "closed-throat" construction, in which the leather around the laces (the quarters) meets at the base, where it's sewn into the leather that stretches down your instep and towards the toe (the vamp).
These Cap-Toe Oxfords are ethically crafted in a small workshop from gold standards Full Grain leather sourced from the best tannery using a Blake stitch construction as well as a leather lining.
---
While connoisseurs will often have a preference for Goodyear welted shoes, there is a lot to be said for the Blake stitch. Not only is it an older shoemaker technique but it offers a quicker breaking in period, a slimmer profile, and is often cheaper.
Additionally, the outsoles can still be recrafted multiple times, unlike cemented shoes. Therefore, you'll have shoes that will last you many years to come if you look after them.
At ₹4769 (if you use our exclusive "BS99" discount code) – This Cap-Toe Oxford is the perfect version of whatever you need. If you're a man who wears suits, you absolutely should own at least a pair in black and a pair in brown. You can thank us later.
---
Here Is How It All Started – In A Nutshell
Pellé Santino was built out of frustration. They were frustrated with the formal shoe options available on the market. Formal shoes pretty much fell under two categories in India. Either you buy super expensive or overpriced formal shoes with a big logo.
And on the flip side, go for a super cheap alternative – where it is like glue on soles that didn't hold on and you ended up having to toss them out. They wanted to bridge the gap, So Mr. Mikhil Mehra comes up to change the scenario.
Mr. Mehra created Pellé Santino in 2016, and they have taken off like crazy since then. They bring to the table a world-class product, at an unbelievable price.
The reason for that is simple (and they are very transparent about that) – they use the direct-to-consumer model, which allows them to dump off the markup added by the wholesaler and retailer.
They were actually bypassing the long-time model with a retailer in the middle. Their shoes are ethically crafted in a small workshop from full-grain leather using a Blake stitch construction.
Recently Launched The Goodyear-Welt Range to heat-up their already appealing arsenal. This collection truly represents the highest level of both design and craftsmanship – capable of the firm.
Are These Fascinating Pairs Really Worth Investing In!
Pellé Santino shoes might be considered a luxury, but the benefits are far more than a just status symbol. Of course, you can buy "Similar Looking" dress shoes for just ₹1k. However, there is so much more to Pellé Santino shoes than initially meets the eye.
But Why You Should Invest In Pelle Santino Shoes?
Calm down, I'm not here to try to denigrate one or the other brand to make Santino bigger, nothing like that, in the course of this guide you will understand what exactly it is.
Not Price! The price isn't always a good indicator of shoe quality. For example, designers such as Gucci, Armani, Tom Ford, and others automatically charge more because they have a name, no matter what the construction of quality of the shoe.
The only way to truly understand what you are getting when you buy a pair of shoes is to educate yourself before you buy. Beneath, We've outlined some quality hallmarks that make Pelle Santino shoes worth their price tag.
Build Quality
Under a simple and sleek design, it's a setup that is crafted to be in splendor for years (if not decades). Taking into account a good pair of Pellé Santino can last a decade or more—a.k.a, three pairs of cheaper shoes—then ₹5k isn't so painful. Especially since you can wear those wingtips anywhere: work, drinks, dates, weddings, parties, literally any day of the week.
Put simply, the detail and thought that goes into Pellé Santino's shoemaking process stands this brand head and shoulders above other shoemakers. 

This Indian shoemakers use a 360° Goodyear welt construction, which basically makes the shoes immortal. Such a construction method rules the realm of shoe production.

Pelle Santino top of the line shoes is organized in their Goodyear-welted range. 

The label has selected this method to manufacture long-lasting pairs of shoes that could be easily resoled and recrafted to elongate the life of a single pair of shoes.

Essentially, a strip of leather is stitched to the shoe upper which leaves a welt upon which the sole is then stitched. Therefore, a space between the insole and the outsole is filled in with a cork mixture that will then be enclosed between both leather soles.

This particular way of manufacturing dress shoes will enable easy resoles as well as having a cork filling than is molded to the wearer's particular foot shape.
Also, because the process is labor-intensive, Goodyear welted shoes are often more expensive than other types. We have seen several manufacturers using latex (instead of Cork) to fill the cavity. Skipping such essential steps reduces cost; but we'll fetch-up with the same baloney, even after paying the premium.
Material
It is not just about Goodyear Welted sole that affords footwear durability due to reinforced stitching and a leather ribbon that holds all parts of the shoe together.
The most important factors in determining the shelf life of a Goodyear-welted shoe are the material used to make the shoe (e.g. first-rate leather) and how this material is processed.
Nothing Smells Like Real Leather!…
…we used to say that.
Today, you can be fooled. Can't even trust your nose anymore. Companies use a fragrance that smells like real leather. And to sell the shoe for a ₹1k retail, the leather must be cheap.
That means second or third-grade leather that is then sanded and pigmented with dye to cover up all the flaws. Even though it may not look very different than a high-quality leather when new, once you walk in it, you create creases, and the pigmented leather will just age very poorly.
When it comes to real Full-Grain Leather, make sure you trust someone who stands behind their products – Pelle Santino does that. Full-grain is a side of the leather with the complete grain intact. The surface hasn't been altered except the hair has been removed.
This leather can include natural markings such as scarring, blemishes, insect bites, branding, and stretch marks. But these markings are considered the signature of fine leather goods. Since the grain is fully intact, its fibers contribute to its strength.
The leather will absorb moisture and oils from handling it over time. And this leather will patina beautifully. The slick wear, a bit of color change – that only real leather can offer.
Oil and moisture of your feet smooth and slicks the leather. Pelle Santino thinks your shoes only going to get better – it was built with character.
You also just have only to break it in once, and you can even play with the patina. If it's a lighter color and you want to make it darker, it's no problem because it's open-pore leather.
That being said, even the best materials are of no use if the processing is slapdash; said materials need to be meticulously processed, and reinforcements need to be carefully and discreetly integrated.
Luckily, a happy symbiosis exists between quality materials and how they are processed: premium leather is only acquired by companies committed to premium processing, and premium processing is reserved for premium leather.
They Do Not Make Shoes For 'Enthusiast'
When a label decides to intensify its shoes with Higher-end materials and construction methods, it is like opening a new environment – that's full of Inducing Enthusiast Level Features.
Hard Countering, Invisible Channel Stitching, Welt Fudging, Very High Stitch Density, A Tight Fiddleback On Its Waist, Finished Bottom, and the list goes on. Switching to these "Enthusiast Level Features" will attach any label up with some of the best dress shoe brands in the world. Such elements are more than enough to raise heat around the label and, pretty much, a more peaceful approach to create buzz.
It can be a next-level dedication to the enthusiasts. But part of the answer is "Enthusiasts only make up a very small percentage of the overall market of anything, but especially in dress shoes". And while pursuing those "Enthusiast Level Features" – brands might end-up with the massive cost behind crafting such dress shoes.
But Pellé Santino shoes are something that appeals to everybody. Their shoes nail that perfect sweet spot where pieces are significantly pragmatic and practical – without going too crazy in the massive sartorial world.
Within their collections, Santino leverages their creative and technical resources only to the most pragmatic and practical extend. They only work on those elements that have an impact on comfort, durability, and versatility.
So when you're investing in a pair of Santino – we can attest to the fact that you're not paying for connoisseur level elements or big brand name. Now what you're paying for is a shoe that is crafted by utilizing time-tested techniques to enhance the durability, comfort, and kind of cover you on a daily basis.
---
These Fascinating Shoes Are Made For These Gentlemen
Pelle Santino shoes are (undoubtedly) offering amazing value, which is really hard to strike. But as you have prepared to invest ₹7k in a quality pair of dress shoes – there are several exceptional men's Indian shoemakers' that you should explore.
Anyone of them with their unique take on traditionally-made dress shoes would make a great inclusion to your wardrobe, solidifying and exemplifying that unique and classic style you have.
And the best way to ensure you're spending that money wisely? Know the playing field. Exclusively something made just for you – is arguably the greatest luxury.
Before you'll be able to Nail – What Is For You? [That is to say -what you love or what fits your style the best] – you must match your style with the message that a shoemaker wants to convey through their work.
That's why we're zooming in and panning down to give you a sketch of What Pelle Santino Shoes Convey? or Who Is It For? This section of our guide on Pelle Santino Shoes will help you invest wisely; You can thank us later.
If You're Looking For An Extremely Durable Dress Shoe
If you don't desire to get out of an ever-running cycle of replacing your dress shoes every six months (hello – Cemeted Dress Shoes) with hard wear – Pelle Santino shoes are far ahead of your range.
Pelle Santino shoes are known for their durability and firm build quality. These are the shoes that will easily last for years (if not, decades) if taken care of while resting in splendor. We've already discussed the reasons for such longevity – Full Grain Leather, 360° Goodyear-welt construction, and Cork Footbed.
Aside from the aesthetic advantages of the dense fiber structure of the Full-Grain leather (it maintains its integrity for much longer), 360° Goodyear-welt construction is less permeable to water and naturally water-resistant.
Note these do take a few wears to form to your foot (Got that Cork Footbed), but they're all levels of comfortable once they do.
Giving out the durability award to a label is really tough – and there is a simple reason behind it. There are 5 trillion factors that will be taken into account when trying to even give a rough estimate of the durability of a shoe.
Where you live, what the weather is like where you live, how often you wear your shoes, do you use shoe trees, do you rotate your shoes, etc.
Pelle Santino gives you a better product of what it means to own good shoes, care for them, and the assurance of them lasting the amount of time that you would like them to.
If You Love Classic And Time-tested Designs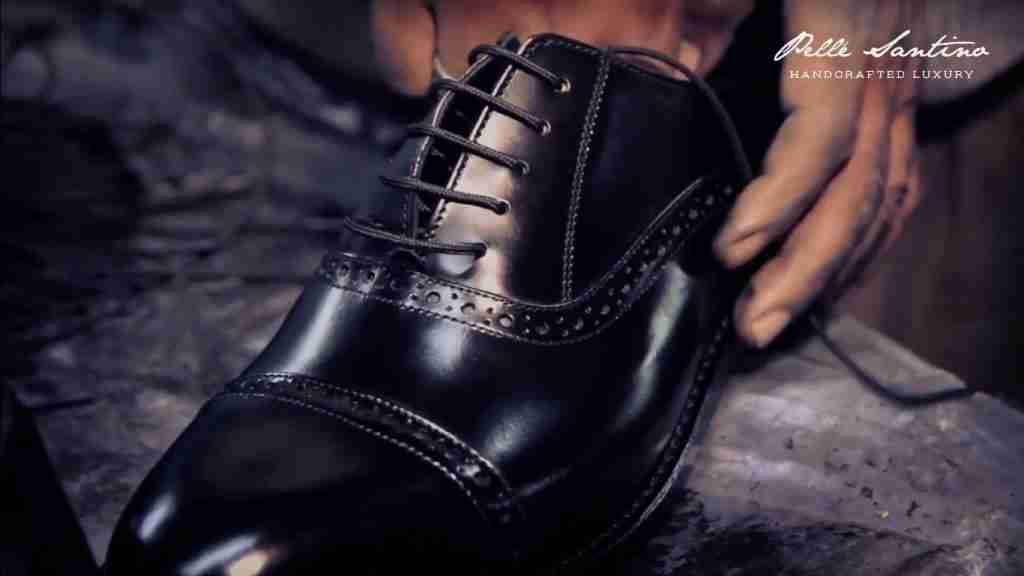 Trends may come and go but certain elements of design will never go out of style -NEVER! If you want to create a classic look that will stand the test of time make sure you buy Pelle Santino shoes. They don't even try to strike a balance between Classic and Trending. The label totally relies on time-tested design and techniques to craft them.  
Trends are anything but timeless. In fact, it's rare for any trend to last more than a few years, and they pretty much have built-in expiry dates. A trend whose day has come and gone can immediately date a shoe, and no matter what else you put in there it will be tough to overcome.
The idea with Pelle Santino's range is to offer something that appeals a bit more to the very Classic Gentleman for whom trendy styles are a bit too forward. But it doesn't mean Pelle Santino shoes are not versatile. You do have something for every walk of life. It's quite broad and serves almost every purpose.
---
---
How can we improve BestShoe99? Got feedback?