Goodyear Welted Shoes: It's not a typical Google Search made for Goodyear shoes. In fact, It's an effort towards a notion that is aspired to be a gentleman. And believe us, it's a notion that's unbeknown to 99% of guys out there.
It might sound too complicated, but Goodyear welt is the time-honored method of attaching sole to upper to achieve a mechanical join and eventually a shoe that's powerful enough to handle you… for years!
We've sung the praises of Goodyear Welted shoes India so many times in the past year or so, you could probably write this blurb for us. But as every article has its limits – a lot has to hit the cutting room floor. Now that "The Limits" are off – this is everything you could possibly want to know about Goodyear Shoes.
Best Goodyear Welted Shoes India
Goodyear Welted Shoes ensconce in the upper echelon of dress shoes – so there isn't an enormous space for thinking, probing, and jotting down Best Goodyear Welted Shoes India.
The problem is in tapping the purest source for your Goodyear Shoes… ensuring that you pay what they actually worth.
As Intelligent sartorialists and informed individuals didn't afraid of laying down a few extra bucks for Goodyear Welted Shoes – "One Room Name Tackers" Subsists.
For 'em, a press to tack their label on shoes – is all it takes to be a Goodyear Shoemaker or at least pretend to be one (to charge two or three times as much).
Visiting as many workshops as we could to demystify every brand or shoemaker to nail Best Goodyear Welted Shoes India – We've always been a proponent of working or purchasing shoes from manufacturers that are actually making the shoes that they're selling.
So relax gentlemen, You can purchase with the confidence that you're actually buying something of value – where the price is substantiated by the quality.
Bridlen U-Tip Derby
The Baseline Against Which Other Pairs Can Be Judged
Pros
Closely Trimmed Edges
Greater Margins Of Adjustment For The Right Fit
Practical Rubber Injected Outsole
Hand Lasted
Extremely Versatile
When you've got Best Dressed Men, drooling sartorialist, The Elegant Oxford, and the general public alike all strutting around town wearing your Goodyear Welted Shoes, you must be doing something right – or maybe – everything right!
With a history spanning back to 1989, Chennai-based Bridlen has kept the lion's share of Goodyear Welted Shoes India-made – Which explains why they have the very best for whatever amount you've got to blow.
Bridlen makes a near-definitive version of that most versatile – Goodyear Welted Derby. Their take hits all the notes you want (a 360° Welt, not-too-slim, isn't too chunky, alluring upper) and a few you didn't realize you needed (Cork-filled bottom, rubber injected outsole, Side lasted by hand).
Add to that a pretty reasonable price—from a cost-per-wear perspective, anyway—and you've got yourself a baseline against which all other Goodyear Shoes can be judged. Here's what it does that's either shown up On and Off the spec sheets.
How It Delivers A Great Goodyear Experience?
Upfront with that Goodyear Welt Construction – that has been a strength of Bridlen and their shoes – so you can expect all the perks of a nicely build pair. But off paper – there are a lot of elements that do make a meaningful difference versus just the Goodyear Welt.
01.
Cork Filled Bottom
In Goodyear welted shoes, there is a thin cavity between the insole and the outer sole – created by the welt, which is a leather strip – sewn around the perimeter (360°) of the upper of the shoe.
What goes into this void space (a.k.a. Bottom Filling) – does create a noticeable comfort difference, maybe not right off the box but after a few heavy wears.
And Bottom Filling is one of the few elements of Goodyear Welt construction that leaves space for making some smart sacrifices to cut down costs without tweaking the price tag.
As this operation goes largely unnoticed – manufacturers cram that cavity with latex (a cheaper alternative) that barely accord any support or comfort.
With Granulated cork – Bridlen does it "The Ancestral, Tried And Tested Way."
It's a natural product that molds to the shape of the foot – and, most importantly, breathes.
Firstly a wooden shank is fixed to the waist of the shoe with an extremely hot cement; this supports the waist and aids flexibility. Then, About 3mm of granulated cork all the way through.
The advantage of Cork (over latex) is that when you start wearing the shoe – the insole softens up and it beds down into the cork, takes an impression of your foot, which eventually turns into a very comfortable custom footbed.
02.
The Silhouette Is Just Right
Unlike Oxfords, we often find Derbies a little bit (or a lot, sometimes) on the heavy or clunky side, but you can see this Goodyear Welted Derby is anything but that!
Build over Brand's Rui Last (that features a nice Almond toe) which adds a forward posture to this shoe – this pair is hand lasted (instead of machine pulled) by a highly-skilled shoemaker – difference – The Last Definition.
The degree of the last definition can be noticed as it cups the arch of your feet and supports the foot. This Derby is made to have shape, quite rightly so being as the foot has shape. It is not a block. And it curves in many places, not just the instep and the arch.
Unquestionably, Goodyear Welted Shoes are the pinnacle of dress shoes not just for their comfort but for further durability and longevity.
But the disadvantage of the welted construction is that it can add bulk to the shoe, as its outer edges need to be wide enough to accommodate stitches.
It could be even more clunkier with a 360° welt – where it goes all way around the perimeter of the shoe including the heels. That big overhanging welt ruins the allure of even a hand-lasted Uppers.
But with Bridlen's U-Tip Derby, which is a 360° Goodyear Welted Shoe, that last definition carries all around the shoe – including the outsoles – thanks to the highly skilled Edge Trimmer at Bridlen.
He marries the sole to the upper in terms of shape. It's a meticulous and physical process whereby the sole edges are trimmed to the specific shape of the last.
This is done "freehand" like many other operations in Goodyear-welted shoemaking. Close Edge Trimming allows the upper to sit very nit and tightly on the sole.
This U-Tip Derby is another exceptional example of Bridlen's crafting rules to make one-off ready-to-wear shoes.
Retails of ₹16k, Bridlen implements a distinctive hatch-grained leather as a tactile feature. But this style is available in no less than five different leathers on their website.
And Gentleman, if you think that's a lot to bank on for Goodyear Welted Shoes – just wait until we hit the masterpiece that you get from a brand like Bridlen.
---
Pelle Santino Goodyear Shoes
Most Affordable Ride Of That Welt Viable Construction.
Pros
Price
Good Built
A Perfect Starting Go-to
Cons
Amount Of Burnishing Involved
We are so used to the prices, of Goodyear Welted Shoes, going up and up – year after year – that when we do see a big jump Down In Price…
Every Goodyear shoe, that's not the highest-end thing, Pelle Santino checks just the right set of boxes and combines just the right set of features – to appeal to most of us… Price-ualy!
So, Pelle Santino's Goodyear Welted Shoes range checks all the most important boxes – most people care about:
A Durable (repairable) way to connect the upper to the sole – 360° Goodyear Welted.

A decent upper that ages well, Patina well – Full Grain Leather Upper.

An elegant (and formal) sole that runs tight to the last shape: Full Leather Outsoles.
Their Direct-to-consumer Business model along with some smart sacrifices that they've made to get to drop the prices – almost no one would notice! Here's why It has grown on us… and (possibly) on You!
Here're Some Reasons To Buy Them.
This range of Goodyear Welted Shoes checks all the basic, necessary selling points for a shoe in this price range. But you've eased past the "Affordable" mark, so why settle for something that's not from the uppermost shelf?
It needs standout features, or something – to give you a reason to buy such Goodyear welted Shoes over the other budget shoes. Here are those!
01.
It Nails The Fundamentals, And Nothing Else… Extra
Who doesn't love a bargain? Truth is, there's something innately satisfying about getting your hands on Goodyear Welted Shoes for less than it's worth. But "getting it right" matters! This affordable line-up takes in a lot of great stuff.
We love a high-quality Goodyear welt as much as the next guy that appreciates a decent shoe, and for many people – that's enough! Despite encashing that element – they wanted to get a couple of extra things to put on top of it: 360° Goodyear Welt!
Instead of using three-quarters welt, Pelle Santino takes it around the perimeter of the entire shoe which makes the shoe incredibly resilient, much easier to resole, and ensures the threads will never unravel.
Though it's a Goodyear-welted outfit-enhancer, it might be pairs made from plasticky leather that falls apart easily – As the price isn't easily absorbable – that are our initial thoughts before getting our hand on one of 'em!
Pelle Santino has incorporated that welted construction with an equally good Upper treatment – that's made of Full Grain Leather Upper.
Sliced as the uppermost layer of the hide – it's a layer that includes ALL of the natural grain (ah; that's why it's called Full Grain).
Expensive for manufacturers to buy and more difficult to work with – it reveals natural imperfections, marks, and even light brands on the surface. As the natural grain contains the strongest fibers in the hide, Full Grain leather is extremely strong and durable.
Rather than wearing out, it burnishes and beautifies, developing a much sought-after patina and unique character that cannot be easily duplicated. And as everything is going right – they'll not ruin the charm with any outsole.
A full leather outsole is used as a bed for that gorgeous Full-Grain Leather upper. The smart sacrifices they have made are the amount of burnishing involved, a detail that might not concern you if you're the type of guy who likes his menswear as classic as it can be.
But the trick to keep those combos – affordable – is tossing those hunks of tanned hide directly to your home. Pelle Santino works on a Direct-to-consumer business model – but the Goodyear welt range is available stock!
Infuriated from falling apart soles, you've done your homework and you're ready to buy a so-called "proper" shoe – something that can last. But if you are purchasing Goodyear welted shoes for the first time, the value will likely be a consideration.
Even if you know it's the pinnacle, a lot of dough for the first go – seems like a push! Pelle Santino Goodyear Welted Shoes represents a good way to start your Proper Shoe journey, and that's not just because of the entry-level price points.
It doesn't mean they're perfect or they're for everyone – it checks all the fundamental boxes that make them incredibly easy to recommend and enjoy – that Goodyear Welt.
These are bona fide value propositions in the truest sense of the phrase: way to buy Goodyear Shoes with a decent upper without breaking the bank.
Use them as a starting point and then when you find the values you have and things you like and then veer off into the alternatives – that you might pay more for! Pelle Santino is always that starting go-to.
---
Bridlen Melbourne
The Rolls-Royce Of Goodyear Shoes.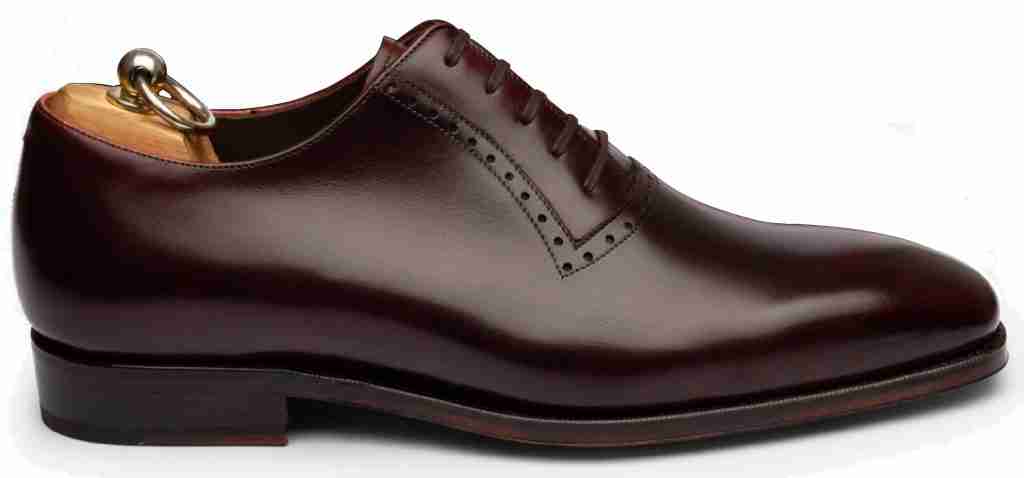 Pros
JR Rendenbach Oak Bark Tanned Leather Outsoles
Calf Leather (For Upper) From Annonay
Completely Hand Lasted
Brass Toe Plates
Very High Stitch Density
Think of Goodyear Welted Shoes that make a permanent statement and sets itself apart in the view of all the rare complications and materials a shoemaker can think to stuff inside a leather case.
It is sculpted by the hands of masters of their art, and when every element culminates in perfect harmony, Melbourne emanates. Masterpieces you'll pass along not just to your kids, but to theirs.
Representing the highest level of craftsmanship capable from the firm – It's an ever more ambitious commission reaching well beyond the existing scope of Bridlen's competencies and resources.
The charm and breathtaking elegance of Bridlen's Founders Line is sure to behold a person in awe, but few are aware of the process and craftsmanship that goes into sculpturing such Goodyear Shoes.
₹25k – Still A Pair That Worth A Lot More… Here's How
Unquestionably, more finishing and finesse goes in Melbourne but the price difference that's being paid to receive that level of finishing is much more significant than any other pair in our guide to Goodyear Welted Shoes India.
But you'll not hit the point of diminishing marginal return – if you invest and join the small, sliver demographic of The Melbourne. In fact, The Founders Line over-delivers the value – if just the premium materials that goes in… are considered!
The question remains, though: just what is it that makes these hunks of tanned hide so expensive? There are a lot of things (aside from just Goodyear Welting) that we could say about – from a couple of months that we have been using it – but mainly they boil down to three main things…
01.
Materials Appointed
With the brand's massive (and a lot affordable) Goodyear Shoes range – there is almost no reason for you to drop some serious dough on Melbourne… unless you're a shoe connoisseur.
Those dress shoes (they craft) are for Most People and get pretty much everything Most People care about, But Bridlen decided to make a dress shoe that took no shortcuts and took it to the max with premium (and rare) material.
All the materials that go into those pairs are flown in (Flooown In) especially for your pairs. Talking about each of 'em (in detail) is a lot to take in… but we'll leave you with detailed descriptions!
Upfront, The Outsole leathers from a few remaining traditional oak bark tannery – Joh. Rendenbach Tannery – have been Oak Bark tanning since 1871 at a tannery that dates back to Roman times. Feel free to check out their entire leather tanning process.
Tanned in Pitts for 9 months in a solution of Oak, Spruce, and Mimosa barks before being suspended on a wooden pole and gently washed in the Oak Bark tannin for 3 months – result – a beautiful, hardwearing, and unique leather with superior tensile strength.
If the appeal of workwear to you is all that baked-in "authenticity," well, it doesn't get much more authentic than Annonay Vegano Box calf for the Upper of your Goodyear Welted Shoes.
Calf leather simply means that the leather came from a calf, as opposed to a full-grown cow.
A leather of very tight grain and few imperfections is the perfect material for most higher-end dress shoes.
The grain in particular is very fine but is quite durable and pliable. This is because calves have a dense fiber structure that is stronger than regular cowhide or older animals.
What makes the Calf used in Melbourne a lot more premium is the place from where it comes from. Annonay is a French town with a long tradition in the treatment of calf leather dating back to the 12th century.
And if you're thinking – What about the insoles of shoes that live at the apex of Goodyear Welted Shoes-World? Those are from Tuscany, Italy. Chestnut tanned leather insoles accommodate the opulence built.
Months that we've spent with (Or – In) these shoes allowed us to know this masterpiece and the hands that are In-Charge of shaping such expensive materials – worth pointing the cameras on.
You can gather the best and most rare material (which isn't possible with just money!) but if it's not made in a factory or not executed by artisans that's able to respect those elements – you'll never see it in the finished Goodyear Shoes.
Here within the Founders Line, Bridlen leverages its full creative and technical resources. Despite being from a ready-to-wear collection, it doesn't feel you're getting an off-the-rack treatment.
As Adelaide Oxford, Melbourne demands a large unblemished area of the skin. They can't simply move the pattern pieces around to avoid the small little blemishes in the hide.
It's a simple shoe with no cap-toe, no medallion, nothing else than a "U" shape pattern around the facing (which makes it an Adelaide seam) – but when you've nothing to distract the eye, everything is in The Last.
Hand-lasting is the only way to create a beautiful and sharp shape from, otherwise, a flat piece of leather. An artesian pull and stretch that Calf leather over and most importantly under the last.
It allows the full beauty of the last to be appreciated. A hand-lasted pair doesn't only looks beautiful, but that translates into actual comfort. It creates additional support under the arch as the shoe curves underneath the foot.
Of course, Melbourne is Goodyear Welted – But just how tiny – and incredibly precise the stitches are – might surprise you. Stitch Density – the stitch density with which the outsole is stitched to the welt. Here it's is about 8 stitches per inch.
Of course, Melbourne is Goodyear Welted – But just how tiny – and incredibly precise the stitches are – might surprise you. Stitch Density – the stitch density with which the outsole is stitched to the welt. Here it's is about 8 stitches per inch.
Stitch density on the outsole is one of those things that just create the finesse to finishing and remind us just how much goes into the task of just stitching the outsole to the welt.
Along with the high stitch density, the outsole is sewn on using Closed Channel Sole Stitching. Here shoemaker first cuts into the sole to create a little flap of leather that they can then lift up to cut the channel, stitch the sole to the welt, and then glues that flap back.
Thus creating a uniform surface without anything showing on it. A beautiful heel stack with natural leather and brass nails embellishment. Despite being 360° Goodyear Welted – the edges just mirror the last definition of the upper.
03.
They Are Statements Of Taste And Status.
Even those not too noisy – introductory Bridlen Goodyear Shoes can be placed in the upper echelon of dress shoes but can't be held as affordable!
Bridlen has endless possibilities to make smart sacrifices and Gain the high-level volume of sales – with pairs that appeal to everybody (Price-ualy).
But with The Founders line, Bridlen showed How much they care about their ethos of continually pushing the boundaries of shoemaking.
And even though it grants a lot more than what it demands – ₹25k is an exceptional amount of money to spend on a pair of shoes. When we're talking about shoes of this caliber, in fact, we're pleasing an extremely small number of people – maybe 50… maximum.
But as you've shown interest in Goodyear Welted Shoes – it reflects your appreciation of traditional craftsmanship and we might be talking with one of those 50 people.
Of course, anyone with an interest in fine shoes will tell you that Melbourne is more than a leather piece that helps to avoid a red card in the workplace. A shoe that barely anyone but old money can access. The cost alone raises the barriers of entry to only the elite.
Something that can't be pressed on the spec sheet – They are statements of taste and status. They reflect you understand that the easiest way of doing something isn't always the best.
With Goodyear Welted Shoes, you're not just looking better – but wearing better footwear than 95% of men out there. But with pairs like Melbourne, you are dressing a masterpiece that screams Old Money. Trust me… you can afford it!
Never obsolete, always repairable, and potentially best cost-per-wear of your entire wardrobe. Call us biased – but that sounds like money well spend.
---
Bridlen Desert Boots
Goodyear Welted Sneaker
Pros
Extremely Versatile
Design – Just Right
Suede Calf Skin
You've Choices For The Sole
Sneakers have gone on to achieve world domination, there's no style of footwear quite as egalitarian as the sneaker. Despite being the omnipresent shoes from the sports field to the city streets, most sneakers will not last you years.
A Goodyear Welted Desert boot is one of the simplest, more reliable, and mature alternatives to sneakers. Bridlen's take does command a high price tag, but shoe connoisseur knows you've invested in one of the best.
Featuring a Suede Calfskin upper and a Goodyear welted sole that ensures the shoe will last for decades, they more than warrant their price tag. Here's why you should desert your old sneakers and chukka these bad boys on…
Why Don The Welted Construction – Through Desert?
There is near-universal acceptance of the idea that buying Goodyear Welted Shoes is smart a choice—stylistically, and financially— But with so much on board – What counts as a good investment? Can't say a lot for all of 'em – But here's why Bridlen's Desert Boots counts!
01.
Make Most Out Of Those Goodyear-welted Soles
Goodyear Welting – a treatment to shoes that are built to handle pounding… real pounding! Barely anything change with that "Sole Treatment" but the silhouette that goes on top of such soles – is decisive!
That silhouette could have two versions. The kind that you turn to again and again, year after year, occasion after occasion (ok, you get it), and the kind that is utterly thrilling in their beauty, embellishment, or flat-out trendiness that sometimes it just makes you happy to stare (and just stare!) at 'em in the most non-functioning corner of your closet.
But while the former category leaves a wider space to pound the pavement, it's the latter that hinders capitalizing those soles – which eventually makes investing in Goodyear Shoes – a bassless decision.
With Bridlen Deserts Boots, it seems like a real struggle to nail places where you can't don those pairs. In fact, paying extra for that durability – sounds like money wisely spend (Invested!)
Make the right choice between rubber or leather soles (Yup! there are possibilities to play with the sole without jiggling the price) which pretty much depends on where your lifestyle falls on the formality spectrum – and you can yank that cost-per-wear – further down!
Designed to handle anything you can throw at them, from tailoring to jeans and everything in-between! It can tone down more formal outfits but is a great way to sharpen up more casual ones. Feel free to check the techniques of desert safari.
02.
Appeal Lies In Their Enduring Simplicity.
One might think that the difference between pleasing pairs and, well, anything else, is down to the painstaking details. Extensively perforated, decorative horse bit – that kind of thing.
Sure, so-called "ugly" sneakers might be having a moment, but they're not exactly what you'd call versatile. For everyday use, you need something less show-stopping and more, well, simple.
Brildlen clean-cut Desert Boots that eschew any boldness in favor of understated and unadulterated minimalism; supple suede footwear sharp enough to look good with a suit.
Those Boots, we think, on the first impression are very sober, very clean. The surface is distilled of any kind of clutter. That purity requires years of expertise to produce tangible results and the exterior is just one of its many dimensions.
---
For Those Unfamiliar, Get To know What's Goodyear Welting…
200 Steps Process Behind The Most Coveted Shoes
Two decades into the 21st century and with the world's labor markets reshaped by globalization, there isn't much that you can't make just as well, and more cheaply.
But when it comes to the "finest"? That's another matter entirely. We're talking about the exclusive production of first-class, hand-finished shoes. It seems traditional shoemaking remains impervious to the threat of automation.
This makes sense – after all, how would an R2-D2 unit be able to replicate the 200 different hand operations needed to make a pair of Goodyear Welted Shoes?
Few methods combine history, craftsmanship, and wearability – So Beautifully – as Goodyear Welting. It packs some pretty complex details into a small space underneath your feet.
Even if you can see the line of stitching around the edges or through the outsole of the shoe, you can't see just how incredibly precise the work really is.
It's our attempt to remind you just how much goes into the task of executing the most durable construction methods.
A little knowledge will enhance your enjoyment of fine shoes, And if you aren't sold yet – come along – enhance your knowledge… which wouldn't cost you anything!
The Process Begins with the upper and the insoles. A linen ribbing is attached to the insole – through which the entire Goodyear welting process takes place. The Uppers are then stretched over the last (By Hand Or Machine) attached and stapled to the insole.
Now, at this time the beating heart of Goodyear Welting Construction has been attached. The spine of the shoe is a thin leather strap, a.k.a "welt" that's sewn around the entire perimeter (or three-quarters) of the shoe.
Welt stitching is a lockstitch that goes through the linen rib, inter-lining, the upper, and the welt. The shoe's integrity, structure, and fit are completely held together, and the shoemaker can even pull the shoe off the last for further steps.
That linen rib and welt stitched onto it leaves a void of around 3mm between the outsole and insole of the shoe. Filling this void (called Bottom Filling) is decisive for the comfort and support of the shoe.
A wooden shank is being glued to the waist of the shoe with an extremely hot cement; it gives structure to the shoes so that it doesn't collapse and aids flexibility.
Then, a mixture of granulated cork (sometimes along with latex) is molded in the cavity, providing a flat surface for the sole or lift (Leather or Rubber) to sit on.
It's then, onto this welt, that the outsole is stitched. The welt is folded out to form a point of attachment for the outer sole. The outsole is firstly glued and then stitched directly onto the welt through the channel created earlier.
Constructing a Goodyear welt involves running a lockstitch through the upper, insole, and welt, while an entirely separate stitch is used to attach the outsole.
This double-stitch reinforcement separates the repairable elements (outsole, cork filling) from enhanced components. Any cobbler can pull this outsole off without changing anything about the welt and the way the welt is holding the entire shoe.
The process is pretty long (and expensive), but this is what the complexity of a Goodyear Welted shoe request. This is the basic recipe that hasn't changed from 1869 – when Charles Goodyear Jr patented a machine to manufacture shoes using this method.
We've unveiled the basic formula invented a long time ago, but that was merely the foundation for a stunning diversity of ideas.
Brands do change The Stitch Density, Brass Nail Tacking, Embellishment, Closed Channel Stitching, Fiddleback Waist… well, the sky's the limit.
Bespoke shoemakers and brands are proving there is still plenty of room to innovate. But the ruggedness, strength, durability, and repair qualities… are hallmarks.
---
…And If You've Made The Leap – These Are The Perks
Assess – Do You Actually Have Good Reasons To Grab The Goodyear?
So, you clicked on an article entitled "Goodyear Welted Shoes India". We're going to assume, then, that you have a bit of extra moolah to invest and are interested to do that in a savvy way. If that's not the case, and you're here purely out of interest, welcome anyway. We're happy to have you along for the ride.
But after inspecting the perks of owning fine Goodyear Shoes, perhaps even the "Out-of-interest" type of guys will understand the reason why advanced shoe-buyer select such valuable, timeless assets.
Even if you are a Gentleman for whom those basic, noted attractions of Goodyear Shoes are enough to make a splurge – read on – you'll clinch a little more courage to open your wallet wide enough to swallow the cost of a proper shoe.
01.
Can Get Most Out Of The Outsoles…
What began as a solution to a, rather, niche problem – is now among the most recognizable ways to construct the finest shoes. Even though there are various ways to attach the upper to the outsole – there's nothing that holds everything better than Goodyear Welting.
Even the Standard leather or chunkier rubber soles are damn durable – you can really go hard on them and they will last.
While shoes with exceptional outsoles will cruise years on the first sole.
So before rating the resoling aptness, we need a bond that holds the outsoles till they scream – I'm Done! The Goodyear Welt Harvest As Much Performance out of them as possible.
The additional heft of a leather welt means you can abuse your Goodyear Shoes without concern. The tight construction makes many pairs wearable for decades to come.
The double-stitch reinforcement makes the shoe incredibly resilient and ensures the threads will never unravel. Goodyear welt construction squeezes every last meter out of, even, the most durable outsoles.
---
02.
…And Replace 'em If Worn-Out
Unlike most other things in life, welted shoes actually get better with age; the upper would have taken the shape of your foot, and the new sole will give it a new lease of life.
Quite frankly, a shoe with any construction can be resoled and repaired. But what's unique about Goodyear shoes is that Leather Welt. Running the entire perimeter of the shoe, that welt stitching is what holds the entire shoe's upper section.
The integrity and structure of the shoes are completely held together by the leather welt – which, unlike any other construction, isn't compromised by executing the resoling process.
With Goodyear Welted Shoes, a cobbler can pull the stitches out and a new sole can be attached using the same holes to replace the tread each time.

But with the blake stitched shoes, the needle goes through the shoe's bottom, into the insole, and punches a hole.
So every time a cobbler redo a blake-stitch, that needle does not use the same hole – it punches a new hole, not just in the sole but in the stretched upper, and eventually turns into a block of swiss cheese.
---
03.
Drop Some Space For Comfort
By far, every single element of the entire Goodyear process seems to be done on purpose. But that thin cavity underneath the insoles because of the addition of the welt – seems like a miscalculation!
Bills of the blunder: A Mide-sole that furnish "made-for-me" sensation! Filling the cavity, a.k.a Bottom Filling is essential for the comfort, support, and durability of Goodyear welted shoes.
Unlike the other operations of the Goodyear Welting process, this stage goes largely unnoticed and the shoemaker can make smart sacrifices (To Cut Cost) on the compound used for bottom filling.
In a time-honored tone, adding a few millimeters of granulated cork underfoot make the shoe more forgiving. Cork is a natural material that is lightweight, insulating, molds to the shape of the foot – and, most importantly, breathe.
Firstly, a wooden shank is glued to the waist of the shoe; this supports the waist and aids flexibility. Then, a mixture of cork is molded to the underside of the shoe.
It forks out a flat surface for the sole or lifts (Leather or Rubber) to sit on. Don't expect an ahhh sensation from your first step on those cushion-y cork footbeds – it takes a while to wear in but remember: good things come to those who wait.
As you wear the shoe, the insole soften-up and beds down into the cork filler, which takes an impression of your foot, and eventually, it senses like a custom footbed.
---
So we're talking like seven-eight thousand (and up from there) for Goodyear Shoes; but for that money – you definitely get a lot of quirks! Though, the welt isn't as much a bold and masculine statement as the precision (the manly choice; leather) Upper attached to it.
In fact, that expensive, super complex process (200 different hand operations) of Goodyear welting is just to pin easy repair possibilities without compromising the integrity, fit, and structure of the upper.
So, that all said, it comes as quite a surprise to learn that the term you've searched for (Goodyear Welting) is an effort to save and maintain the Upper those shoes. By which, it's pretty obvious that with Goodyear welted Shoes – you get an upper that worth conserving!
If you don't really care pass the certain price of typical Goodyear Welted Shoes – you do get some insane specs for that price along with a reliable upper, for sure!
On the manufacturer side, crafting something beyond the "out and about" type calls for premium material or leather – that justifies the extra cost of Goodyear Welting 'em.
And how can we forget that thin strip of leather (welt) that does lend a helping hand in every perk of such construction.
The way this welt holds the upper of the shoe does affects the silhouette of the shoe.
Through welt stitching, the pulled leather upper retains the shape and silhouette of the last, quite rightly so being as the foot has shape. It is not a block. It curves in many places, not just the instep and the arch.
---
05.
Statements Of Taste And Status
Why did you choose Goodyear Welted Shoes? Don't say, "To hold a footwear that lasts." Of course, it does, and pretty well, too. But we know that if you've entered the world of luxury shoes, there's more to this game than durability.
If you're showing off your new shoes, the first thing any shoe snob will do, instead of admiring the upper (primarily), is to point the camera onto the edges. To pass muster, a "proper" shoe will be powered by Goodyear welting, and they'll know because it will usually be displayed through stitching all the way around.
You're investing in the most traditional shoemaking aesthetics, with brands present them in ways that could only appear in the 21st century. These are head-turners: Shoes with big personalities, which make an equally big impression.
If there needs to be a reward for working hard, for being successful: Goodyear welted shoes are one of those rewards if you've made it! You can use them to communicate your social position.
Anyone with an interest in fine shoes will tell you that they are more than just footwear. They are statements of taste and status. They reflect an appreciation of traditional craftsmanship.
Through these perks, try to convince yourself to take a leap. Spend as much as you can afford. Whatever that figure is, rest assured, you will always get your money's worth.
---
---
How can we improve BestShoe99? Got feedback?