Escaro Royale shoes epitomize the label's approach toward craftsmanship. Escaro Royale won't just make you a perfect pair of shoes, they will help you make an unforgettable impression. Factory-made with a closed-stitch Goodyear-welt and Blake construction, Escaro Royale shoes are made from Full-Grain Argentinian Leather that has been hand-dyed and burnished.
They explore new ground through unique contemporary designs inspired by traditional shoe-making pedigree. An incredible amount of hand-work for a factory-made shoe assign Escaro Royale shoes in the upper echelon of dress shoes. They do care about the features they offer, but they also generate a high social standing for their customers.
The label has a "unique" style that helps them being distinguished from mass-market brands. Escaro Royale shoes represent the first step towards luxury fashion – more affordable than high-end luxury brands, but still, have that feeling of "exclusivity".
Escaro Royale shoes
They say you can tell a lot about a person by their shoes, and it pays to make sure that yours are telling the right story. Some Escaro Royale shoes may be a bigger hit to your bank balance in the short term, but in the long run, you'll get more for your money. Gentlemen, be certain, you have a reputable brand caressing your toes will help to ensure your new acquaintances stay to chat, instead of walking away in disgust.
Here, 7 solid options to consider adding to your closet, not just for fall but all of life as the seasons roll on. The idea is to have a bit of everything – you do find something for every walk of life. While you don't need to own every single one of them by any means, a handful of your favorites is well worth the investment. Here's what they had to say.
Escaro Royale Shoes:
Tan-Blue Wingtip London Brogues
Now This Will Make You Look Like a Million Bucks
Pros
Extremely Versatile
Affordable
Sleek Design
No Detail Is Glossed Over
Whether you're looking to complement the perfect suit, bring a little bit of pizzaz to your business attire, or utilize them alongside your favorite pair of comfy blue denim jeans, The Wingtip is the item that often ties everything together.
Escaro Royale's take on this fascinating style of dress shoe is pretty appealing. Okay, okay. Insanely Appealing, as it is one of the bestselling models of the brand's massive offering. It's an instant hit, thanks to their vibrant two-tone colors.
So, if we've to describe this Wingtip in a line – here's how it would be – A tasteful mixture of premium components, slimline design, and detailed broguing that can take your outfit to an entirely different level.

Many men believe they can't pull off wearing this bold shoe. In short, you absolutely can! Believe us, If you can get your hands on a pair of those, consider yourself lucky because not only will they be unique and stylish, they will also be functional.
It's a traditional summer shoe that has a Jazz Age feel to it, and blue suede has allowed it to branch out into other seasons. Since spectators used to be a summer favorite, this vintage version often came with perforated leather upper for increased breathability.

There's no one shoe I associate more with the everyday trials of adult life than this Wingtip. First things first: Almost all of these bad boys come in brown too, so if you're hesitant to wade into this sea of blues and tan, have no fear.
They telegraph that you appreciate the craftsmanship and sartorial flair, and, perhaps most importantly, that you haven't completely buckled to the casual-ification of menswear (we see you, Silicon Valley).
It's not just about the design; the shoe has a lot in make and material. The upper is made from a high-quality, open-pore, Rare Argentinian Full-Grain White Crust Leather. You can see the pores of the leather, which is important as it ensures that the leather hasn't been sealed and that the leather is going to be able to feed by polish.
This spectator hits the perfect design element when making a wingtip in less formal materials like this Unique Contrast Colors Finely curated suede from Brazil. The shoe also features a Handmade Resin-Rubber TUnit Outsole; which makes it a great all-weather or active shoe.

The shoe features Blake-construction (the method used on all traditional Italian models). The advantage of Blake construction is that the sole can be cut a lot closer to the upper, leaving less of a lip and making the shoe sleeker.
Going back to the rear of the shoe, we see a nice clean heel base sits flush underneath the back of the shoe. The shoe has a nice dark brown finish that allows you to see some of the nuances of the natural leather of the sole.
These Escaro Royale shoes are available (stock) from a UK size six to a UK size 12. Escaro Royale Tan-Blue Wingtip London Brogues retails for ₹7999 with free shipping anywhere in the country.
---
The Goldbrow Chelsea
A Boot That Is Reserved For Men Of Status And Power
Pros
Perfectly Balanced Silhouette
Comfortable
Extremely Versatile
Robust
Few things in the male wardrobe are likely to link reigning monarchs and rockstars. But it's something the Chelsea boot has been managing for generations. These elasticated leathery workhorses are as versatile as they are visually appealing – something that has earned them a well-deserved spot in the footwear hall of fame.
For those shoe connoisseurs who declared Escaro Royale specialist in only below-the-ankle quality – this is what they have for them. For us, the Goldbrow Chelsea hit a sweet spot. We've scoured stores (both online and offline) for a Chelsea boot that isn't too sleek but isn't too chunky, and we end-up on these badass pairs of Chelsea.
The Goldbrow Chelsea is the first choice for style-minded men thanks in large part to its versatility—it's both a stylish upgrade to sneakers and a badder-ass option than standard dress shoes.
Even though, the design of the Chelsea boot is exceptionally simple – the sleek shape of the Escaro Royale's Last still makes it stand out as a beautiful and elegant shoe. Every aspect of design, proportion, lines, shape have been perfectly balanced.
You can learn a lot about the quality of Chelsea boots from the shape of their toes. The rule of thumb: The more tapered the toe, the dressier the shoe. So you want something that's neither severely pointy nor clown-shoe bulbous. This Chelsea boot features that perfect almond-toe silhouette. 
Combined with the construction and quality of materials (which we'll discuss later in greater detail) you can't help but desire these boots. And for this reason, Escaro Royale Goldbrow Chelsea has a dedicated and very loyal following making it one of the label's bestselling boots.
What we love about this boot is how comfortable they are. Exceptional for walking thanks to the Whole-cut construction and elastic that helps this boot mold to your foot. Furthermore, the higher back on the boot helps prevent any type of irritation to your heels.
Escaro Royale starts with the first choice, Full Grain Argentinian Rare White Crust 1.8 Gauge Leather. This yields shoe uppers (the top of the shoe) that are both sturdy and pliable, allowing you to pound the pavement, quite literally, without giving too much and stretching out. Take care of these Boots, and they'll outlast your next car.
The Goldbrow Chelsea presents a perfect silhouette thanks to the Blake stitched construction. It allows creating classic styles with a contemporary appeal. As mentioned above, you will get light-weight shoes with a sleek profile that are easy to resole, flexible, and comfortable.
Of all these elements of materials, design, and craftsmanship are what combined to put Escaro Royale shoes in the pantheon of just a handful of shoemaker doing work at this level. Escaro Royale Goldbrow Chelsea retails for ₹9999 with free shipping anywhere in the country.
---
The Krakow Hybrid Oxford
You Can Do Perfectly Well By Sticking With Just This Oxford
Pros
Nice Visual Separation
Extremely Versatile
Practical Sole Unit
Durable
A little off-piste for our third suggestion as a pair of suede shoes is the simplest way to punch up what's happening below your pant hems. Suede shoes are considered more casual than polished leather shoes, due to their texture and luster.
However, these Oxfords will work well with a suit and elevate any smart casual or even formal outfits due to the brown leather toe that goes all around the vamp. The textured hide puts a fresh spin on standard business outfits and the skin breathes easy–a detail you'll be happy to have come summer.
The Krakow features beautiful soft suede Quarters, which has a nice kind of mushroom shade tone that balances the brown leather very nicely. With the touch of leather on the lower pattern pieces, along with expanding the versatility of these Oxfords, drop your extra efforts of cleaning your suede in the right way.
The vamp and toe feature a Full-Grain Argentinian Rare White Crust 1.8 Gauge Leather. Even with such thick leather – there's still a soft delicate subtlety and elegance with this Oxfords. Such access to quality material helped separate Escaro Royale from other shoemakers.
The almond shape toe offers a beautiful balance between something that would be appropriate and more causal in the countryside or could be dressed up more formally in the city.
While the outsole of these Oxfords features Argentinian Leather – As leather is a natural material, it will absorb water over time if worn regularly in damp conditions, so this style is best saved for the office or formal events.
So to enhance its ability over indoor events – the label added a think layer of rubber. So it's practical to wear The Krakow before any big occasions if you'd rather a stronger grip.
The shoes have a blake stitch construction, are deceivingly durable, and will keep your fashionable contemporaries on their toes. This method of attaching the rich hybrid upper with the outsole awards extra points to its sleeker profile.
Escaro Royale shoes are stylish and well balanced but very much been designed with fit in mind. The Krakow Hybrid Oxford is available (stock) from a UK size six to a UK size 12 and retails for ₹8999 with free shipping anywhere in the country. For such an appealing design and an unprecedented level of craftsmanship – this price point isn't painful.
---
Brown Tan Wingtip Slip-On
It's Safe To Say That – Gentlemen Loving It!
Pros
No Break-In Required
Extremely Versatile
Tighter Heel Counter
According to GQ – You must have two pairs of slip-on, one for the office and one for the weekend.
But for Escaro Royale – Why support the hassle of maintaining two pairs of slip-on when we can create one that checks anything that comes your way.
This Wingtip Slip-on is a present from Escaro Royale to the kind of guy who wears a suit with some regularity but also needs a pair of shoes on hand that'll work for date night on the weekend.
Now the Slip-on might not be that appealing at first. But the time your feet slip-in into this Slip-on, surprisingly, It Works! Insanely Works! No matter which outfit you're pairing these bad boys with – This Escaro Royale Slip-On keeps the whole outfit springy.
It's a little bit slimmer without being too slick. They're not like your old loafers that shows a lot of your foot. Where this Slip-on is showing very little of your foot that makes it a little more business appropriate.

Now, it is a shoe that drags us to one of the most iconic dress shoes in history – George Cleverley Churchill Oxford. It's an Oxford that pops up when Winston Churchill (Former Prime Minister of the United Kingdom) asks George Cleverley (who was his shoemaker) to conceive for him a laced-up shoe without the hassle of lacing them.
It looks like it has laces in the front, but actually, it's an elastic-sided slip-on shoe. Escaro Royale Wingtip Slip-on works on the same principle. It is a more refined and versatile update to that iconic shoe.

The design of this shoe features a perfect mix of Rare Argentinian Full-Grain White Crust Leather and dark brown suede that is a bit more forward of the traditional uniform material found on the prevailing model of this fascinating sartorial world. And it one of the few elements that make this Wingtip Slip-on very distinctive.
This shoe also fits exceptionally well thanks to the high heel clip in the back, which comes a bit higher than normal dress shoes. The last design features a fairly chiseled toe while balancing the traditional edgy style with today's tastes.
Despite a lot going with the pattern, Escaro Royale able to keep the shoe clean and not too busy. The Handmade Resin-Rubber TUnit Sole stretches the practicability of these slip-on.
This sole unit provides excellent grip and will help prevent this slip-on from slipping on any slick surfaces. The Wingtip Slip-on is available (stock) from a UK size six to a UK size 12 and retails for ₹7999 with free shipping anywhere in the country.
---
The Gama
A Premium Wholecut Without A Premium Price-Tag
Pros
Extremely Durable
Unprecedented Last Definition
Invisible Channel Stitching
Goodyear-Welted
Narrow Waist Offer Exceptional Arch Support
Price/Quality Ratio
Cons
Heavy
Required Breaking-In
The Wholecut Oxford has a distinctive closed lacing system, and this along with the single-piece construction gives it an extremely clean and sleek look. It's a simple shoe (which is a type of oxford) with no cap toe, no perforation, nothing else than a simple cut in the middle for eyelets.
The most difficult shoe style to produce – Why? As when you have nothing to distract the eye – everything is in the last. (the wooden form on which the upper of a shoe is shaped. Also refers to a shoe's silhouette).
According to Hugo Jacomet – If you want to spot a good shoemaker, look at his Wholecut. And it will tell you immediately if you're in a good place for shoes or not.
These shoes tend to be higher quality than the average oxford (and thus more expensive) for a few reasons:
The leather must be of higher-than-average quality because you can't sew pieces together strategically to hide imperfections. The entire piece must be flawless or discarded.
They're harder to last, taking more time and requiring more shoemaking expertise.
While most of the shoemaker does not even cover Wholecut in their collections – Escaro Royale leverages there full creative and technical resources to come-up with a Wholecut that can easily hang with any High-end Bespoke Wholecut.
Many of the elements in this Wholecut are based on bespoke designs, techniques typically found in only bespoke shoes. This masterpiece is the result of utilizing the highest level of craftsmanship available in their factory, including an unprecedented level of handwork.
However, there is so much to this Wholecut than initially meets the eye. From the design perspective, Wholecuts are one of the most formal models – right up there with the plain Cap-Toe Oxford. But The Gama covers the whole spectrum from Formal to Casual thanks to the Crocodile (sometimes called also "mock-croc") Embossed Leather.
Cut from a single piece of Full Grain Argentinian Rare White Crust 1.8 Gauge Leather (with the only seam in the back), What makes this challenging is that they have to select a large unblemished area of the highest quality leather that Royale has access to.
It is more expensive for manufacturers to buy and more difficult for them to work with. The one-piece construction required that the upper be blocked for several hours (or sometimes for days) to create the beautiful last definition from another wise flat piece of hard and rugged – Full-Grain Leather.
You also find a high stitch density on the outsole where it is attached to the welt. Goodyear-welting is the de rigueur of a shoe of this caliber because it allows the shoe to be easily resoled without disrupting the finish or the fit of the upper. Such construction is very important whenever you're investing in a shoe like The Gama.
It's the bottom of The Gama where things start getting rare. Fiddle Back Waist – an only bespoke element (A ₹100k-₹120k Custom Shoe). Now not only this shoe has a tight or narrow waist, but it also has a fiddle waist – which is the shape given through the waist.
Perfectly executed even where the upper meets the interior of the waist. This is one of the hardest areas of the shoe to get right as it has to be done in such a small area.
Another element (that is seen only in bespoke dress shoes) is the bottom of this shoe is impeccably finished – almost so well finished that you hate even wear 'em. They cut a small flap in the leather and after it is stitched, they put the flap of leather over the stitching what is called an Invisible Channel Stitching.
The result is a perfectly clean outsole. The heels are further finished with Brass Tacks. The Gama creates a beautiful shape right here at the waist that only you know about but makes this shoe special.
The Gama is an investment piece that retails for ₹14999 (with free shipping anywhere in the country) built to last decades. It's a shoe found in the board room, executive offices, low offices – own by those who appreciate quality and craftsmanship.
---
Aurora Lace-Up Boot
Fashion Rarely Gets This Functional
Pros
Extremely Versatile
Practical Sole unit
Generous Last Definition
No Breaking-In Required
Cons
Demands Frequent Care To Remain In Splendour
The brogue style is a particular favorite of boot enthusiasts. As such, there are a plethora of options available out there. Our favorites come from Escaro Royale, thanks to their superior construction and design.
If you're looking for a classic lace-up Wingtip-style boot, then look no further than Escaro Royale. It's almost unfair how perpetually fashionable some of Escaro Royale's boots are.
The Aurora boots have an alluring streamlined construction, which makes them an ideal option for formal wear. However, they can happily be worn in more casual environments. If you pair them with jeans, you'll see just how versatile they are! They blend right in and offer original visual interest.
The fact is, you can wear this dress boot in the same situation that you would normally wear a dress shoe. It's not a full-length boot like riding boots but with a short trunk that raises just above the ankle. Still offers shielding elements without being unnecessarily uncomfortable or burdensome to put on in the morning.
Fine lines, sharp lasts, and perfect pattern execution have become Escaro Royale's specialty in the boot department and it shows here with this creation. The open lacing allows the boots to accommodate a larger range of sock thickness.
The Boot has a nice tight waist for a boot. Now again, with the boots, you would have a relatively square waist compared to some Escaro Royale shoes – you want that stability and structure for a rugged boot like this. But we still see a nice last definition, especially for a boot.
Upper of the Aurora Lace-Up Boot features Full-Grain Argentinian Rare White Crust 1.8 Gauge Leather. This is untreated (read as not dyed) leather. It is left intentionally natural in color to allow for a coloring process after the fact (i.e. not in the tannery, but rather by the shoe factory, a patina artist).
The Crust Leather is a reason for such patina/aged/burnished look and doing this on White Crust leather is best and easiest. The Aurora Boots are lined with sheepskin, which I can tell you first hand, keeps those feet nice and warm even if you're in NYC.
The Aurora Features a Blake Stitched Construction. Most used by the Italian shoe industry, The Blake construction is created by directly stitching the outer sole to the insole, providing maximum flexibility and a lightweight to the shoe.
Features Leather Sole with Rubber Insert, This boot is an absolute workhorse and builds like a tank. Designed for the urban warrior that walks a lot and needs a boot that can withstand the elements while still looking appropriate in the office.
At the retail price of ₹9999 (with free shipping anywhere in the country) – The Aurora is without question a beautiful boot, exceptionally well made with interesting patina work.
---
Cap-Toe Derby
The Sharpest Derby We Have Seen – So Far!
Pros
Price/Quality Ratio
Unprecedented Last Definition
No Breaking-In Required
Perfectly Balanced
The derby, known for having its eyelets (those little holes your laces are threaded through) sewn to the outside of the shoe's upper (or "vamp") giving them their distinctive open laces, is the perfect dress shoe because it's so versatile.
A good pair can work with just about any kind of suit. Plus, the open-throat silhouette—the leather around the laces runs parallel, and over the vamp—can pull double duty with everything from jeans to tweed trousers.
Over the years, we have had shoemakers attempt to 'dress up' the derby model and some have done a tremendous job at that. But this one here, for us, takes the cake. Not only for the elegance of it but really for the blending of an oxford design onto a derby shoe.
We can tell that a shoe is quickly lasted by machine if there is little to no shape to the upper. The upper is very well Lasted, which gives the shoe an exceptional definition. Here, they pull in the uppers tight and close in around the last. What this does is produce a beautiful shape along the outside edges which is very rare in a derby that can easily go chunkier.
Rare Argentinian Full-Grain White Crust Leather makes it even harder to achieve this only bespoke element on a derby. With this shoe, we're able to appreciate Royale's precise execution. Everything about the design – Balanced! in the execution – Perfect!
The last was designed with a fairly Chisel toe while balancing the edgy style of the derby. An elegant style, it has flat angled sides that taper towards the toes, a sloping vamp. The elements here and the level of finishing exceeds what we normally find out of a factory-made shoe and push the envelope towards bespoke.
It is well said that when handling brogues – Be wary of anything too detailed, as it can make a versatile shoe feel ostentatious. Here on this derby – informal punched holes lend themselves better to casual styles. Nothing too heavy nor too soft – hits that perfect balance.
This derby features Blake Construction. This particular method has become synonymous with Italian shoemaking, and who wants to argue with Italians when it comes to style? Shoes that have been Blake stitched are characteristically close cut, as there are no external stitches, the outsole can nestle tightly to the upper, making the shoe less-rigid and large.
Retails for ₹7999 – Put simply, Escaro Royale Derbies can slot into near-enough any wardrobe. They'll let you level-up laid-back looks, and relax smart stuff. They are not essential. But for almost any man, they're damn useful.
---
Is It Worth Investing In Escaro Roayle Shoes?
Escaro Royale has been working hard on creating one of the most beautiful and unique collections around. And by working hard, we mean they're pushing the envelope, with unique and beautiful models, Every Month; Yes – Every Month! There is nothing more frustrating than heading towards several formal shoe brands and the last they updated their line of collections was mid-2015.
By steady new launches, there's a constant reminder that they're there. They're reliable and they won't let you down. We always enjoy seeing what they come up with, and Instagram is not shy of showing us that on a daily basis.
Their styles always have small 'twists by Escaro'. Their coloring is always with a touch of patina but not ostentatious.
But why so much love for Escaro Royale Shoes? Of course, it's not as simple as just slipping on any old pair, you need to look out for the hallmarks of quality before you reach into your pocket. At the end of the day, we all are looking for something that really worth investing in – and here is Why Escaro Royale Shoes Does So.
Shoe Construction
The recipe for making a premium dress shoe has hardly changed since the 19th century. And here we're talking about high-quality overall products, ones that guarantee years of satisfaction for their owners.
Shoe connoisseurs might pigeonhole Escaro Royale Shoes more as a design-oriented luxury shoe and are more likely to be bought as prestige dress shoes. But underneath that fascinating design is the highest quality grade of leather secured by some of the most reliable dress shoe constructions that are consistent for centuries.
The shoe production method refers to the manner in which the upper and sole are attached. The selected method is decisive in determining shoe price, durability, and fit, as well as the ease of repair.
Escaro Royale kept it really simple – they adhere to the highest standards as far as selecting the shoe construction method is concerned. While Blake Construction, is used very much by the label, there are some alluring Goodyear-welted shoes as well.
The Blake construction is created by directly stitching the outer sole to the insole, providing maximum flexibility and a lightweight to the shoe. It is characterized by a single seam — with single or double thread — combining the sole, lining, upper, and insole.
While connoisseurs will often have a preference for Goodyear welted shoes, Escaro Royale embraces them as well. They have a range of Shoes and Dress boots crafted using a Goodyear welt to ensure longevity and robust quality.
The Goodyear method involves the use of a welt — a strip of material, normally soft leather but sometimes rubber or plastic, running right around the perimeter of the shoe — stitched first to the insole and the upper and then to the sole.
You won't have to be very exacting about the longevity, Escaro Royale insists on the best techniques to warrant those charming shoes will last you longer than most.
Material
The shoe's upper is by far the most important part of the shoe. Once this is gone, the shoe is no longer salvageable even though you have your Goodyear welted shoes appearing on the sole: with the stitch showing or not. That being said, even the best shoe constructions are of no use if the leather is slapdash.
Luckily, a happy symbiosis exists between quality materials and how the shoe is made: premium leather is only acquired by companies committed to premium processing, and premium processing is reserved for premium leather.
Escaro Royale shoes are professionally assembled from high-quality materials. Their shoes feature Full-Grain Argentinian Rare White Crust Leather, that when properly cared for, guarantees a long and happy shelf life.
Full Grain Leather is the highest quality grade of leather money can buy – according to Buffalo Jackson. When an animal's hide is processed, it can be cut to separate the surface layers from other layers. Full-grain leather is the only type of leather on this list that leaves the hide intact with no surface alterations or splitting. This means not only will the leather will be stronger, but it will also showcase the hide's natural texture and pattern.
As full-grain leather ages, rather than wearing out, it burnishes and beautifies, developing a much sought-after patina (as the material absorbs body oils and adapts to its surroundings) and unique character that cannot be easily duplicated.
However, not all full-grain leathers are created equal. Differing qualities of raw hides aside, the tannery's treatment and finishing of the leather can determine how easily the leather will take on a patinated look and how it should be appropriately cared for.
Escaro Royale shoes feature Crust Leather. It is a leather that has been tanned but not finished, i.e. remain uncolored and without surface treatment. It is to be seen as a blank canvas for the shoemaker to work with, enabling the creation of fully custom coloration or "antiquing" by applying a combination of dyes and various pigmented creams and wax polishes.
While crust leather makes it possible to have rich, deep patination out of the box, it is also less forgiving to work with. When dyeing the shoe, it is not uncommon for previously invisible faults in the leather to suddenly reveal themselves, in the worst-case rendering the entire shoe a reject.
Alike, other leather types, Curst leather demands high-maintenance to remain in splendor. And it is penetrable as the skin is no longer alive and does not have a body to take care of it naturally. Those superior leathers and countless details come together to form the refined impression that you want to project for business!
Last Definition and Finishing
The idealized chef-kiss of a dress shoe is streamlined and tapered at the toe (the rounder the toe and chunkier the sole, the more casual the shoe). You want your foot to look elongated, which makes your silhouette look more elegant. Escaro Royale shoes do just that but keep from getting too elfin with a bullnose-shaped toe.
One of the reasons Escaro Royale shoes are heads and shoulders above other shoemakers is the amount of burnishing involved, the details that might concern you if you're the type of Gentleman who likes his menswear as classic as it can be.
Escaro Royale is the gold standard for factory-made ready-to-wear shoes because of the high level of craftsmanship that runs throughout their workshop, each shoe has a luxurious feel and is imbued with a classic sense of style. No detail is overlooked and as much bespoke level finishing is integrated into the factory process as possible.
They spent a lot of time and work into elegant balance last designs, just as much hand-work going into the finishing and definition as the rest of the shoe. Even the soles of some of their top-line models are finished with only bespoke elements.
The leather is pulled very neatly over the sculptured last and in a very defined way (that changes according to the particular model-mix), but the results worth the extra efforts – A very tight feather line. You can especially see the amount of shape and definition on the interior edge of any Escaro Royale Shoes. 
Whenever you look at any of their shoes, you're able to appreciate the elegance and the sculpture of the last. These are two things that go hand in hand. You can have a brilliant designer that's able to envision a beautiful design and last shape, but if it's not made in a factory that's able to respect those elements – you'll never see it in the finished shoe.
On a less expensive factory-made shoe that doesn't have the definition of their lasting, lack this beautiful elegant design and sculptor. That at the end of the day is what all this work and craftmanship is about – that if you appreciate – you must invest in some pairs of Escaro Roayle Shoes.
---
Here Is How It All Started – In A Nutshell
Luxury – that rare blend of impossible elegance – is a three hundred million dollar international market. World-famous brands whose shops populate the most beautiful avenues of major capital cities.
But behind the glamorous exterior, there is a digital world. Mr. Ambud Sharma (The men behind Escaro Royalé) is curious about luxury brands' digital effigy as the future of shopping is exclusively online. As Luxury is more popular than ever, it can't be only up to the physical stores.
Mr. Ambud comes up with Escaro Royalé in 2015, to locate Luxury on the digital map. Of course, all the luxury brands in the world have a digital identity, offering a seamless click-and-brick shopping experience. But with a little more pressure on the offline paddle.
Escaro Royalé is a high-end digital pure-play dress shoe brand. As traditional Luxury brands have been slow to embrace eCommerce and digital innovation, Escaro Royalé exceeds general thinking that online retailing would dilute the luxury brand's image and reduce its sense of exclusivity.
Unquestionably, ER's approach is different from other brands and there are solid reasons that go behind such selection. Their business model simply cuts down the markup. In fact, they bypass the conventional method of negotiating with a retailer or reseller to get products on the market.
When craftsmanship is this precise and quality is this good – you can expect that it also attaches a hefty price tag. In a normal retail environment, such shoes carry a super hefty price tag. But not with Escaro Royalé, as they don't have any extra layers of cost.
After successfully achieving online traction, Escaro Royalé propels into a click-and-brick luxury experience through their Experience Center (that's fondly called Cafe Royalé).
Cafe Royalé enhances the ability to give affluent consumers the chance to physically see and touch that handcrafted luxury and allows seamless shopping experiences.
Through an appointment, you can visit the Escaro Royalé flagship boutique on Rama Road, New Delhi. They will walk you through their entire collection with stories behind their most iconic models.
It's a quite unique experience – gives a lounge feel – Defiantly, not a typical dress shoe shop. It seems more like an art gallery and it really adds an extra element to Escaro Royalé's luxury offerings.
---
It Turns Even More Stunning For These Gentlemen
Unquestionably, Escaro Royale shoes are next-level dedication to enthusiasts. They have separated themselves with the highest commitment to Excellence whenever it comes to making shoes. You can be certain that they're using the highest quality materials, the best techniques to make their shoes, with tons of enthusiast-level features.
But the fact is – Enthusiast only makes up a Very Small percentage of the overall market of anything (not just shoes). Undeniably, enthusiast features Do Sell, but Escaro Royale wants to appeal to everybody. So before we went too complex, here are Gentlemen that can take the most advantage of these high-end masterpieces.
If you Don't Compromise on Versatility
"A Diverse Wardrobe Is A Stylish Wardrobe" – if this is your definition of the Sartorial Path – you're a Gentleman and we can attest to the fact that you're living a life that's a bit more exciting. Looking for shoes that can pull double duty with everything you've in your massive wardrobe – Pop A Bottle Of Buddle, cos Escaro Royale Shoes does the trick for you – Every Time!
So when you are handling a massive wardrobe, you need shoes that harmonize the integrity of those elegant masterpieces you've in your wardrobe. You don't need to maintain some Carrie Bradshaw–esque obsession about the latest and coolest.
There are numerous styles of shoes out there, but what's great about being an Escaro Royale man is that you can do perfectly well by sticking with just a few. If you invest in a handful of their sensible (and stylish) pairs and take care of them, and you'll be set for the next decade.

Escaro Royale is well aware that as corporate India continues to evolve, the rules of style that once governed menswear style are bending to new and improved modified standards. Organizational culture and work attire have taken a giant leap forward to adjust to our needs.
They know that people look to increasingly dressing more casually, more of the time, in many workplaces and it's quite common to wear sports jackets and chinos in an environment that a few years back would have been strictly suits.
Escaro Royale shoes turn an average suit into an impressive outfit and they have the power to make jeans feel boss-level. If you're the kind of guy who wears a suit with some regularity but also needs a pair of shoes on hand that'll work for date night on the weekend, Escaro Royale won't do you wrong.
Shoes Beyond The Traditional Style
It's a widely accepted truth that some wardrobe classics never date; the Classic Style Type is safe, clean, and traditional. You know what works for you and you tend to stick with it. Something is a wardrobe classic when even those who claim to have zero interest in men's style could comfortably reel them off.
So when you're up for mixing and matching them with modern outfits to create an out of the box appearance – Classic dress shoes just won't do. So if you see classic styles as boring, conventional, and uninspiring – Escaro Royale is for you, Gentleman.
Escaro Royale shoes are the perfect pause for someone who has never been interested in shoes at all (dress shoes, Especially) and never really paid much attention to what they wore, but who now wants to change that and improve their sense of style, or simply just dress better.
They refresh a very traditional dress shoe style in ready-to-wear. Because traditional dress shoe style, even if we admire and respect them, is still very conservative and common. Escaro Royale has a trailblazer spirit. They are a little bit more daring, more refined, and some of their shoes are works of art.
This is something that we have not seen before in India. Dress shoes in India used to be more puffed, sturdy, and very traditionalistic. Escaro Royale brought a new wind in the so-called, traditional style dominated market. 
Escaro Royale shoes ensure you won't die under those awkward moments when you buy a shoe that is, in your opinion, very sexy, but then you wear it out and everyone is looking at you with that your-shoes-are-so-last-season look.
It is a luxury brand that manages to strike a balance between Classic and Trending. Or we must say, " manages to strike a perfect balance between what's trending yet still keeping things Classic.
And If You're concerned about the price as well!
Instead of purchasing to prove "What I Have" – if you are buying to show "Who I Am" then chances are you're watching for a luxury touch. Luxury consumers aren't interested in more features giving better value for money — that's a premium marketing angle.
Unquestionably, Pirce isn't always the indicator of quality. But it's an undeniable fact that if you're seeking a Luxury Experience – you have to pay the premium (maybe just for the name sometimes).
And that extra cost you're paying isn't necessarily going towards the quality of the shoe. What you are actually paying for is the cost of carrying inventory, paying rent in the store, and hedging against risk.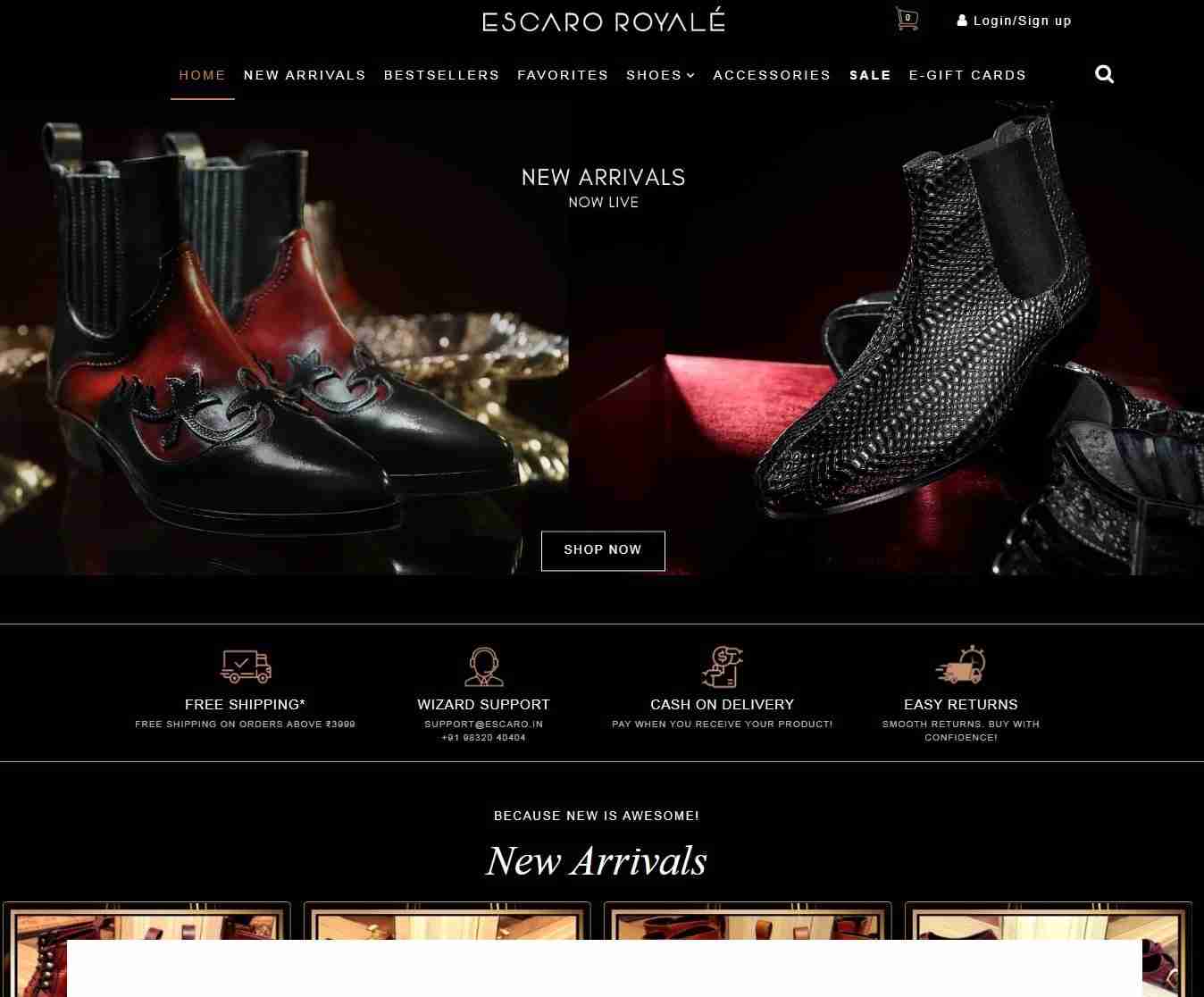 At Escaro Royale – you can experience that luxury éclat and uniqueness without experiencing the premium prices. It is a brand for those who have an appreciation of the finer things in life but are price sensitive.
Escaro Royale gives you the best features at the best value. They operate with a close to one ratio of functionality and price. It's a fantastic, extensive range of shoes for an incredible price. Escaro Royale shoes are between around ₹7k to ₹15k for shoes that would easily cost upwards of ₹20k in a normal retail environment.
The reason for that is simple (and Escaro Royale is very transparent about that) and is in their business model. Escaro Royale is a direct-to-consumer label. You can buy shoes directly from their website. Technology has certainly opened up the opportunity to cut out the middleman in ways that weren't possible just a few decades ago.
The label comes up with the best value for their customers and themselves because they don't have other extra layers of cost. Such an approach to the market not just allowed them to sell Premium Dress Shoes at an incredible price, but allow them to forge closer ties with their customers and increase their lifelong value.
And approach, kind of, justify their ethos of Digital Luxury Brand. Startup Dynamism actually results in faster iterations, more improvements, keep going faster. And they can also test and do new things, which we think, no one's ever done before.
---
---
How can we improve BestShoe99? Got feedback?