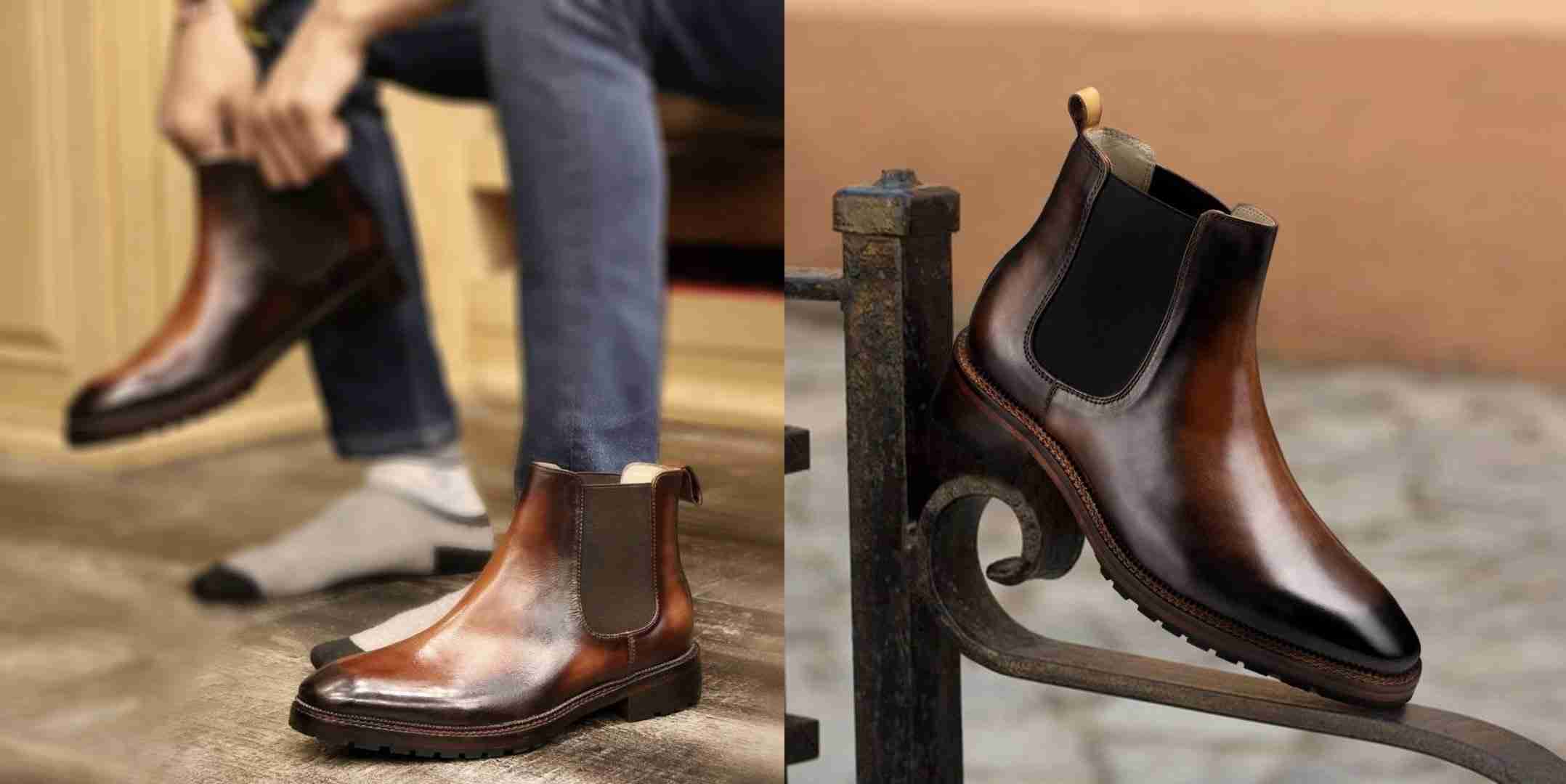 Nothing else is even remotely comparable to an Escaro Royale: the brainwave of using Full-Grain Argentinian White Crust to build the upper, pumped by Hand Patina driven by a traditional, finely finished stitching that goes around the outsole, is nothing short of inspired.
But their best-selling Goldbrow Chelsea stands high and wide on the collection. It does sell out with absolute certainty if you don't act quickly. You don't wear this Chelsea to go unnoticed. And until those damn scientists find out leather with traction, only one of these Chelsea is so practical that there's the real reason for you to act now. Like, right now.
As this Chelsea, from Escaro Royale, already has a bit of reputation – but here you'll look past that reputation and figure out what this Chelsea really is? We've sung the praises of Escaro Royale's collection so many times in the past year, but this one is purely devoted to their Goldbrow Chelsea.
Functional Chelsea – That Still Braces A Sleeker Silhouette
Pros
Price/Quality Ratio
Sharp Last Definition
No Break-In Required
Utilitarian Sole Unit
---
Escaro Royale, of course, is the white-hot Indian label that turned super-traditional black oxford into office- and wedding-grade attire. The label is so well known and appreciated amongst shoe enthusiasts for its modern aesthetics without compromising the most revered traditional shoemaking techniques, and there Goldbrow Chelsea Boots are no exception.
While the original formulas are left untouched, it is the perfect execution of the design that grants The Goldbrow the upper echelon of the company's bestseller.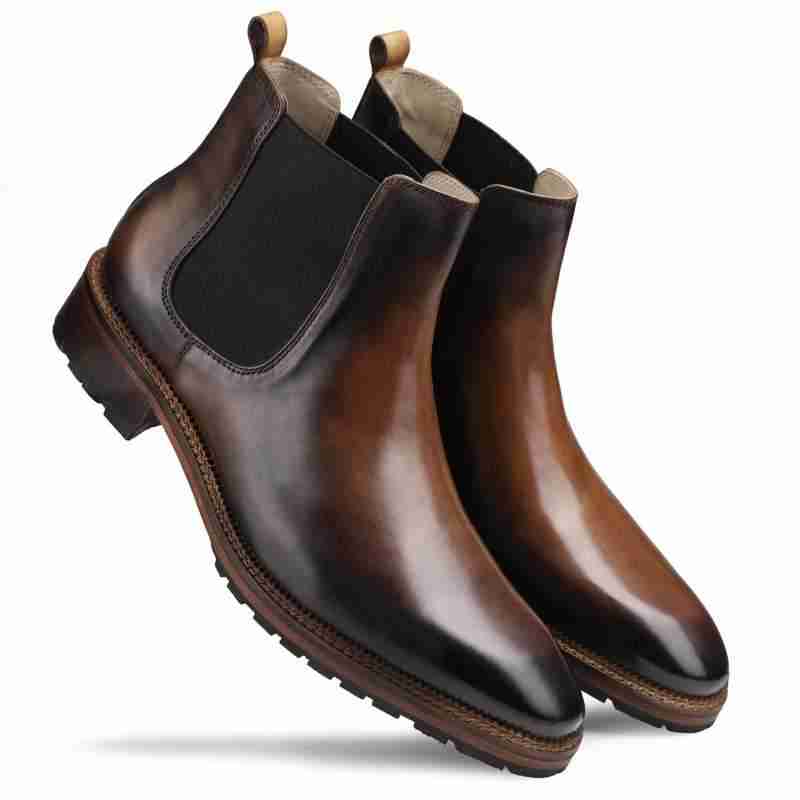 These Chelsea boots bridge the gap between dressy and casual better than any other on this list of best Chelsea boots in India. A very elegantly sharp cut round last. That allows it to be dressed up more and even further versatile.
Escaro Roayle's Goldbrow Chelsea boots are well-suited for putting under a, uh, suit when you mean business, and under tried-and-true denim for your more outdoorsy activities (and by outdoorsy we mean anything from attending a barn wedding to buying groceries).
At first glance, Escaro Roayle Goldbrow is a beautiful, elegant, well-balanced Chelsea – especially for a Chelsea, with an Anti-skid rubber layer, which can easily look clunky and heavy.
The Goldbrow is available (stock) in two finishes: Dark brown and black. Retails for ₹9999, this Chelsea can be purchased online at www.escaro.in or at their Experience Center located in New Delhi. Beyond this price point, you begin to hit the point of diminishing marginal return. But the value here with The Goldbrow is exceptional.
How It Overdeliver The Value You Pay For It
There are probably more crap shoes in the world right now more than at any other point in history. Mass-produced shoes are all about the bottom line. It's about selling as many shoes as possible at the lowest cost to the company.
So Why The Goldbrow Chelsea is not another marketing gimmick attempted to get you to believe something that gives the allure of quality but really means nothing. Here are some reasons Why The Goldbrow Chelsea is one of the Best Chelsea Boots In India and worth your hard-earned dinero.
01.
A Practical Sole-Unit
When you're looking for the best Chelsea Boots In India – you've got two choices: There are those slim, contoured kinds that exude elegance and go great with a luxurious custom suit. And then there are the heftier Chelsea with chunkier soles that talks a little more practical.
We scoured stores for a Chelsea boot that isn't too sleek but isn't too chunky, and we end up on The Goldbrow Chelsea. But Escaro Royale's take on Chelsea Boot walks the line between fashion and utility in such a well-heeled, sturdier-sole style.
Now, that sturdier-sole doesn't live up to the chunky footwear craze. But just an Anti-Skid (rubber) layer over the Argentinian Leather Sole gives you the best of both worlds: those rubber soles will keep you high and dry in a downpour, and they pop right off for a trimmer, dressier look once you reach your destination.
02.
1.8 Gauge Full-Grain Leather Upper
The sleek simple design of this model showcases the beautiful waxy texture of Argentinian Rare White Crust 1.8 Gauge Full-Grain Leather without any visual disruptions, and really allows Escaro Royale Craftsmanship to show through.
Now, it is a luxury material, imparting strength, beauty, and character. An untampered material that is not put through any processes to take away from its appearance or durability. Encompassing richness and depth, there is no higher grade available.
Specifically, it is a Full-Grain leather that has been tanned but not finished i.e. remains uncolored and without surface treatment, is referred to as being "in the crust". It's the Crust leather that enables Goldbrow a rich, deep patination out of the box. The upper of The Goldbrow ages, rather than wearing out, it burnishes and beautifies, developing a much sought-after patina and unique character that cannot be easily duplicated.
03.
That Perfect Silhouette
The Goldbrow Chelsea exhibits the design execution ability of the firm. They put a lot of time and work into elegant balance last design, the perfection of adding the upper to the last, cleanliness in finishing. The leather is pulled in very neatly over that sculptured last, resulting in a very tight feather line.
Another reason behind such a sleek silhouette is the Blake Construction method used to connect the upper to the sole. The advantage of Blake construction is that the sole can be cut a lot closer to the upper, leaving less of a lip and making the shoe sleeker.
Especially on a Chelsea Boot, where the single forward pattern piece is so large, the leather has to be blocked on a wooden block to give Goldbrow that appealing shape.
It's the Goldbrow's clean and sleek silhouette that makes it more suit-appropriate than many other models in our guide on Best Chelsea boots in India. The beautiful elongated shape that balances quite perfectly with the toe. It's a soft square toe but not too chiseled and too square to make it unapproachable.
One of the elements that we really appreciate about this toe shape is the slight loft as it pitches forward. That nice vertical dimensionality to the toe shape is immediately striking. The Goldbrow features a nice square waist, which offers good support and is appropriate for a Chelsea like this.
---
---
How can we improve BestShoe99? Got feedback?