Best Chelsea Boots In India, Chelsea Boots For Men; call them what you like – these Chelsea will make you feel (and look) sharp, world-wise, and sophisticated. Adds a badass touch to almost any outfit – Yes! they're also incredibly durable. These Chelsea Boots for men who want to look rugged and stylish at once. As functional as they are fashionable, these Best Chelsea Boots In India are from few items of menswear that walk the line between fashion and utility in such a well-heeled, cleated-sole style.
The magic of Chelsea boots? If you grab the right pair, they can totally change your point of view. Of course, not all Chelsea boots in India are what they seem. Truly capable Chelsea boots for men are constructed to last; with weather-beating features including Goodyear-welt, Practical sole-unit, and the finest treated leather uppers. Thankfully, in some best formal shoe brands in India, you can find many examples of this timeless and on-trend footwear.
This guide on Best Chelsea Boots In India is a destination for finding the perfect version of Chelsea you need. Of course, you'll be able to make better and more accurate choices. Not only that, you will learn a thing or two along the way! As usual, it will be rather large! Get some coffee, use the table of contents to navigate, and get ready to explore the amazing world of Chelsea Boots for men.
Best Chelsea Boots In India
The timeless silhouette and minimalist design of Chelsea boots for men allow them to easily assimilate into your current sartorial rotation. Whether it's a cocktail party, board meeting, or a big date, Best Chelsea Boots in India will see you right. You'll be able to wear these Chelsea as easily to the office as to the club.
A pair of Chelsea Boots are from a few of those pieces that worth saving for. Don't be afraid of laying down a few extra bucks, as we know these Chelsea Boots Alines with your lifestyle and morals. That doesn't mean you have to spend outside your budget. But here's the thing—if you invest in quality, it'll pay off.
Thanks to the ubiquity of the silhouette (you'll find it stocked to the ceiling at any mall), there are some great Chelsea Boots for men. Whether you've got ₹6k or ₹25k to spend, or you're looking for smooth leather or velvety suede, these are the Five Best Chelsea Boots in India that you can pick up right now.
Best Chelsea Boots In India:
Escaro Royale Goldbrow Chelsea
Functional Chelsea – That Still Braces A Sleeker Silhouette
Pros
Price/Quality Ratio
Sharp Last Definition
No Break-In Required
Utilitarian Sole Unit
---
Escaro Royale, of course, is the white-hot Indian label that turned super-traditional black oxford into office- and wedding-grade attire. The label is so well known and appreciated amongst shoe enthusiasts for its modern aesthetics without compromising the most revered traditional shoemaking techniques, and there Goldbrow Chelsea Boots are no exception.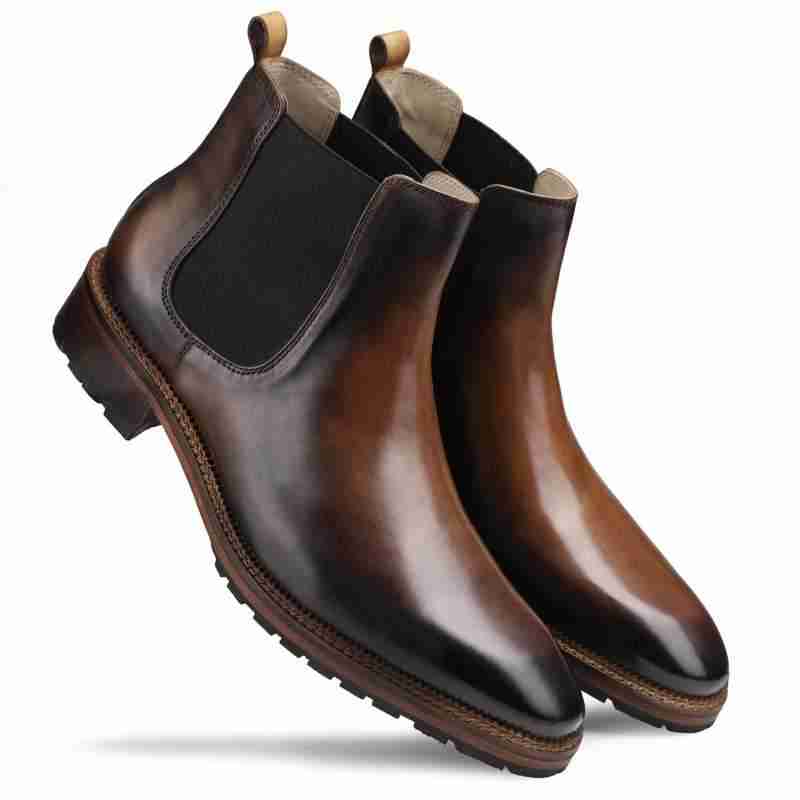 While the original formulas are left untouched, it is the perfect execution of the design that grants The Goldbrow the upper echelon of companies bestseller.
These Chelsea boots bridge the gap between dressy and casual better than any other on this list of best Chelsea boots in India. A very elegantly sharp cut round last. That allows it to be dressed up more and even further versatile.
Escaro Roayle's Goldbrow Chelsea boots are well-suited for putting under a, uh, suit when you mean business, and under tried-and-true denim for your more outdoorsy activities (and by outdoorsy we mean anything from attending a barn wedding to buying groceries).
At first glance, Escaro Roayle Goldbrow is a beautiful, elegant, well-balanced Chelsea – especially for a Chelsea, with an Anti-skid rubber layer, which can easily look clunky and heavy.
The Goldbrow is available (stock) in two finishes: Dark brown and black. Retails for ₹9999, this Chelsea can be purchased online at www.escaro.in or at their Experience Center located in New Delhi. Beyond this price point, you begin to hit the point of diminishing marginal return. But the value here with The Goldbrow is exceptional.
Why These Chelsea Boots For Men – Are HOT?
There are probably more crap shoes in the world right now more than at any other point in history. Mass-produced shoes are all about the bottom line. It's about selling as many shoes as possible at the lowest cost to the company. So Why The Goldbrow Chelsea is not another marketing gimmick attempted to get you to believe something that gives the allure of quality but really means nothing. Here are some reasons Why The Goldbrow Chelsea is one of the Best Chelsea Boots In India and worth your hard-earned dinero.
A Practical Sole-Unit
When you're looking for the best Chelsea Boots In India – you've got two choices: There are those slim, contoured kinds that exude elegance and go great with a luxurious custom suit. And then there are the heftier Chelsea with chunkier soles that talks a little more practical.
We scoured stores for a Chelsea boot that isn't too sleek but isn't too chunky, and we end up on The Goldbrow Chelsea. But Escaro Royale's take on Chelsea Boot walks the line between fashion and utility in such a well-heeled, sturdier-sole style.
Now, that sturdier-sole doesn't live up to the chunky footwear craze. But just an Anti-Skid (rubber) layer over the Argentinian Leather Sole gives you the best of both worlds: those rubber soles will keep you high and dry in a downpour, and they pop right off for a trimmer, dressier look once you reach your destination.
1.8 Gauge Full-Grain Leather Upper
The sleek simple design of this model showcases the beautiful waxy texture of Argentinian Rare White Crust 1.8 Gauge Full-Grain Leather without any visual disruptions, and really allows Escaro Royale Craftsmanship to show-through.
Now, it is a luxury material, imparting strength, beauty, and character. An untampered material that is not put through any processes to take away from its appearance or durability. Encompassing richness and depth, there is no higher grade available.
Specifically, it a Full-Grain leather that has been tanned but not finished i.e. remains uncolored and without surface treatment, is referred to as being "in the crust". It's the Crust leather that enables Goldbrow a rich, deep patination out of the box. The upper of The Goldbrow ages, rather than wearing out, it burnishes and beautifies, developing a much sought-after patina and unique character that cannot be easily duplicated.
That Perfect Silhouette
The Goldbrow Chelsea exhibits the design execution ability of the firm. They put a lot of time and work into elegant balance last design, the perfection of adding the upper to the last, cleanliness in finishing. The leather is pulled-in very neatly over that sculptured last, results in a very tight feather line.

Another reason behind such a sleek silhouette is the Blake Construction method used to connect the upper to the sole. The advantage of Blake construction is that the sole can be cut a lot closer to the upper, leaving less of a lip and making the shoe sleeker.

Especially on a Chelsea Boot, where the single forward pattern piece is so large, the leather has to be blocked on a wooden block to give Goldbrow that appealing shape.
It's the Goldbrow's clean and sleek silhouette that makes it more suit appropriate than many other models in our guide on Best Chelsea boots in India. The beautiful elongated shape that balances quite perfectly with the toe. It's a soft square toe but not too chiseled and too square to make it unapproachable.
One of the elements that we really appreciate about this toe shape is the slight loft as it pitches forward. That nice vertical dimensionality to the toe shape is immediately striking. The Goldbrow features a nice square waist, which offers good support and is appropriate for a Chelsea like this.
---
Bridlen Goodyear-welted Chelsea
Presenting The Only "Pro Level" Chelsea Boot!
Pros
Calfskin Upper (Rolls Royce Of Leather)
360° Goodyear-welt
Tight Feather Edge
Extremely Durable
Cork Footbed
---
The Chelsea Boot is widely attributed to Queen Victoria's bootmaker in the mid-1800s and the style has been going strong since then. Obviously, the best Chelsea boots in India have evolved quite a bit since then. There are plenty of designers out there mixing it up and silhouettes are getting even more experimental. But for "The Perfect Version" or a Chelsea boot in its truest, most on-the-nose form look no further than the artisanal-minded Bridlen.
With the precise construction, high stitch density with proximity to the edge, bespoke style pitched heels with brass nail embellishments, the narrow waist, Goodyear-welting, finished sole, incredible last definition, closely trimmed sole edges, invisible channel stitching, there is no aspect this Bridlen Chelsea Boots that has not been carefully considered.
These Chelsea Boots epitomizes Bridlen's whole key of narrowing the gap between bespoke and ready-to-wear. No other shoemaker tries to incorporate so many levels of bespoke craftsmanship and finishing in their ready-to-wear offering of Chelsea boots.
Do These Chelsea Boots For Men Really Worth The Killer Price Tag?
It is important to note that because Bridlen is both the factory and the brand, a majority of its sales are direct to consumers, the company can integrate many of the shoemaking elements into their boots that one would not expect to see at this price point.
Retails at ₹23,500, there is no question that a pair of Chelsea from Bridlen is an investment piece that will be sure to last decades if cared for properly. It's an art piece that has a lot to talk about (justifies a dedicated article), but here we'll go through them in a brief yet concise manner, but also leave you with detailed descriptions of what you get with a pair of Bridlen Chelsea and reasons why they worth investing in.
Construction Method Applied
These Boots are the gold-standards for a ready-to-wear Chelsea because of the effort Bridlen put into the construction of these boots. As with all Bridlen shoes, no effort is spared in the construction and finishing of this Chelsea.
Goodyear Welt Construction is one of the first major upgrades separating This Chelsea Boots from disposable footwear. It is generally regarded as the best construction in terms of comfort and durability as well as ease in terms of reparation.
Though expensive, time-consuming, and difficult to master, Goodyear Welt Construction creates a tightly-crafted Chelsea boot that is water-resistant and wearable for years to come. For shoe connoisseur, a Goodyear welted shoe (in terms of construction) is what separates the men from the boys.
The Goodyear method is defined by its extraordinary efficiency when linking the different parts of the shoe. First sewing joins the body of the shoe to the welt (a long strip of leather that acts as reinforcement for the footwear), while second external stitching fixes the sole to this piece. This gives superior strength.
Comfort is another understated advantage of Goodyear Welt Construction. This is because the addition of the welt creates a small cavity underneath the insoles. This is filled with a granulated cork. It creates a nice mold of your foot, after a good amount of wear, providing an almost custom-like foot-bed.
Today, Goodyear Welt Construction Boots are a luxury good, accounting for less than 1% of shoe production and this Chelsea Boot is from that echelon. Even the bottom of This Chelsea is impeccably finished. Almost so well finished – that you hate to even wear 'em. It's those details that really combine to create a very refined finish.
The outsoles are finished with an Invisible Channel Stitch. Instead of simply creating the stitch and the channel at the same time, Bridlen first cut into the sole to create a little flap of leather. Once this is cut and lifted up, they then cut the channel and stitch the sole to the welt. After this, it is closed back down and glue is used to keep it down.
The result is a perfectly clean outsole where you can't see any of the outsole stitching; that you would find in all the Chelsea we've in our list of Best Chelsea Boots in India. It just shows Bridlen's commitment to quality and craftsmanship.
Welts and edges are trimmed close to the Boot, they're not protruding too far out – which helps increase the level of formality and dressiness of this Chelsea Boot. The heels of this Chelsea is built-up layer by layer and then shaped to produce a beautiful narrowing silhouette.
The Leather
The most important factor in determining the durability and charm of a Chelsea Boot is the material used to make those Boots. High-quality footwear is professionally assembled from high-quality materials. Bridlen's desire to bridge the gap between traditional ready-to-wear and bespoke is also seen in the choice of materials used to make these Chelsea boots.
Only superior leathers such as French box calf are used, time-consuming processes – such as the hand-cutting of materials – are employed and every sole is vegetable-tanned to ensure unrivaled comfort. And this comes, naturally, at a price. We know this sounds technical, so let's break this down.

It's a type of Chelsea one finds oneself admiring, without knowing precisely WHY? But we know it – it is the Calfskin Upper. It simply means that the leather came from a calf, as opposed to a full-grown cow (which in reality is the case most of the leather used in the high-end shoe industry).

Crème de la crème – Bridlen used Box Calf in their Chelsea Boots, as they never got so much into patina and making Green/Blue/Red shoes. Compared to any other type of leather, the finish or patina of Box Calf will evolve. The open pour structure will absorb pigments and polish. Rather than wearing out, it burnishes and beautifies, developing a much sought-after patina.
Box Calf is a very rare and special material that is difficult to source, which is one of the reasons that these Chelsea Boots come at a premium over any other Chelsea in our list of Best Chelsea Boots In India.
That's not the only thing that elevates these smooth leathers, either. Even with A grade Calfskins, Bridlen only uses those parts of the hide that are free from growth marks, visible veins, or hair follicles that mark weak spots in the material.
Hand-clicking (or Hand-Cutting) allows the clicker to take into account the unique characteristics of every single calfskin, ensuring that only the best areas of that skin are being used for this Chelsea.
Crafted with drum dyed crust leather linings that mold to the shape of your feet, these are the definition of comfort. There is nothing better than Chelsea that fits like the cobbler is still sewing in the sole. Stylish, comfy, and hard-wearing; the dream combo.
The Shape And Definition
It is not just that its construction method and the leather used, but whenever you look at this Chelsea – you'll really appreciate the elegance and sculpture of the AY2 last. These two things go hand-in-hand. You can have a brilliant designer that can envision a beautiful last shape, but if it's not made in a factory that's able to respect those elements – you'll never see it in a finished Chelsea Boot.
Bridlen is the only formal shoe brand in India that stands behind the Last shape, and they're very transparent with that (dedicated "The Last" section on their official website). The key element to any Chelsea boot that evokes elegance – is the shape of the toe. This Chelsea Boot has something that's neither severely pointy nor clown-shoe bulbous.
Bridlen Chelsea Boot is available (stock) on the AY2 last, which is Bridlen's classic Almond (soft smart round) toe. It is elegant yet modern at the same time, while the simple Wholecut construction without any medallion makes it a beautiful, sleek Chelsea.
This last is made to have shape, quite rightly so being as the foot has a shape. It is not a block. And it curves in many places, not just the instep and the arch. The more that you show these natural curves, the more elegant the Boot will be.
It is easy to understand When looking and feeling this Chelsea Boot, why Bridlen has really risen to be considered one of the best makers of ready-to-wear Chelsea Boots available anywhere right now.
---
Pellé Santino Goodyear-welted Chelsea Boot
A Premium Wallet-Friendly Chelsea – Best Value
Pros
Price/Quality Ratio
360° Goodyear-welt
Full-Grain Leather Upper
Cork Footbed
---
Now that we have The Most Luxury Chelsea wrapped up, it is time to drag the price bar down without a notable pull in quality. Pelle Santino comes out with a Chelsea that has experts making a lot of noise for the Price to Quality Ratio it delivers. If you're looking for some Chelseas that will do the job and leave you with enough cash to take them on a power lunch, then this is your pair.
If all you have is ₹8k, this is an Excellent Quality, Full-Grain, 360° Goodyear-welted Chelsea Boot – that if cared for properly will last years (if not decades).
Unquestionably, with a pair of Chelsea From Pelle Santino – you're looking better and wearing better footwear than 99% of all the gentlemen out there.
The only difference between these and our top picks are the amount of burnishing involved, a detail that might not concern you if you're the type of guy who likes his menswear as classic as it can be.
It's our job to unveil every aspect of the boot, so, Unquestionably – this Chelsea is an Excellent Boot (specifically for the price) but what you're missing here is a finesse that you find in some of our selections in this list of Best Chelsea Boots In India.
Why These Are "The Best Chelsea Boots For Men"?
"You Get, What You Pay For" really? There are probably more crap shoes in the world right now more than at any other point in history. Loads of brands claiming to be well made, 'handmade', 'handcrafted' etc, and are peddling crap and simply lying to the customer, saying anything to get them to buy.
If you don't know the signs of a quality Chelsea Boot – These Chelsea might seem too good to be true because you might just be using price as the only indicator of quality. Because of the great materials and work that goes into them – This Chelsea has a few things going in their favor.
Build Quality
Whether sturdy and waterproof or sophisticated and flexible, a Boots takes on desired qualities through the production method used. Time-honored tradition can be especially appreciated throughout the Making Department of Pelle Santino.
Pelle Santino Chelsea Boots are made using the traditional Goodyear Welted construction method to ensure the highest level of quality, finish, and longevity. Even after 150 years, shoemakers still consider the Goodyear Welt to be the finest method of shoe construction.
Most of the brands feature a three-quarter welt that goes all the way around the boot but ends at the base of the heel. It allows the heel to sit more neatly on the bottom at the cost of heel durability. Going even further, Pelle Santino Chelsea Boots Features a 360° Goodyear-welting ensures perfect adherence of the insole, sole, welt, and upper, giving the shoe robustness.
Now, with the 360° Goodyear-welting, we see the welting doesn't stop at the arch, it continues all the way around the back of the heel.
This is important because the uppers of such high-quality leather Chelsea are going to get better with age and outlast the wear of the leather outsole several times. You can easily re-sole these Chelsea Boots four (or five) times before the entire boot reaches the end of its lifetime.
Cork Filling
As these Chelsea Boots are Goodyear-welted, the addition of the welt creates a small cavity underneath the insoles. The Gap between the full leather outsole and the insole of the Pelle Santino Chelsea Boot is filled with granulated Cork (not rubber foam) which adds additional comfort, cushions your stride, and helps the shoe mold to the foot over time.
These Chelsea Boots features 100% genuine leather outsoles. In our opinion, a leather Chelsea is just more elegant with the leather outsole. Rubber soles don't have a place in the office and diminish the elegance of quality Chelsea Boot. Of course, there are some good exceptions for those who spend a lot of time outside walking in the rain.
Leather is often thought of as a hard material that does not allow for cushion or comfort however when combined with cork, it can create a very soft and flexible footbed. The downside of leather is that if they're not made properly, with the correct mixture of cork, they can be very rigid and not provide much comfort or support.
Pelle Santino knows how to get it exactly right. Such Chelsea Boots are constructed with a wooden shank that gives support between the heel through the arch to the ball of the foot. Along with higher comfort, the real stand out feature of leather soles is the classic elegant silhouette, and it elevates the formality of these Chelsea Boots.
Best Value
We are more conscious of the things we buy and the prices we pay. We all seek the most out of our spending. More consumers than ever are concerned with making their rupee stretch as far as possible.
We are moving towards a Value-Conscious nation. And if you're more conscious and willing to search for the best prices and deals – Pelle Santino's overall value proposition is very hard to beat!
Pelle Santino was built out of frustration. Clunky work boots or delicate fashion boots? Cheap shoes that fall apart after a few wears, or shoes that were incredibly overpriced? It didn't seem right that we had to make these trade-offs. There had to be another option.
Pelle Santino is an alternative: ridiculously high-quality footwear at honest prices that could handle our busy lives in Mumbai City. We're so used to the prices of Boots going up year after year, that when we do see a big jump down in price – it strikes.
This Chelsea Boot is fundamentally "A Balancing Act". It checks just the right set of elements and combines just the right set of features at a price that appeals to most of us. The smart sacrifices to significantly drop the price isn't a compromise with the quality – it is in their business model.
Pelle Santino manufacture, market, and distribute their shoes without middlemen (Yes, Pelle Santino is a Direct-to-consumer Brand) which enables them to reduce costs, interact directly with consumers, and provide a seamless start-to-finish buyer's experience.
It not only reduces costs but has the advantage of focusing solely on us (the consumers). To spice up the deal (a little more!) use our exclusive "BS99" code for 10% off your investment in a pair of Chelsea from Pelle Santino.
---
The Royale Peacock Karev Browinsh Tan Chelsea
Make Everyone Jealous At The Airport
Pros
Snug Fit
Perfect Toe Shape
No Break-In Required
Extremely Comfortable
Cons
Stiff
A Wide Elastic Side Panel
---
These Chelsea from The Royale Peacock can add an extra bit of oomph to an outfit. The super sleek silhouette and minimalist design of these Chelsea boots allow them to easily assimilate into your current sartorial rotation, with their versatile nature lending them to a variety of looks from casual wear to semi-formal occasions.
One of the sleekest Chelsea Boot in our list of best Chelsea Boots In India. Perfect Sleek Silioutte that is enough of a boost to help you look striking, but not much more than any pair of dress shoes you already own. Even though the design of the Chelsea Boot is exceptionally simple, the sleek shape of The Roayle Peacock last still makes it stand out as a beautiful and elegant Chelsea.
A comparatively bigger elastic sides help this Chelsea mold to your foot. Furthermore, the higher back on the boot helps prevent any type of irritation to your heels. Karev Brownish is a favorite among those who travel and walk a lot. And for this reason, these Chelsea Boots have a dedicated and loyal following.
Why You Should Invest In These Chelsea Boots?
Now we all know that just like with suiting, there is a huge range of quality and craftsmanship out there available for us when we're up for the Best Chelsea Boots In India. In this list, we have covered a ₹7k Chelsea from Pelle Santino and a ₹24k Chelsea from Bridlen. One of the incredible things about today's marketplace is that there are so many choices of great ready-to-wear Chelsea Boots for a reasonable price.
So like with all things in this fascinating sartorial world – there is a journey. I started with Pelle Santino and then I moved to Bridlen. And that is what we love about menswear. Karev Browinsh certainly has some elements in their favor. There are some quality points that we have revealed below.
Overall Make
The Karev Browinsh Chelsea is favorites among those for whom comfort is the king or don't like to fuss with traditional Chelsea Boots – those clunky ones! Build on the companies one of the sleekest and narrowest lasts – The Karev Browinsh Chelsea features a Goodyear-welted Sole Unit, Leather Outsole for a classic look, and Full-Grain three-piece pattern upper.
Alike most of the label's shoes, The Karev Chelsea boots are completely Goodyear-welted, which is the 'de rigueur' of high-quality factory-made Chelsea Boots. Specializing in this construction type has enabled the company to hone its skills and know-how.
This method allows for the soles to be removed for repair without affecting the uppers. This is a particularly big advantage in a time when we're placing higher importance on sustainable living.
After the soles have been attached the shoes undergo a process called 'Bottom Levelling', which rounds the soles to the shape of the last.
The Karev Chelsea boots come with leather outsoles. The real stand-out feature of leather soles is the classic elegant silhouette, hence they are usually the material of choice when making formal shoes and are traditionally considered to be a quality shoe.
Fascinating Shape And Fit
Chelsea boots with pointy toes, broguing, high-shine patent leather, or colored soles – brands have reinvented to suit current fashion trends. The More Design Frills Your Boots Have, The Harder They Are To Style. Usually, simplicity is the best bet. These Chelsea Boots are characterized by their streamlined simplicity
The Karev Browinsh is a close-fitting Chelsea boot as the beauty of the Chelsea boot lies in its sleek, close-fitting design. Build on a sleeker last, you can see the beautiful elongated shape that balances quite perfectly with Chisel toe.
It's a square toe but not too chiseled and too square to make it unapproachable. The toe that slight loft as it pitches forward. There is a nice vertical dimensionality to this toe shape. It is the result of the additional work required to pull the upper over the last and all the elements of design and sculpture that you expect when paying ₹11k for pair of Chelsea.
Of course, The shoemaking process can affect fit. How long the shoe was left on the last will affect how "hugging" (aka tight) the shoe will be. This Chelsea Boot is blocked on a wooden last (for weeks) for that fascinating shape.
Hand-lasting helps to add shape and elegance to the uppers and prevents the shoe from appearing too square. The Boot features a nice square waist which offers good support and is appropriate for a boot like this.
Sleek, Versatile, and Durable that dream combo! The Karev Chelsea proves the idea that when spending a bit more you get something that actually saves you money in the long run.
---
Escaro Royale Iceman Chelsea
Coolest Menswear Piece You're Ever Likely To Own
Pros
Soft Argentinian Suede Upper
Price/Quality Ratio
Last Definition
Cons
Durability
Required Frequent Care
---
Suede shoes are a spring menswear staple in the same vein as unlined blazers or mariner stripe tees are when temperatures start to rise. But this spring, there's a particular breed of textured hide footwear that we're feeling more than any other: the suede Chelsea. Suede may be more subtle and supple than the other heavyweight Chelsea boots in our list of Best Chelsea Boots In India, but the luxury charm really proves its worth.
Escaro Royale, (Yes, that white-hot Indian label) that turned super-traditional derby into office- and wedding-grade attire. The Label's success is well documented. Producing the finest quality footwear from the off, Not even the Covid-19 pandemic could stunt its meteoric rise, with Escaro Royale hits record sales in 2020.
So when those footwear wizards turned their attention to the Suede Chelsea boot, magic was bound to happen. Escaro Roayle's take on the design, Iceman Chelsea, is the epitome of modern, understated style; staying true to its rock 'n' roll roots while being crafted to a meticulously high standard.
Now – Why It's Something That Evokes Luxury?
Ok, we accept, suede is not as good as leather. As leather's roughed-up brother, suede really does get a tough time of things. It's terrified of rain, vulnerable to stains, and not the easiest to make look stylish. Leather Chelsea boots are on the menswear, formal attire side of men's fashion, leather will look amazing when wearing a suit.
But what elevates these Suede Iceman Chelsea above all the other options listed here? They offer dress-shoe sophistication and tennis-shoe comfort. You will get compliments without being too flashy. Retails for ₹ 8999, there are few goods in favor of these Iceman Chelsea Boots by Escaro Royale.
That Luxury Suede
To dress like a gentleman, you need an array of clothing and footwear options. That's where suede shoes come in. Suede is versatile. Suede is luxurious. Heck, suede is pretty much a transcendent sartorial experience. Suede has swathed the streets, too. For London Collections Men ambassadors Jack Guinness and Oliver Cheshire, a Suede Chelsea Boot is pretty much a fashion week prerequisite. Suede is, quite literally, sitting front row.
Suede is a type of leather made from the underside of the animal skin, giving it a soft surface. To make suede, the underside of the animal skin is separated from the top, which creates the thin, flowy, softer leather. The Iceman Chelsea features an Argentinian 1.8 Gauge Suede. It has a smooth nap and is lighter weight than other suedes.
Escaro Royale Iceman Chelsea boots look more luxurious and are extremely in style. Suede works great with casual outfits and will add the touch of class you're looking for. These Chelsea boots are as classic as they come, and it's staying power is a testament to the style's timeless good looks and an overall versatility that's still tough to beat.
Painstakingly made Iceman work against a misconception that "Suede Chelsea Has Casual-Leaning Silhouette". These Chelsea Boots can be paired with your tailored pieces – when you want the later one to shine through. Their colors are muted and dusty, i.e. no fire engine red to draw attention away from your expertly tailored fit.
Build Quality
It is difficult to nail a luxurious and Classic Look from a Suede Chelsea that's not crafted with attention. No matter how right you get everything else or what material the Chelsea is made up of, if the build is not right, the Chelsea is ugly. A Suede Chelsea must make to have shape, quite rightly so being as the foot has a shape. It is not a block. And it curves in many places, not just the instep and the arch.
Escaro Royale produces incredibly well-made footwear. From the sourcing and grading of the finest Suede through to the eagle-eyed inspectors looking for the slightest imperfections in the finishing room, the craftsmanship and attention to detail throughout the manufacturing process is without peer. The company truly deserves its reputation for producing some of the Best Chelsea Boots In India, and the Iceman is no exception.
The Iceman Chelsea features Blake Construction (most used by the Italian shoe industry). Created by directly stitching the outer sole to the insole, Blake Construction provides maximum flexibility, super sleek silhouette, and lightweight Chelsea Boot.
It's the Blake Construction that allows the upper to sit nice and tight on top of the base without any unsightly gaps between the heel and the upper. The heel of The Iceman Chelsea also features a nice shape and definition with a slight pinch at the top.
All the edges are beautifully trimmed with a natural finish, which allows the leather stacks of the heel to be seen. On such lighter colored boots, we enjoy naturally finished edges and heels because it allows the layers of the leather sole to be fully appreciated.
---
Should You Really Invest In A Chelsea Boot?
There is a major shift in how brands are marketing and how we are buying footwear. Instead of purchasing to prove What I Have… People are buying to show Who I Am! Well, the world of fast fashion is even more complex than what it looks like from the outside. Fast Fashion has made us rethink our priorities and focus on Trendier Crap as opposed to Classic Mater-pieces. And with luxury brands at one end and the fast fashion brands at the other – the future is even more exciting and challenging for both buyers and sellers.
Coupled with the age of social media, where no one wants to repeat their shoes on Instagram – our credit card slips unnecessarily very often! With more and more brands out there to choose from and trends changing faster than ever – these days we end-up buying stuff and throwing it away like we've never done before. On that note – Why so much love for Chelsea Boots? or Is it even worth investing in a pair? Ensuring you're spending that money wisely – Here are few things going in their favor.
Slow Luxury, Not Fast Fashion
We often find some piece of menswear is chasing the fashion trend. So you end-up looking great for that season, but then after – you can't really bring out that out of your wardrobe. Chelsea Boots are Investment Pieces. Chelsea Boots are not subject to the whims of fashion.
It's not another Fast Fashion brand that comes up with this silhouette to create a season-lasting trend. To pursue this style, we've to hark back to the 1850s, ankle boots (as they were simply known then) were invented by Queen Victoria's shoemaker, J. Sparkes-Hall, as an alternative to lace-up riding boots, which were almost impossible to remove unaided.
'Chelsea appearing in Crockett & Jones 'Gentlemen of the East' catalog from 1925'
The Victorians were suckers for practicality as well as prudishness so they added a handy elasticated ankle to the riding boot shape.
The name we use today to describe these stylish stompers unsurprisingly hails from London's well-heeled Chelsea area, where they were the de facto king of footwear during the 1950s and 1960s on King's Road, be it on the Sloane Rangers that lived there, or the Mod subculture riding through.
It's little wonder that they went mainstream either, considering they're one of the most versatile types of shoes a man can own. A well-made pair of Chelsea Boot is as Classic and as Timeless as you can get.
It is a shoe that's never gonna go out of style. Chelsea looks as good today as it looked seventy-five years ago, and it'll look just as good seventy-five years from today – as it does now!
Year-Round Appeal
The Code of boots is simple and upright. In freezing weather, we Forget sleek, narrow silhouettes, look past fine suede (that we wore all summer) and supple leather, and opt instead for something that summons adjectives like, "chunky", "hefty", "shit-kicking" etc. There are very few options that can pull a double-duty for the seasonal shift – and the Chelsea Boot is one of 'em.
If you're investing (rather than spending), the best thing to start with is a Classic Chelsea Boot. Because it is Seasonless and you can wear it whenever. Just go for chunkier soles in the winter and something sleeker and slimmer when things start to warm up. You don't need to worry about the weather forecast before you slip them on.
For summer, grab some comfortable worn-in denim. We would recommend something slimmer that just barely covers the ankle of the boot. Along with a nice tee, one that hugs your torso in all of the right places. Now, you're all set with a hot look for an alike temperature. It's a perfect piece to round out a casual summer look.
Fit For Purpose
"Fashion rarely gets this functional" that's for Chelsea Boots. If you're a gentleman that is seeking out fashion that serves a function – don't even think beyond Chelsea Boots. This style of boots performs as beautifully as they look. One of the reasons behind Chelsea become so successful is their form that follows the most important functions required of footwear.
Cover the foot effectively, Practicle sole-unit, Breathability, Fashionable – At all these points, Chelsea tends to do a great job. The sung fit and practice silhouette reduces the possibility of a wearer rejecting a Chelsea if he or she likes the fit of it. They have become increasingly popular among people of all ages. Its unisex appeal is yet another added bonus.
And They're Extremely Versatile As Well!
Aside from their Slow Luxury, Stylish Looks, Practical Approach, the greatest thing about Chelsea boots is their versatility. This is footwear a man can wear at work, play, and everywhere else in between.
Chelsea boots are more likely to be found underneath office desks or pub tables and worn with everything from slim-fit tailoring to smart, rolled-up denim. These ankle boots are stylish, yet easy to pair up with your everyday outfits, making them the perfect transitional piece for day to night looks.
These elasticated leathery workhorses are as versatile as they are visually appealing – something that has earned them a well-deserved spot in the footwear hall of fame. If you're after a versatile shoe for every occasion, Chelsea boots are the way to go.
How Much To Spend On A Chelsea Boot?
Even with all of these Chelsea listed in our list of Best Chelsea Boots In India gives us a boost, there's one analog decision men still find mystifying: Am I really about to drop this much cash on a first Chelsea? It is a question that we have asked quite often. It's a concern loaded with possibilities, but also one that's weighed down by social cues and powered by straight-up fear: What's expected? How much is too much? Or too little?
What you find is, as with any article of clothing or menswear – You Get What You Pay For! – We use to say that. Brands use such phrases to justify paying high prices. And the extra price you're paying isn't necessarily going towards the quality of Chelsea Boot. Now, Chelsea Boots are from a few of those styles of menswear which really worth saving for (whatever your budget). Don't be afraid of laying down a few extra bucks.
And the best way to ensure you're spending that money wisely? Know the playing field. It is not so much about the price of the Chelsea as much as it is the component that makes it worth the price tag. Regardless of a Hefty or affordable price tag, if a Chelsea Boot checks all these elements – you should invest in them.
Boot Construction
Nothing we wear puts up with the level of abuse that our boots do. We want our Chelsea Boots rugged, that'll able to withstand all the storms.
A huge factor in how much a pair of Chelsea Boots will cost and how long they'll last is based on their construction method. By construction, we mean the method through which the sole is attached to the upper of the shoe.
Seriously, what good is a pair of Chelsea Boots crafted from the finest, most expensive leather and the best artisans in India if you have to throw it in the trash because you cannot resole it? Then again, the best shoemakers would never make such a shoe, but the metaphor still stands.
We'll go through the best shoe construction methods in a brief yet concise manner, but also leave you with detailed descriptions so that you can invest in high-quality boots and not the marketing efforts of clueless salesmen.
Goodyear-Welt Construction
If you're new to the world of quality footwear, Goodyear Welt Construction is one of the first major upgrades separating heritage boots from disposable footwear. This construction method is expensive, time-consuming, and requires highly skilled craftsmanship.
It is possible to tell if a Boot is Goodyear welted by noticing the visible stitching on the welt's top and the shoe's bottom.
Goodyear Welted construction gets its strength, durability, and repair qualities by stitching the upper leather, lining leather, and welt (a specially prepared piece of leather) to the ribbing that has already been bonded to the insole.
The welt is then stitched to the leather or rubber sole. It is this final stitch, holding the sole in place, which we can cut through enabling complete removal of the sole without causing damaging the upper.
Comfort is another understated advantage of Goodyear Welt Construction. Since the leather rib is quite high, this creates a small cavity underneath the insoles.
This cavity is filled with a granulated cork that will cushion your stride (providing an almost custom-like foot-bed) and mold to your feet over time.
Blake Construction
The Blake construction method; preferred by Italian shoemakers, is a very regular process used in the manufacture of high-quality footwear that is ideal for those who are looking for comfort from de first day.
Of course, it is the simplest version of the sewn construction methods, which like a completely glued shoe is flexible and neat but with a seam for extra strength and added possibility of resoling.
This technique is characterized by carrying out an internal seam that fixes the Boot Upper to the insole and this to the sole, being detectable from the outside.
There's nothing necessarily wrong with Blake-construction Chelsea Boots. They are just more delicate and will not last as long as Goodyear-welted shoes.
The advantage of Blake construction is that the sole can be cut a lot closer to the upper, leaving less of a lip and making the Chelsea even sleeker. The width of a sole around the upper varies among Goodyear-welted Chelsea, but none are quite as thin as Blake models.
These two construction methods tend to be quite expensive, but these techniques play a huge role in making any Chelsea boot – an investment piece.
Anything other than these methods (therefore, the cemented construction), you'll never gonna extract the sense of luxury and class that you're expecting from a Chelsea boot.
Material Used
Maybe you want to launch your shoe brand. Perhaps you're thinking about buying a pair of Chelsea Boot for your next date. Whichever it is, it's imperative that you pick the perfect material for your Chelsea Boot. The types of leather, Boot material that you choose will ultimately speak volumes about your footwear.
Just admit the fact, You can't go cheap with leather. You might not even get leather if you shrink here. It's one of those elements that worth splashing on. Just to save the integrity of the leather upper – you've already selected Goodyear-welt construction so that you can resole your Chelsea Boot without disturbing the leather upper.
Shoemaker will offer you a choice of leather, textiles, foam, rubber, and even plastic (Yes, Plastic!). We're looking for quality, durability, and timeless style, leather is often the best choice. Here're two things you must check before the credit card slips – Grade of The Leather and The Animal It Comes From. Here're top picks for a perfect pair of Chelsea Boot. Remember to refill your coffee mug!
Grades Of Leather
As with most things in life leather has variations, or "grades". A thick hide is made up of two distinct parts. The top surface, or the animal's outer skin – here the fibers and surface of this part of the leather will be firm, smooth, tight, and dense. Further down, deeper into the hide the fibers will become softer and looser – known as split leather, suede, or split suede. These different layers also have an enormous impact on quality.
Full-Grain Leather
Full-grain leather comes from the top layer (just below the hair) of the hide. Not buffed or sanded, this type of leather retains the inherent toughness, as well as the imperfections.
It is the highest quality leather and the only one suitable for rugged Chelsea Boot. Thus, it is also the most expensive. Working with this leather material is challenging. However, its ability to absorb body oils means the leather ages well, adopting a worn-in patina that makes it unique to the wearer.
Top-Grain Leather
Essentially, Top Grain Leather is like a full-grain but with a twist. It undergoes light sanding to shave off a few millimeters from the top, removing any imperfections.
With more flexibility and smoothness, Pigmentation or staining gives the leather an attractive look. If you're looking for a smooth, evenly finished Chelsea Boot with a little compromise on durability and patina – Top Grain leather is an option for you.
Corrected Grain/Genuine Leather
These days, everybody brands leather as "Genuine" and tries to pass it as high-quality leather. Produced using the skin layers that remain after the top is split off. The surface is spray painted and embossed with a leather-like pattern to resemble a natural appearance. However, the processing alters the inherent breathability of the leather.
This is the worst leather type anyone would require their leather Chelsea Boots to be made of. Any type of Hide from different animals can produce a leather item and be advertised as "Genuine". This makes it increasingly confusing since Full Grain Leather is also Genuine. But then again, they wouldn't need to advertise that.
Types Of Leather
Different animals will produce different quality hides due to their genetics and environment. Hot climates tend to have insects that bite the animal and leave scars whereas cold climates don't suffer from pests as much. Certain breeds might have more protective hair or thicker skins due to the weather. Here are leathers that you should really watch for.
Calf Skin
Calfskin is the most common material used to make high-quality men's shoes. As its name implies, it comes from the skin of young calves which are usually older than 3 months (and usually between 6-12). Although the calf has a pliable feel, it is firm in-consistency.
Its grain side is embossed with an extraordinarily fine grain pattern that is beautiful to behold. Although calfskin is prone to scuffing and scratching, using the proper polish and buffing can cover these marks (if not too deep) and develop an excellent patina in the future.
Sheepskin
Sheepskin leather is greatly preferred by people as it is soft, smooth, and very lightweight. It is also greatly desirable as it is stretchable and it adjusts to the shape of the body with use.
Smooth, supple, and feels like an old favorite from the first wear – One downside with sheepskin is that it is prone to damage if it gets in contact with sharp objects due to its softness; also its finishing deteriorates with time.
Buffalo Leather
Buffalo hide is a lot like cowhide but it can be stiffer and has a more pronounced leather pattern like deeper grooves and cuts. Chelsea boots from Buffalo leather is extremely durable and can last a lifetime.
Unlike most cowhide, buffalo has a distinctive pebbled grain that lends a rugged beauty to any leather Chelsea Boot. Artisans choose buffalo leather both for its distinctive look and strength.
While making a final decision is up to you, the details provided in this section of our guide on Best Chelsea Boots In India has everything that will surely level up your knowledge to make the final decision.
Last Definition And Silhouette
Chelsea boots are laceless boots designed to slip on and off the foot. Probably, the simplest boot, but the most difficult to make for shoemakers. Rather than made of 5 or 6 smaller pieces of leather stitched together – Traditionally, Chelsea Boots are comprised of two parts; the vamp and the quarters, each constructed from a single piece of leather.
Simplest Boot Style, no cap-toe, no perforation. So when you have nothing to distract the eye – Everything is in the last. The last is the shape of the Boot. The shape, the last definition is the first thing that makes a Chelsea boot beautiful, and eventually, worth investing in.
No matter how right you get everything else, if the shape is not right and the last if defined, the Chelsea is ugly. Now, this element is not as precise as the shoe construction methods. One cannot help but feel Attraction to what is nice and thus realize what is not.
A nicely lasted Chelsea Boot doesn't shout 'look at me'. A sleek, subtle, minimalist Chelsea with beautiful lines is an empty word charm. The difference can be observed in the pictures here. Yes, without a nice last definition, a Chelsea Boot can be held as functional, but not attractive.
A nicely lasted Chelsea Boot is not a block – it curves in many places, not just the instep and the arch. The more that you show these natural curves, the more elegant the Chelsea will be. The less you show it and the more The Chelsea just looks like a blob the less likely it can be held as attractive.
It's not an easy feat to do in all honesty and we commend brands, featured in our list of Best Chelsea Boots In India, for nailing it. It is easier to make a block like Chelsea that has no shape. The nicer the Chelsea Boot is, the more the last is going to be shaped and we suggest you invest in some of 'em.
---
---
How can we improve BestShoe99? Got feedback?