Best Formal Shoe Brands In India – holding the best formal shoes is not a luxury; it's a necessity. Sneakers have their place, but there are times when they just won't do, and opportunity favors the prepared. Whether it's a wedding or a funeral, a job interview, or a meeting with your boss's boss, some occasions demand footwear that's as refined as it is timeless.
Based on the theory that an educated consumer is the best customer, we've created this guide on Top Formal Shoe Brands In India. This guide will help you make wiser shoe purchasing decisions. Once you understand the available formal shoe brands in India, you're already halfway there toward picking the best formal shoes for men.
Later in the guide on Best Formal Shoe brands in India, you'll find some helpful buying tips through various segments – starting with understanding the available options, followed by the signs of a quality dress shoe, and we will end this guide by finding one brand that is perfect for you, for the right look and all in your fancied budget.
Best Formal Shoe Brands In India
What to expect from a particular formal shoe brand or a pair of formal shoes depending on how much you're willing to spend. And when it comes to price, don't be afraid of laying down a few extra bucks if you're able. That doesn't mean you have to spend outside your budget, but paying more for quality means you'll have a pair of shoes you can wear for years, not months.
In our list of best formal shoe brands in India, you'll find something that fits your style, your wardrobe, and your wallet. If you want to subscribe to a particular brand, we feel that it's important to feel something from not just its values but its history too. With that in mind, here are the Top Formal Shoe Brands In India, in 2021
Best Formal Shoe Brands In India:
Bridlen
Pros
360° Goodyear Welted
Hand Lasted
Calfskin Upper
Classic & Timeless Design
Extremely Durable
High Stitch Density
Service: Ready-To-Wear & Made-To-Order Best For: 360° Goodyear Welted Shoes
---
With a history spanning back to 1986, Bridlen is a brand that comes to mind when the world thinks "Dress Shoes made in India." Invest, and you're getting a serious piece of art—a pair of dress shoes with real craftsmanship behind them.
They produce the type of shoes reserved for the landed gentry and wealthy, old-money types, or so the thinking goes – Quality. Pushing back against the culture of low-quality, mass-produced footwear, Bridlen has dedicated an eight-week gestation period to every pair of shoes it creates.
Bridlen premium-grade Goodyear-welted shoes continue to be made by hand inside its workshop in Chennai. And, because standards continually improved, so did the firm's reputation. Bridlen is the Gold-Standard among Best Formal Shoe Brands In India.
If you want your shoe to enter the board room before you do and want it to be there after you left – Briblen produces the strength and comfort that their shoes provide their wearers. The label will make sure the world gets to see your best side. Here's everything you need to know about one of the top 10 formal shoes brands…
35-year Shoemaking Archive – Gently Unfolded
The brand's first steps as a shoemaker have spurred a now 35-year global shoemaking footprint; one that boasts a made-to-order program, a By Request service, and a growing ready-to-wear collection.
Bridlen has been making shoes and boots since 1986 in Japan. The label is "The Most Expensive" brand in our list of Top Shoe Brands In India, but the honor of owning some pairs certainly has its perks and justifies the premium.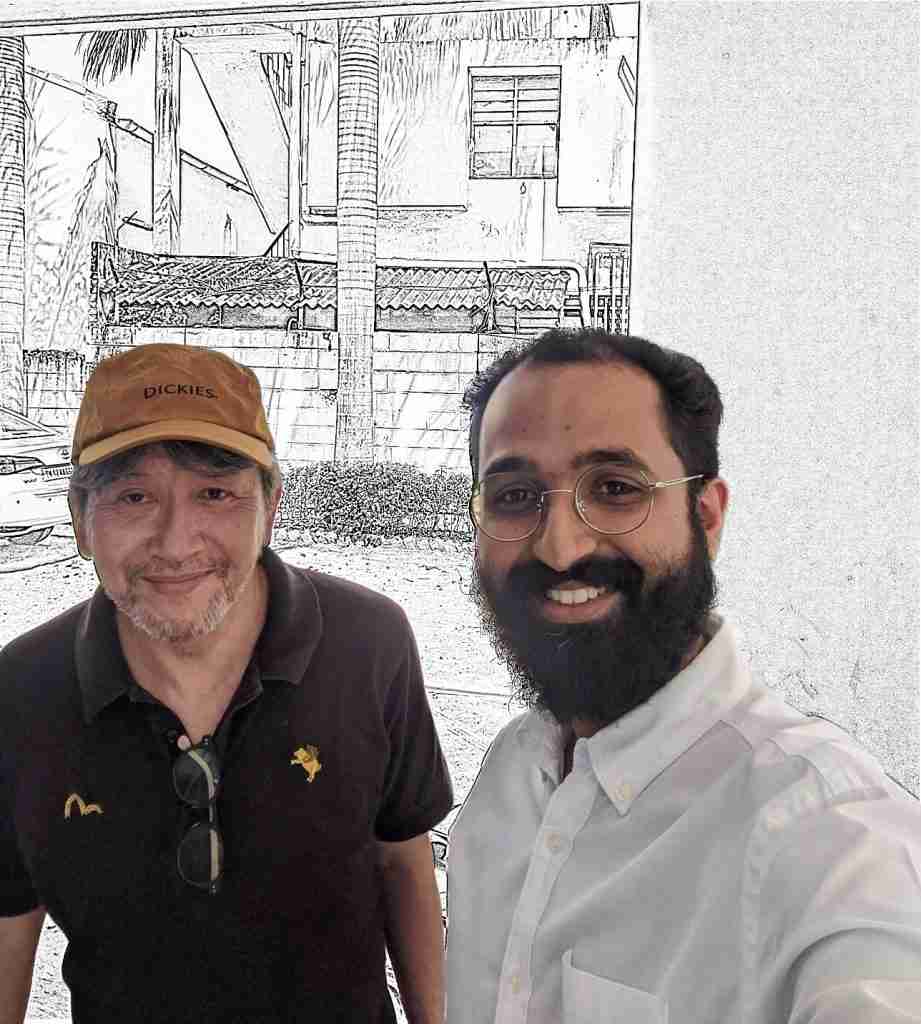 The label was founded by Mr. Kiyotaka Watanabe and Mr. Hasan. Watanabe and Hasan worked for various shoemakers and designers before joining together to launch their own line.
They aimed to craft dress shoes using time-tested classic principles and to narrow the gap between bespoke and ready-to-wear.
Crafted and honed with unerring attention to detail, each pair of shoes embody the timeless elegance of the quintessentially English style.
Mr. Watanabe's shoe designing brilliance along with Mr. Hasan's brilliance behind the construction is instantly recognizable in every pair of Bridlen.
Today, Bridlen remains true to traditional manufacturing methods. Bridlen artisans make just 100 Goodyear Welted pairs a day, allowing them to focus on producing shoes of unmatched refinement, characterized by handsome lasts, narrow waists, and hand-antiqued calfskins. These are the types of shoes one finds oneself admiring without knowing precisely WHY.
---
Why There Isn't Any Other Brand Like Bridlen?
Last year, master shoemakers at Bridlen are on hand to give your wardrobe an effortless update with their Founders Line. The Collection represents the highest levels of both design and craftsmanship.
Featuring Goodyear welted JR Oak Bark Tanned Leather Outsole (tanned in vegetable tanning pits for up to NINE months!) is what makes 'em the only brand that leverages such material in India. However, the differences extend far beyond just the outsole.
The Cost?… They'll set up back about A Cool ₹25,000 – But some elements are rolling in their favor makes Bridlen "A Steal At Any Price Point". Here're the ingredients that'll force you to whip out your credit card for Bridlen at any price point… Every time!
An Alluring Upper
Bridlen's house style has a good depth -More than you might think. With ranges consist of near-bespoke caliber models to collections that are relatively simple at noticeable price differences. The whole idea is to make something that appeals to every corner.
Compromise some subtle bespoke level details and you'll have a pair that slightly more conservative (Price-uly!). But what never changes (no matter what's your pick!) is that your feet will always be under gorgeous skin.
Leather comes in an almost unending variety of types, at Bridlen they use the finest available, usually Box calf. Uppers are clicked from the exclusive selection of Full Grain Box calf skins.
Full-grain leather is a fine quality material where the leather's natural pore structure or "grain" is healthy, and is left untouched. You get all the toughness, the ruggedness of the animal. You get a shoe that will wear for decades. It'll age well and patina well.
The finish (Or Patina) will evolve over time as the open pore structure of the Calfskin does absorb the pigments. Calfskin spring back a huge amount of punishment as they're worn day-to-day (open to the elements!) and hold their shape over time.
All the patterns are clicked by hand that allows the clicker to work around the growth marks, visible veins, or hair follicles – ensuring only the best area of that skin will please your feet.
They are in the firm belief that you cannot make fine shoes without fine upper leather. This adds a fair amount of time and cost to their manufacturing process, but it makes for better shoes that one would expect from one of the best formal shoe brands in India.
Such leather speaks to the capacity of Bridlen to go out and manufacture exceptional shoes, which is something that smaller manufacturers really can struggle with.
---
Stitch-uated Pairs
The upper is key to your shoes looking good, Right? But it's the outsole that'll handle the real pounding. On a pair of Bridlen, you would expect the uppers to outlast several outsoles.
Therefore, those hunks of tanned hide stipulate an apt sole treatment. In fact, it is rare to find a manufacturer that settles loads of money on the upper and then simply (and cheaply!) glues 'em to the outsole… It's like Grounding a Boeing 747 with no gears.
Bridlen knows what they stand for – Quality and Longevity. And that doesn't come effortlessly… They make sure every pair out of their factory is Stitch-uated – either directly stitched or through a welt – A pair of Bridlen is stitched and cemented, Every Time!
Of course, You'll get a more refined method of construction and higher stitch density as you level up – but the opportunity of re-soling is always there with a pair out of their camp!
Precisely There are two treatments that Bridlen gives to a shoe's sole (Truly, there are various ways Bridlen attaches their uppers with the outsoles – but here we're uttering about the most common techniques… so don't catch us on this!).
They would be either Blake Stitched or Goodyear Welted.
Bridlen is best known for its full 360° Goodyear-welted construction which allows the outsole to be pulled off and replaced without compromising the integrity (Fit and Finish) of the upper.
Don't be afraid of laying down a few extra bucks (if you're able) on any style from there Goodyear-welt or The Founders Line – take care of 'em and they will still look this good three, four, and five decades later.
If those styles, from one of the top 10 formal shoes brands, are a bit too forward for you – Bridlen has their Blake Stitched shoes lined in the Essential Collection. You'll still get a perfectly executed pair that do catch the heaviest, most demanding usage.
A single row of stitching runs from the sole through to the inner sole to the upper – gives the shoe a slimmer profile.
Unquestionably, you'll miss the comfort of Cork-Filled Midsole and underfoot support of the wooden shank.
The differences are far beyond just price and deserve a dedicated article to touch every corner of the pros and cons. There is no question that with a pair of Bridlen, you're looking better and wearing better footwear than 99% of all the guys out there.
---
They Are Made By 'Artisans'
There's a bit (lot) more to it than just materials and construction methods when you're operating at such price points. It is not so much about the components of the shoe as much as it is the execution of the design to have a shoe that over-delivers the value you're paying.
You can have a brilliant designer that is able to envision a really beautiful, elegant shoe and last shape – but if it's not made in a factory that's able to respect those elements… you'll never see it in the finished shoe.
Of course, the real costs lay with materials; but who designs, develops, and produces 'em… matters (if not more – than just the material!) Bridlen is not from those usual formal shoe brands in India.
In fact, it's the gathering of most illustrious craftsmen, each an expert in their respective field, equipped with the best materials (from all over the world) to work with.
High stitch density and proximity to the edge, hand clicking, higher bespoke style pitched heels with brass nail embellishments, the narrow fiddle back waist, finished sole, waxed edges & heels (done with a hot iron!), closely trimmed sole edges, the invisible channel stitching – there is no aspect, of their pairs, that haven't been carefully considered.
Of course, These are perks of their High-end Collections, But This label does its best to Upscale and make its sub-expensive series way better than the highest standards of any other best formal shoe brands in India.
When you invest in a pair of Bridlen – You are not only investing in high-quality materials, but it's the highly skilled staff, they are the real costs of quality. All these are Good reasons why Bridlen costs (and worth!) the extra scratch.
---
Clarks
Pros
Timeless sleek design
EVA sole unit
Cons
Very low perforation rate
Service: Ready-To-Wear Only Best For: Derby
Men's Footwear becomes ever more rich and varied, ever more experimental and abundant, ever more trend-aware, in moments of confusion and self-doubt – If you're not particularly fond of high-end fashion material and modern concepts, we highly recommend Clarks as a worthwhile alternative.
Clarks is the only brand in our list of best formal shoe brands in India that plays in (almost) every price bracket. The label is great for people who are on their feet all day. You can wear it all day and still be comfortable at the end of the day. The upshot, you can use Clarks' formal shoes as a workhorse and they'll still look as good as one (or maybe two) years ago.
Here Is Clarks' Interesting Story
Shoe retailer Clarks has been a feature of the U.K. high street for generations. Founded in 1825 by two brothers – Cyrus and James Clark – in Somerset, England, the company started out by creating rugs out of sheepskin.
By the early 1910s, Clarks became a must-have brand among the style-conscious in London. Clarks' biggest 'fashion' moment was to come in 1950 when Nathan Clark (the great-grandson of James Clark) designed the Desert boot.
The purist's choice – some of the best Desert boots made anywhere by anyone. Still the most iconic and best-selling shoe in the whole Clarks lineup.
Clarks gravitate towards the Indian shoe market when they spot Indian tourists at their UK stores looking especially for Clarks shoes.
After years of developing trade and award-winning designs, Clarks has tied up with lifestyle retail company Lifestyle Asia in India. Today, Clark has 1000+ stores and franchises all over the world, with 30+ independent stores in India.
What Makes Clarks "The Best"?
Clarks is the purist's choice of Desert boots – which is – by far the most iconic and best-selling shoe in the whole Clarks lineup. It was a more casual boot alternative that had been unseen at the point of its release.
Desert Boots – not to look beyond Clarks, But Gentlemen, We're here for Top 10 FORMAL Shoes Brands. That being said, whether Clarks will make any favor to your formal shoe lineup? Let's dive in…
1. Comfiest: So when I think about shoes (Dress Shoes!) that are comfortable for me – there is a range of brands that come to mind. But on top of the comfort spectrum- it's Clarks. Clarks is known for its comfortable footwear, and its formal lineup is indeed no exception.
Its formal shoes will allow you to walk all day with complete ease. By adhering to classic styles and traditional leather uppers, their shoes look like any other business shoe. However, they cleverly conceal features such as EVA heels and sole unit, foam cushioning, and engineering support.
2. Simple and Sleek Design: Clarks been one of the best formal shoe brands in India for a reason – Simple, Classic, Standard design nothing crazy and this is where things really start to get exciting.
A Simple and sleek pair of dress shoes paired with the right outfit provides a professional look that's hard to beat. Its simple aesthetics is pretty damn good when compared with other contemporary dress shoe designs.
Whether it's the firm's supple leather Edward Plain or Mod-ish Becken Plain, Clarks remains one of the most simplistic ways to punctuate any outfit.
---
---
Escaro Royalé
Pros
Incredible Last Definition
Narrow Waist
High Stitch Density
Price
Cons
Frequent Care To Remain In Splendour
Service: Ready-To-Wear Best For: Crust Leather Dress Shoes
You can tell a lot about a person by their shoes, and it pays to make sure that your shoes are telling the right story. With expert craftsmanship and often hand-stitched detailing, Escaro Royalé won't just make you a perfect pair of shoes, they will help you make an unforgettable impression.
Escaro Royalé continues to be recognized around the country for its classic aesthetic and really represents the apex of high-quality factory-made Blake stitched and Goodyear Welted dress shoes. Their shoes are truly investment pieces reserved for those aficionados for whom only the best will do and who appreciate quality and craftsmanship.
With access to some of the best leathers in the world – the company continues to produce painstakingly handmade shoes which successfully bridge the world of ready-to-wear and bespoke. Escaro Royalé is quite simply making the best formal shoes for men in India.
Here Is Escaro Royalé's Interesting Story
Luxury – that rare blend of impossible elegance – is a three hundred million dollar international market. World-famous brands whose shops populate the most beautiful avenues of major capital cities.
But behind the glamorous exterior, there is a digital world. Mr. Ambud Sharma (The men behind Escaro Royalé) is curious about luxury brands' digital effigy as the future of shopping is exclusively online. As Luxury is more popular than ever, it can't be only up to the physical stores.

Mr. Ambud comes up with Escaro Royalé in 2015, to locate Luxury on the digital map. Of course, all the luxury brands in the world have a digital identity, offering a seamless click-and-brick shopping experience. But with a little more pressure on the offline paddle.

Escaro Royalé is a high-end digital pure-play dress shoe brand. As traditional Luxury brands have been slow to embrace eCommerce and digital innovation, Escaro Royalé exceeds general thinking that online retailing would dilute the luxury brand's image and reduce its sense of exclusivity.
Unquestionably, ER's approach is different from other brands and there are solid reasons that go behind such selection. Their business model simply cuts down the markup. In fact, they bypass the conventional method of negotiating with a retailer or reseller to get products on the market.
When craftsmanship is this precise and quality is this good – you can expect that it also attaches a hefty price tag. In a normal retail environment, such shoes carry a super hefty price tag. But not with Escaro Royalé, as they don't have any extra layers of cost.
After successfully achieving online traction, Escaro Royalé propels into a click-and-brick luxury experience through their Experience Center (that's fondly called Cafe Royalé).
Cafe Royalé enhances the ability to give affluent consumers the chance to physically see and touch that handcrafted luxury and allows seamless shopping experiences.
Through an appointment, you can visit the Escaro Royalé flagship boutique on Rama Road, New Delhi. They will walk you through their entire collection with stories behind their most iconic models.
It's a quite unique experience – gives a lounge feel – Defiantly, not a typical dress shoe shop. It seems more like an art gallery and it really adds an extra element to Escaro Royalé's luxury offerings.
What Makes Escaro Royalé "The Best"?
In operation since 2015, Escaro Royalé has only grown in reputation, maintaining the impeccable quality of work despite expanding across the globe. Escaro Royalé is by far the closest thing you can get to a custom experience when buying ready-to-wear. Although their beautiful dress shoes may seem on the pricey side, the value for money is exceptional.
With excellent quality and elegant designs, Escaro Royalé provides access to dress shoes that are otherwise unattainable. Something of a young upstart in the dress shoe industry, the label seeks to change dress shoes as we know them. Different ingredients combined to create a silhouette of unparalleled beauty – here're some of those…
1. Exceptional Amount of Details: We really jump up to a whole another level of quality whenever we reach Escaro Royalé. We begin to see a lot of the finer points of shoemaking that we don't with any other formal shoe brands in India.
In fact, the box itself is sturdy and well-made, indicating that the maker really cares about the contents inside. We'll point out some of the details that differentiate Escaro Royalé in terms of finishing and finesse.
One of the things that we appreciate most about Escaro Royalé is their ability to make the difficult look easy. Escaro Royalé's "The Gama" is such a shoe – an absolute, beautiful, elegant Wholecut. But there is so much more to this shoe than initially meets the eye.
But if you're someone that really appreciates craftsmanship, It gives a nice clean look to the sole. It is just one of those nuanced elements of shoemaking that really elevates the brand's attention to detail.
Traditionally found only in bespoke shoes – The Narrow Fiddleback Waist is another hallmark of Escaro Royalé's design and craftsmanship. Fiddleback Waist with a fishtail creates a beautiful sweeping line from the heel to the toe that is obvious and highly sculpted.
The incredibly narrow waist makes it even more difficult for the shoe to last and to sew this without messing anything up. When compared to the normal, wide, square waist found in most factory-made shoes – the quality and craftsmanship of Escaro Royalé really shine through.
One of the elements that differentiate Escaro Royalé dress shoes from some of the more standard ones – is the amount of the Last Definition.
It's the shape that is given to the shoe as it is Lasted (where leather is pulled over the last) when it is being constructed.
It's just all those small details that kind of all combine together to create a beautifully sculpted pair of shoes that are Striking, Elegant and it is safe to consider that you're wearing one of the finest pairs of shoes in the room.
2. Material: Escaro Royalé's desired to bridge the gap between traditional ready-to-wear and bespoke is also seen in the choice of material used to make their shoes. The label is the gold standard amongst the best formal shoe brands in India.
The upper of these dress shoes are made using Full Grain Top Grade Leather. The Full-grain is the strongest and most durable part of the hide of an animal, which is just below the hair and has not been sanded, buffed, or snuffed (as opposed to corrected grain) which means it displays the more natural characteristics of leather.

Side of leather from the animal, remove the hairs, tan it, and done. We get all the rough spots, scars, scrapes, and toughness (ruggedness) of the animal. We get its original characteristics and a shoe that will wear for a decade – it'll age well and patina well and it's the look that everyone loves.
The Grade designates the portion of the hide used. The leather usage that they do is from the lower back portion of the hide (Less than half of an entire hide) – the créam of the crop. The most flawless area of the skin with very fewer blemishes.
And, everything else ahead of that would be used for the interior lining, swatches, or simply chuck away. Ahead of Top Grade leather, the patterns are clicked by hand – allowing the pattern to be positioned to avoid any undesirable blemishes that are unique to every hide.
---

Rather than settling for second best, we sometimes deserve to treat ourselves with the best, most high-end premium footwear. Escaro Royalé – without question – is The Zenith of formal shoes in India. We warmly recommend Escaro Royalé.
---
Pellé Santino
Pros
Goodyear Welted
Best Value
Service: Ready-To-Wear Best For: Blake Stitch Formal Shoes
Starting the guide off with an extraordinary brand – Pellé Santino. The label is an excellent introduction to the world of luxury shoes. Pellé Santino's overall value proposition is very hard to beat! All the classic dress shoes in their collection are an excellent example of their craftsmanship.
As a general rule, the best formal shoes for men are made by companies whose primary business is the manufacture of men's shoes: Pellé Santino is an excellent choice. And to all the shoe connoisseur – it might not be a new name. All-in-all, no list of best formal shoe brands in India would be complete without Pellé Santino.
The History
Pellé Santino was built out of frustration. They were frustrated with the formal shoe options available on the market. Formal shoes pretty much fell under two categories in India. Either you buy super expensive or overpriced formal shoes with a big logo.
And on the flip side, go for a super cheap alternative – where it is like glue on soles that didn't hold on and you ended up having to toss them out. They wanted to bridge the gap, So Mr. Mikhil Mehra comes up in order to change the scenario.
Mr. Mehra created Pellé Santino in 2016, and they have taken off like crazy since then. They bring to the table a world-class product, at an unbelievable price.
The reason for that is simple (and they are very transparent about that) – they use the direct-to-consumer model, which allows them to dump off the markup added by the wholesaler and retailer.
They were actually bypassing the long-time model with a retailer in the middle. Their shoes are ethically crafted in a small workshop from full-grain leather using a Blake stitch construction as well as a leather lining.
What Makes Pellé Santino "The Best"?
Pellé Santino is a celebrated shoe brand that's cherished for its simple and sleek designs. But there are so many elements, beyond just looks, which we think are turning a lot of heads towards this label.
Let me walk you through some of these elements that separate Pellé Santino from other brands and make it one of the best formal shoe brands in India.
1. Goodyear Welted Shoes: With its Goodyear range, Pelle Santino intent on placing a stick of dynamite alongside the entire idea of the initial outlay for a Goodyear Welted Pair.
Goodyear Welt Construction is one of the first major upgrades separating heritage shoes from disposable footwear and Pelle Santino from any top 10 Formal Shoes Brands.
Named after Mr. Charles Goodyear Jr, who patented the construction technique in 1871, the Goodyear welt is often cited as a hallmark of well-made shoes… which aren't cheap – Every time.
A welt (ribbon of leather) runs around the edge of the upper and is used to hold the component parts of the shoe together. Constructing a Goodyear welt involves running a lockstitch through the upper, insole, and welt, while an entirely separate stitch is used to attach the outsole.
It's labor-intensive, but this double-stitch reinforcement makes the shoe incredibly resilient and ensures the threads will never unravel.
This construction solves the resoleability dilemma by adding an additional third element — the welt — to completely transform the functionality and longevity of a shoe.
Even though the prices for their Goodyear Welted pairs are not what it usually takes to own such pairs, with a little compromise with durability and huge price difference – is their Blake Line.
The only difference between their Goodyear Welted line and other top pick is the amount of burnishing involved, a detail that might not concern you if you're the type of guy who likes his menswear as classic as it can be.
2. Price: Pellé Santino prides itself on offering value for money with quality yet relatively affordable shoes. Firstly, to be able to sell dress shoes when on a tighter budget, most manufacturers are obliged to use shortcuts and will skip important processes.
The label will grant access to higher grades as they reap the benefits of going direct to consumers. They manufacture in-house, craft all their shoes in small batches. With Santino, Gentlemen, you get the best of both worlds. Beautiful long-lasting quality footwear at even more beautiful prices.
We own some pairs of Pellé Santino and can attest to the fact that they offer high-quality shoes at very attractive prices. Out of all the brands in our guide on best formal shoe brands in India – we have to admit that Pellé Santino is a fantastic entry level for the Gentlemens and specifically the young generation who wants to give the sartorial path a try.
Pellé Santino is an excellent start to your sartorial path. At this price point, Pellé Santino starts to show some of the more nuanced elements of high-end shoemaking. Unquestionably – worth attention, if you're serious about your shoe game.
---
Hush Puppies
Pros
Innovative
No break-in required
Service: Ready-To-Wear OnlyBest For: Derby
One of the pre-eminent names of the Indian Formal shoe market, Hush Puppies has excelled in traditional formal shoes and boots. When it comes to formal shoes – Hush puppies is just an amazing company. The Quality, Comfort, Style has just been elevated through the roof.
Hush Puppies bring a bundle of things to the table – that it's kind of hard to pigeonhole them in one category. It is safe to say that – Its formal range leans towards the practical side of the spectrum.
Here Is Hush Puppies' Interesting Story
With the tagline of "We invented casual", by 1963 one-in-ten adults in the United States owned a pair of Hush Puppies.
Founded in 1958, Hush Puppies is the result of an extensive effort by Wolverine World Wide to develop a practical method of Pigskin Tanning (one of the most durable) for the US military.
Hush Puppies were introduced to the industry at the National Shoe Fair in Chicago. The reaction was immediate and overwhelming.
With the tagline of "We invented casual", by 1963 one-in-ten adults in the United States owned a pair of Hush Puppies.
The success plan takes off in 1995 when fashion designers John Bartlett, Anna Sui, and Joel Fitzpatrick began featuring them in their collections.
Hush Puppies soon began to turn up on the famous feet of stars such as Princess Diana, Jim Carrey, Sharon Stone, David Bowie, Tom Hanks, Dennis Rodman, and Sylvester Stallone.
It didn't take long for the rest of the world to discover Hush Puppies. After signing an agreement with Wolverine in 2013 – Bata launched Hush Puppies in the country as part of its retail expansion strategy.
From the first Hush Puppies store at Rajpur Road, Dehradun in India to today, where Hush Puppies India now has 100+ dedicated retail stores across the country showcasing the full range of Hush Puppies favorites.
What Makes Hush Puppies "The Best"?
Unquestionably, Hush Puppies holds a place in the Indian formal shoe market and is well-known for providing excellent value. Of course, their shoes might not the best formal shoe for men that money can buy.
But because of some unique elements that go into their shoes – Hush Puppies is (in a specific segment of the market) pretty much without competition. Here're those elements…
1. Innovative Approach: When it's about innovation in casual kicks and dress shoes – The Puppy is Killing It. Hush Puppies history is rooted in innovation – From the beginning, the revolutionary use of Scotchgard® leather protector, added during the tanning process, made Hush Puppies leather scuff, stain, and water-resistant and changed suede footwear forever.
Blending technology and Dress shoes are grueling but HP developed dozens of patented technologies that make their shoes more comfortable, lightweight, and worry-free. To cite an instance, Its Zero G® combines a lightweight shock absorbing midsole with athletic construction for instant and lasting comfort.
2. Versatility: Gentlemen, it's a fact that Hush Puppies got the wheels in motion years ago by dint of their casual positioning. Today, No matter how deep they dig into the formal scenario – there is a casual flavor in most of their formal designs. By and by, it plug-in versatility in their dress shoes.
There are so many models in Hush Puppies' formal lineup that is versatile enough to go with just about everything you have in your closet. Whether you wear these to a job interview, first date, or wedding, Hush Puppies will prove to be an invaluable addition to your closet.
Hush Puppies is a very safe bet when it is the best formal shoe brands in India. They offer some very interesting shoes that cover everything under the sun. All-in-all, it's a reliable formal shoe brand in India that definitely worth your attention.
---
Alberto Torresi
Pros
Sleek design
No break-in required
Cons
Low perforation rate (Upper)
Service: Ready-To-Wear Only Best For: Oxford, Derby, and Monk Straps
The rise of sneakers as an enduring fashion trend has one major side effect: Dress shoes have slipped under the radar. Gentlemen, if you think dress shoes are giving way to casual lace-ups even in formal settings like the office or a soiree – Alberto Torresi is an instant option for easy, elegant dress shoes.
Whether you're standing all day or suffer from conditions such as plantar fasciitis – we have tried a number of their shoes ourselves and can attest to their all-day comfort! Combining impeccable style with traditional craftsmanship, this brand is certainly worth your attention.
This Is How Alberto Torresi Started
When we think of family businesses, we tend to conjure up images of homely convenience stores and humble neighborhood pizza parlors, but this is not the case here.
Alberto Torresi is the creation of a gigantic family-owned business – Virola Group (date back to 1969). The idea behind the label is to bring European-quality dress shoes to the Indian market at affordable prices.
The story starts in late 2009 when Virola made its domestic appearance with an initial seed capital of fifteen lakh rupees (20,000 dollars) with all eyes on Mr. Ishaan Sachdeva – The men behind the success of Alberto Torresi.
Ishaan's business sense and understanding of the market dynamics remit Alberto an early boost. He has been instrumental in leading the company to new heights.
Since he has taken over the reins of the business, Alberto Torresi has witnessed a repeated growth of 100% year on year and he can be credited for introducing many innovative strategies that have helped to further propel the brand.
By dint of all such efforts, despite the steep competition, Alberto Torresi has entered the conversation. For three years in a row (2016, 2017, and 2018) the label won the "Most Admired fashion brand of the year".
What Makes Alberto Torresi "The Best"?
Alberto Torresi may be a new player on the market, but they are quickly growing in stature and can give brands a good run for their money nowadays. There is a handful of reasons for the great impact on the scene.
1. Innovative Approach: Alberto Torresi has incorporated new technologies to the dress shoes that embrace and groom the 'Hypebeast generation'. Sometimes it just doesn't work, but in this situation – We think Alberto Torresi hit the nail on the head.
The label just did a fantastic job with their IMPACT collection. They have embraced a new approach to cushioning our formal experience. This is kind of like 'torchbearer' for better technologies and new features to keep their pairs reliable and supportive.
2. Affordability: How sweet is it when you find a brand that actually exceeds your expectation in terms of price and quality. Nope, we're not sugarcoating anything. In fact, The brands' forte lies in affordable pricing.
In our opinion, it doesn't get any better than Alberto in terms of price in all the range of what you need – covers Oxfords, Derby, Loafers, Monk-Strap, and Dress Boots.
Alberto may not make as much noise as some of its contemporaries, but while they're all battling it out trying to come up with the next big thing, the label is quietly working away in the background, perfecting the classics.
---
The Royale Peacock
Pros
Goodyear Welted Construction
Sleek Fit
Cons
Break-in required
Higher Price Tag (for cemented shoes)
Service: Ready-To-Wear Only Best For: Goodyear Welted Dress Shoes.
After covering the most affordable option, let's jump on to the other side of the scenario. If you throw on a nice suit and pairs it with cheap, clunky lace-ups, you're not what we'd call a detail man. some occasions demand footwear that's as refined as it is timeless.
Luckily, there are options (Very Few) for Quality dress shoes. The Royale Peacock is one of few Indian Formal Shoes Brands that make Goodyear Welted dress shoes. And that's what I want to stress, the company is committed to offering high-quality dress to gentlemen like you.
Here Is The Royal Peacock's Interesting Story
There are plenty of brands all around the world that make the best formal shoes for men. While some are steeped in heritage and tradition, many new manufacturers seek to provide us with something novel.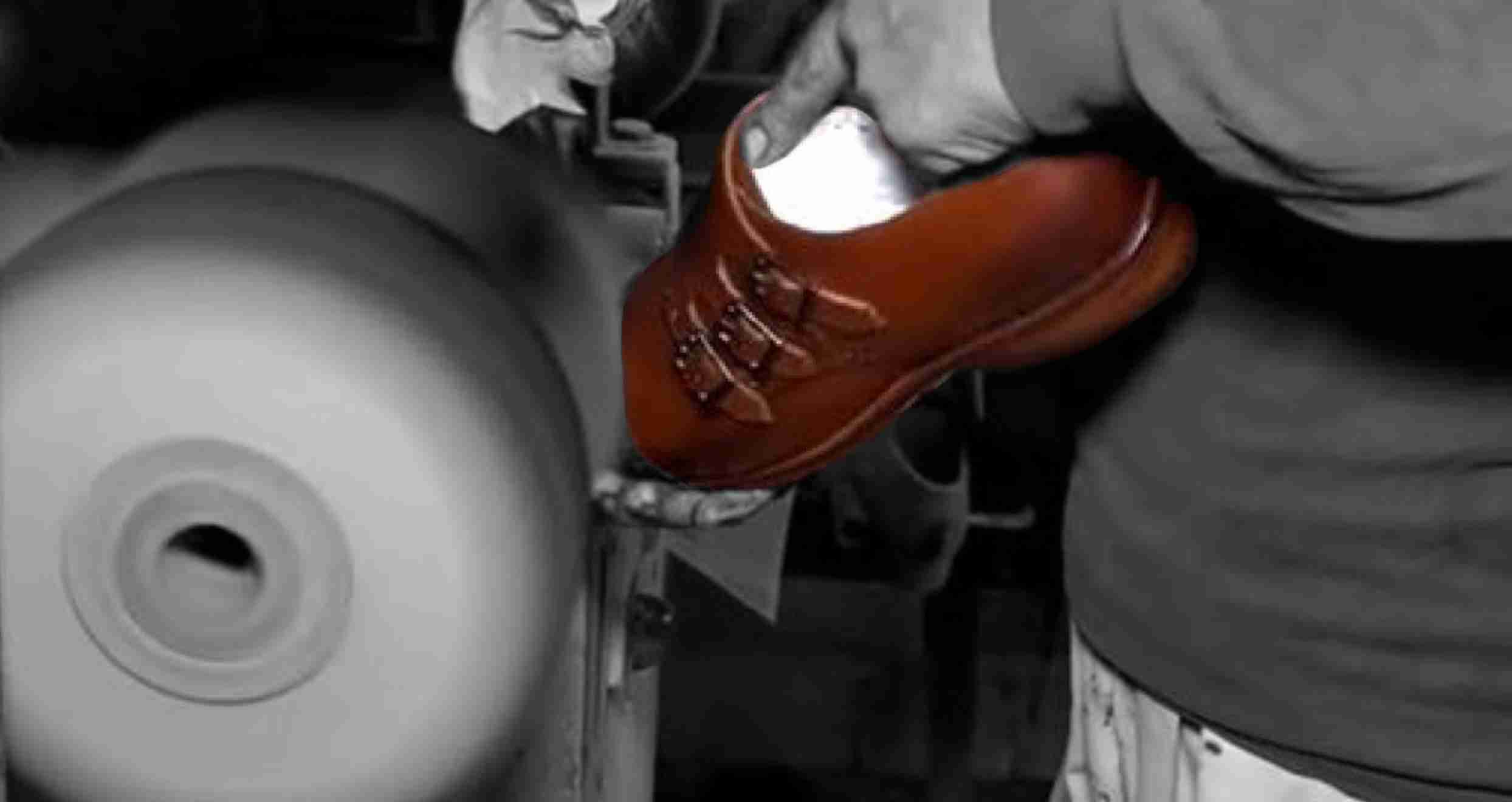 Something of a young upstart in the dress shoe industry, The Royale Peacock seeks to change dress shoes as we know them in India.
The label grows from the Serendipitous meeting of two high school friends – Shubham Dhupar and Ayushi Doneria – passionate about Goodyear welted shoemaking, in January 2019.
Seeking to update normally accepted Glued-On and Bonded dress shoes, Shubham and Ayushi began experimenting with the most reliable foam of dress shoe construction – Goodyear Welting.
Foregoing traditional shoe construction followed in India, The Royale Peacock shoes are inspired by English Aesthetics. Although not feature a Blake stitch construction, their manufacturing process offers a sturdy and well-built shoe.
What Makes The Royale Peacock "The Best"?
Foregoing traditional shoe construction followed in India, The Royale Peacock shoes are inspired by English Aesthetics. Although not feature a Blake stitch construction, their manufacturing process offers a sturdy and well-built shoe.
As earlier mentioned, The Royale Peacock is from a few dress shoe brands making Goodyear Welted Dress Shoes In India. But despite having other options or being able to choose anything – why we should reach Peacock? Let's address the elephant in the room…
1. Goodyear Welt: Now, this is "the most" interesting element of this label, and it's a huge step-up in quality. Instead of using Glue, they are actually stitching the upper down to the sole. Here, Welt is the key. The Welt is directly sewn in the Upper, and then Welt is sewn to the sole.
A Goodyear Welted leather dress shoe is the Pinnacle of ready-to-wear formal shoes – not just for their comfort but for further durability and longevity. We have covered a little bit (Or..a lot) more on the advantages of Goodyear Welting later in this guide.
2. Snug Fit: In our opinion, the most important part (for the fit of the shoe) is the middle part. You want it fit snugly around your foot so it holds it in place even without you having to tie your shoe.
When I first tried their Black Cap Toe Oxford, it just hugs my feet without being too tight or too loose. These shoes are built on a relatively narrow last, giving them more of an Italian feel.
It's certainly significantly more expensive than any other standard collection, but the label features an unprecedented amount of handwork that you would otherwise not find in a standard or even the best formal shoe brands in India.
Goodyear welting is the gold standard of high-quality, incredibly durable leather dress shoes. And if this is all that you need – you can't do anything better than a pair of The Royale Peacock.
---
SeeandWear
Service: Ready-To-Wear Only Best For: Buff Leather Dress Shoes
It is so incredibly frustrating when you go out there and buy dress shoes based on the brand only to get it home and realize – The Quality… ? ?. If we call certain brands – for being overpriced – we better bring super strong with an affordable option.
Sometimes men's dress shoes for under a certain dinero seems too good to be true and unfortunately, it's often the case. But SeeandWear is an exception to the rule. We're really fond of this label as they offer decent quality and fair prices.
Here Is SeeandWear's Interesting Story
SeeandWear is an interesting brand and something unique from the others featured in this list of best formal shoe brands in India. Originally, They started as Exporters of top-quality dress shoes to English manufacturers.
By and by, they learn in detail the construction and craft of dress shoes. In our opinion, these types of people are so important in the shoe industry.
As they are carrying other brands and after decide to carry their own brand because they know where to make the shoes, how to monitor big factories, and in this case how to make quality shoes at an unbelievable price.
Founder Prabhat Saini believes that at some point in every bro's life, he's gonna need some dress shoes. But that doesn't mean that you have to refinance your life in order to pick up a decent pair of shoes.
So Mr. Prabhat Saini launched their own range of footwear in 2011 – SeeandWear. With this label, Mr. Prabhat is passing the benefit of their knowledge and experience on to the customer.
What Makes SeeandWear "The Best"?
It didn't take long for SeeandWear's whimsical but practical footwear to charm the fashion crowd. But you might be wondering – Does SeeandWear make the best formal shoes for men? Heck NO. Although, this label deserves serious consideration.
1. Overall Construction: Simple, classic, standard nothing crazy – this is the working law of SeeandWear. There are some bijou components that make their offering very interesting. At the deeper slice of a dress shoe, we assume a cemented sole with some synthetic upper.
But this is where SeeandWear put a lot of thought and comes up with something special. They use the Blake Rapid Construction method allows making a double-bottomed dress shoe. We get a Genuine leather upper in most of their models. Might not the softest leather (Calfskin), you might feel a little firmness, but still, it'll get the job done.
2. Price: SeeandWear is simply a fantastic brand when on a budget. Through the years, they mastered the skill of putting costs on the lower end. All of these shoes represent good value at their respective price point. And this is the biggest reason, the label has made its way into our guide of best formal shoe brands in India.
Every self-respecting man needs a pair of quality dress shoes to ensure that he's prepared for a formal occasion or needs to wear a suit. Whether you wear them regularly or just once in a blue moon, Seeandwear is a perfect option.
---
Red Tape
Pros
Wide range
High stitch density
Price
Service: Ready-To-Wear Only Best For: Cap Toe Oxford And Deby
Red Tape is an interesting brand and something unique from the others featured in this list of Best Formal Shoes Brands In India. The label enjoyed a dynamic and celebrated career as a formal shoe brand in India. They are known for having a user base that's very loyal and enthusiastic about their formal models.
Red Tape has kept itself firmly in the game by producing exceptional formal shoes and is giving a tough fight to their foreign counterparts even today. Thanks to their massive offering (almost everything under the sun) at an insanely affordable price point.
This Is How Red Tape Started
The history of Red Tape can be traced way back to the '90s when leather manufacturing giant – Mirza International launch RT to increase its trade rim. Started as a leather tannery, Mirza International Limited was incorporated on September 5, 1979, by Irshad Mirza and Rashid Mirza.
The company focused on supplying high-quality leather and leather products to the overseas markets and gradually became one of the biggest exporters of finished leather in the country. Mirza took a notable leap, by venturing into newer fields of leather footwear.
After successfully reorganizing itself, Mirza moved a step ahead of others by launching its own brands 'Red Tape' in 1996.
Red Tape not only helped the Mirzas in getting a foothold in the international market, but it also assisted them in transforming a fledgling tannery business into one of the country's largest leather exporting companies.
Endorsed by the style icon Salman Khan, Red Tape has a retail network of over 120 exclusive stores across the country.
Red Tape today has become synonymous with hi-fashion & lifestyle, owing to its unmatched quality, skilled craftsmanship, and trendy products. Endorsed by the style icon Salman Khan, Red Tape has become India's most loved premium lifestyle brand.
What Makes Red Tape "The Best"?
Red Tape has been around for almost 25 years. They have made their way and get the brand known out there. But It's no secret, there're tons of formal shoe brands in India working on the same piece. So What sets Red Tape apart from other luxury shoemakers?
1. Affordability: Quality dress shoes can be a bit harder to nail though. But there are occasionally exceptions to the rule – Red Tape. They're making the best cheap men's dress shoes you can get your hands on right now that won't compromise style for price.
Most of their models are manufactured using Top Grain and Genuine leather. As a result, they look the part and the cemented rubber soles are quite subtle and not a huge giveaway of their low price.
2. Massive Range: What is very interesting in Red Tape is the range they have – it's extremely large. They carry pretty much all the styles in the formal section. It covers Cap toe oxford, Wingtip Oxford, Plain toe Oxford, Apron toe derby, Full Brogues, Semi Brogues, Quater Brogues (Not Longwing Brogue) and that's something very special about Red Tape.
If you want to play it safe, specifically if you are at the very beginning of your sartorial curve – Red Tape is a great option to start your sartorial path.
---
Bata
Pros
Cost-Quality Ratio
No break-in required
Light and comfortable
Cons
Cemented construction
Very low perforation rate
Service: Ready-To-Wear Only Best For: Derby
Bata India Ltd is one of India's most prestigious and oldest shoemakers. The brand is best known for its cult-like following among shoe aficionados for their ability to combine extraordinary softness and comfort. Unquestionably, Bata gets a big bite of the country's formal shoe market.
The brand is fairly lauded for its refined lasts, genuine leather, patent leather, from basic slip-on to lace up, derby to Monk strap, Bata has every style range you need to groove your office look. Aside from the massive formal range, what sets Bata apart is its price spectrum.
This Is How Bata Started
Established as T. & A. Baťa Shoe Company on 24 August 1894 in the Moravian town of Zlín, Czech Republic. There wasn't a quantum leap until the company started making shoes from canvas instead of leather to overcome financial difficulties.
Since the beginning, Bata was primarily focused on mass production. As in 1904, Tomas Bata (Founder) introduced mechanized production techniques after a six months visit from America to understand their system of mass production. With this step, the Baťa Shoe Company become one of the first mass producers of shoes in Europe.
Such success helped fuel the company's growth. Until 1932, the Baťa company employed 16,560 people, maintained 1,645 shops and 25 enterprises.
This legendary brand entered India in 1931 as Bata Shoe Company Private Limited in Konngar West Bengal which was then shifted to Batanagar which later become the first manufacturing facility in the Indian shoe industry to receive the ISO 9001 certification.
The company has entered into an agreement with Bata Ltd of Toronto Canada for the supply of technical know-how and services such as Footwear technology and design, brand development, product development, retailing, and information systems for a period of ten years from January 1, 2001.
Currently, it has five factories located at Batanagar, (West Bengal), Bataganj, (Bihar), Faridabad (Haryana), Peenya (Karnataka), and Hosur (Tamil Nadu). Today Bata commands around 35 percent of the market share in India. The company's 98 percent revenue comes from domestic operation through its 1250 stores and over 30,000 dealers spread across India.
What Makes Bata "The Best"?
Bata is known for having a user base that's very loyal and enthusiastic about its products. But there is an equally enthusiastic hatred toward Bata from other people in the formal shoe community.
If you're having trouble understanding why anyone would choose Bata formal shoes over their competitors – here are some solid reasons why bata is one of the best formal shoe brands in India.
1. Cost Quality Ratio: In 2004, Guinness World Records recognized Bata as the world's largest shoe manufacturer and retailer for having sold more than 14 billion pairs of shoes. With such a massive production, Bata reaped the benefits of economies of scale.
The whole costs are spread over a larger number of shoe results – an unbeatable Cost Quality ratio. With all such actions, we (as a consumer) get an amazing product at an incredible price.
2. Massive Range: You can find pretty much everything that comes under the formal section. If you are bored of pairing the same lace-up and slip-on formal shoe again and again then Bata has a lot more to offer you.
The new range of derby and monk strap formal shoes will surely blow off your mind and make you fall in love with them. This range is sure to turn around your style to more expressive and casual while retaining your corporate look.
Bata has been a hit with the Indian middle class and probably most of our first pair of shoes had the brand embossed on them. The label comes across as a relief offering a wide range of affordable and practical formal shoes.
---
Type Of Formal Shoes
By here, you might have spiked formal shoe brands where you may splurge your hard-earned dinero, Right? But all the top 10 formal shoes brands are constantly producing hundreds of different types of shoes & boots.
Apparently, you're up for one (maybe two!) pair! And the best way to ensure you're spending that money wisely? Know the playing field. Once you understand the available options, you're already halfway there toward looking your best at any event.
There are several different types of formal shoes and broad categories furthermore that indicate different formality levels, appearances, and wearing experiences. Check out all the possible options and nail a style that lets you feel something when you get dressed in the morning for work.
The Oxfords
Most of us go for an Oxford shoe without even thinking about it. It's one of fashion's few no-brainers: they're the reliable leather lace-ups you turn to whenever you need to look smart. Nothing else comes close.
A style that can go with your most formal options, so you'll never be out of luck for a big work event—or if you have to throw on a tux. But why they're the ubiquitous choice to wear with tailoring and formalwear?
That's thanks to oxford's "closed-throat" construction (More commonly – Closed Lacing System), whereby the inside and quarters are stitched underneath the shoe's vamp, and the tongue is stitched in beneath them in turn.
With a history dating back over 200 years, it is said to take its name from the students at Oxford University, who were early adopters of the style.
Every formal shoe brand in the world has a version of this style, and although they all have the same features, they are all separated by how the shoemaker executes the making of the shoe.
Less flexible fit, but most formal. This arrangement provides a slim silhouette that hugs the foot's contour. From seriously sophisticated looks for your tailored outfits – to nailing the 'Smart' portion of your smart-casual attire: Naturally, no list of Best Formal Shoe Brands In India would be complete without Oxfords.
The Wholecut Oxford
Almost every Classic Work Of Art can be cheaply mass-produced. Of course, they aren't quality, but we've them and they are not going anywhere sooner.
But A Beautiful Wholecut Oxford hasn't made it to this Mass-ive market… Yet! Because it is the most simple shoe, but "The Most" difficult shoe to make. It's an oxford with no cap-toe, no perforations – just a simple cut in the middle for the eyelets… and that's what makes 'em very desirable.
When You Have Nothing To Distract The Eye – Everything Is In The Last. The last is the shape of a shoe. And for a pair of Wholecut – it is just the cut and the last. And to exhibit the shape along the edges, it has to be hand-lasted and pulled around the last to create that shape. And if it is done too quickly in a factory setting – it's a leather block, not and Wholecut Oxford.
What makes these shoes challenging is that the shoemaker has to select only the highest quality leathers possible. Because the pattern piece is so large, whenever the pattern is laid out over the leather, it has to be a large unblemished area of the skin.
They can't simply move the pattern pieces around to avoid small blemishes. From a design perspective, Wholecuts are one of the most formal models – right up there with the pain cap-toe oxford.
In fact, If you want to spot a good shoemaker – look at his Wholecut. You might know this, but the biggest shoe companies in India don't have Wholecuts in their massive offerings.
The Derby
Pull the quarters of an oxford out of the vamp, open up the lacing system, slightly scroll down the formality level, and that's a Derby.
A Derby is a popular shoe, if not for its country origins, but for its fitting qualities. It is a style that offers greater margins of adjustment to ensure the right fit is achieved, from the very first time you try them on.
Inspired by the heavy-duty shoes and boots worn by this country's postal workers, brands from Giorgio Armani to Valentino have reinterpreted the classic mailman shoe with ever-chunkier soles.
An older and slightly more relaxed cousin of Oxfords – A good pair can work with just about any kind of suit. Plus, the open-throat silhouette—the leather around the laces runs parallel, and over the vamp—can pull double duty with everything from jeans to tweed trousers.
So if you're a gentleman who wears a suit with some regularity, but also needs a pair of shoes on hand that'll work for date night on the weekend, derbies won't do you wrong.
The Monk Strap
Moving to the suburbs a.k.a "Unbeknown To Many" type of styles and starting with – The Monk Strap. With its bold buckle, this shoe sits comfortably between an Oxford and a Derby in terms of formality, and as a rakish alternative to a lace-up.
Favored by style aficionados looking for something different – This shoe takes its name from the monks who originally donned them, as this simple closed-toe design provided greater protection than their traditional sandals.
With open quarters, and a whole-cut vamp and tongue, Monk straps (both single and double buckle) are remarkably comfortable on the foot and boast similar fitting properties to Derby shoes.
Single monk straps are more understated and timeless (try chocolate-brown suede), while the two straps of a double monk exude a military feel – and are usually designed with a toecap.
We haven't seen a style (while tapping the best formal shoe brands in India) that checks these many boxes when it is about pairing 'em – you can treat monks like just another pair of kicks.
The quintessential sartorial accompaniment to the monk strap shoe is a well-tailored suit, but when paired with those slim-fitting jeans – the monk becomes the focal point of an ensemble.
Add a little attitude to your ensemble with these handsome devils. Don't be shy with those shoes! Really make your monks pop by showcasing them with cuffed pants hemmed short.
The Loafer
There are tons of comfortable options that scream the "Made-For-Me" sensation, but from them – the loafer is the only one that is office appropriate and might earn you compliments while you're at it.
Defined by their low construction and lace-less upper, they are traditionally worn as a more louche alternative to the Oxford or Derby. Thanks to their slip-on nature, loafers lend themselves well to off-duty ensembles, but if cut from a fine piece of leather – they look equally dapper when paired with a suit.
Yes, your choice of material and finish will determine just how formal the loafer is; suede is better suited to smart-casualwear, and full-grain leathers benefit from rugged country-going styling. A smooth calf is perfect for wearing around town, and for formalwear.
The origin is disputed, but King George VI is said to have wanted an indoor shoe for his country house back in 1926. Low sitting and without laces, they have a moccasin-like upper, often with a piece of leather straddling the upper (the saddle).
What outfit can't be improved upon with a good pair of loafers? They go with literally everything. The slip-on style comes in shapes sleek and stylish enough to wear with even your sharpest two-button. Wear them with some sweats or track pants, and they say "I made an effort today."
The Dress Boots
All types of men's boots were first engineered for a function, decidedly not meant for dressy occasions, and would be more at home at a construction site than in a boardroom.
But with their modern iteration, a.k.a Dress Boots – Wearing boots with a suit isn't a difficult endeavor. They're every bit as refined as the rest of the styles on this list of best formal shoe brands in India.
But here's the thing: you can't just pair any pair of work lugs with your finest tailored clothing. The trick is to focus on a streamlined silhouette and elevated construction. But if you're frustrated When is a boot dressy enough to be worn with a suit? Feel free to click around.
A pair of boots from Birdlen can take you from work to the weekend with ease. Many can even match smart casual and semi-formal ensembles, making them a valuable wardrobe addition.
Brogues
Only When You And Your Workplace Is Not Scared Of A Little Bit Of Detailing.
Brogueing isn't a style of dress shoes. When we're talking brogues, we're not talking about a silhouette, but the detailing that goes on top of it.
The signature perforations were originally a functional thing, designed to let water drain out of the shoes worn to tromp through Irish bogs. Now, it's ornamental, but still a mainstay of modern dress shoes.
Brogueing is most often seen on Oxford, Derby, and Monk Strap shoes in four toe cap styles: full brogue, longwing brogue, semi-brogue, and quarter brogue.
The moment you put any perforation on the shoe, it creates a more casual shoe or what would traditionally be a weekend or country shoe.
Of course, the line between city shoes (for weekdays) and country shoes (for the weekend) is blurred.
But the point is still there – that more Brogueing on a shoe, the more casual it becomes.
---
3 Signs of a Quality Formal Shoe
There is nothing more frustrating than having the heel or sole of your favorite (or New) Formal shoe starts coming loose.
Every Gentleman (Just like YOU) need a good quality pair of Dress Shoes.
But, How do you tell the signs of QUALITY?
If you don't know what you're looking for – chances are you're probably just gonna be using price as an indicator.
And if that's all you're looking at, chances are – You gonna Overpay.
So If you're in the market for a new pair, look for these Three hallmarks of top-quality Formal shoes.
A Quality Leather Upper
All the Best Formal Shoe Brands In India claims that they craft shoes out of 100% Real Leather. And Undoubtedly they DO.
As for most average shoppers, leather is just leather. But do you know – As with most things in life leather has variations, or "grades".
They are nothing but different types of leathers based on their quality. Tha's why some materials last longer than others and why a particular formal shoe costs thousands, while others cost a fraction of that price.
So, What's the best leather?
Full-grain leather is the highest quality leather – more expensive and more sought-after than any other type of leather.
It comes from the top layer of the hide. It has not been snuffed, sanded, or buffed to remove any natural marks or imperfections from its surface.
As the grain has not been removed – this type of leather retains the inherent toughness. Thus, it is also the most expensive.
It absorbs body oils and develops more of that rich patina over time – a character that we look for in really high-quality Dress Shoe.
So what you have with Full-grain Leather, is a leather that looks better as the shoe ages (it develops a patina). So the more you polish the shoe and the more you wear it, the more richness and depth you're gonna see with this leather. Recommended and Guaranteed.
Top grain is the second-highest grade of leather. The surface is sanded to get rid of inherent imperfections. Pigmentation or staining gives the leather an attractive look.
This also makes top grain leather smoother and more flexible than the full-grain. Although this type of leather is strong and durable, it tends to stretch permanently over time.
Genuine leather is produced using the skin layers that remain after the top is split off and from the corium predominantly (see diagram). A lot of time it's actually SPRAY PAINTED to look like higher quality leather.
Construction Of The Shoe
There is nothing more frustrating than having the heel or sole of your favorite Formal Shoe starts coming loose. Even if the rest of the shoe is in good shape – Your favorite footwear is impelling towards the bin.
That's why the most important thing to look for in a Good Quality dress shoe is a Shoe Welt. The shoe welt is the spine of the shoe, where the outsole attaches to the rest of the boot or shoe.
Anytime we start to talk about the best way to attach the upper down to the sole – the word Goodyear Welted is going to pop up into the conversation.
Goodyear Welt is the whole point of well-made dress shoe and that's what allows the shoe to be resoled.
Such type of construction is for those who want something that they can invest in.
While a Goodyear welt construction carries a price tag, the technique means that the soles can be replaced time and time again, and the shoes will last a lifetime.
Think about it – if you've spent a lot of money on a dress shoe it'd be kind of ashamed to throw them away just because the sole wears out. It's almost like spending a bunch of money on a car and then sending it to the scrap heap just because the tires will wear out.
Goodyear Welt is the secret to longevity. It involves stitching the boot's upper section to the sole, using a leather strip called a "welt."
The welt joins these two sections along the sole's perimeter, and the visible stitching left behind is the tell-tale sign of a Goodyear welt.
Next up, we've got the Blake Stitched formal shoe. Imagine taking the Goodyear Welt actually moving the stitches on the inside and getting rid of the welt, and instead simply connecting the upper with the inners and outer sole all together with one stitching going through.
With Blake Stitch, you'll get all the durable advantages of the Goodyear Welted shoe at a lower price.
It's a more modern type of stitching process, very common in an Italian dress shoe because it enables to create a very SLICK looking dress shoe of high quality.
But in India, the most common way to manufacture formal shoes is through a process called Cementing. They're using an adhesive to connect the outer sole with the upper. Because little craftsmanship is involved, this is the Least Expensive Form of Manufacturing.
The biggest disadvantage is that once the soles come apart, you pretty much have to throw the shoes out. The upper could look beautiful, but you still have a useless shoe. They're basically producing DISPOSABLE shoes.
Affordability
The final thing to look for in a quality dress shoe (at least in my opinion) is Affordability. This may seem counterintuitive to you if you don't know the signs of a Quality Dress shoe because again you might be using price as your only judgment. While there's some correlation between cost and quality.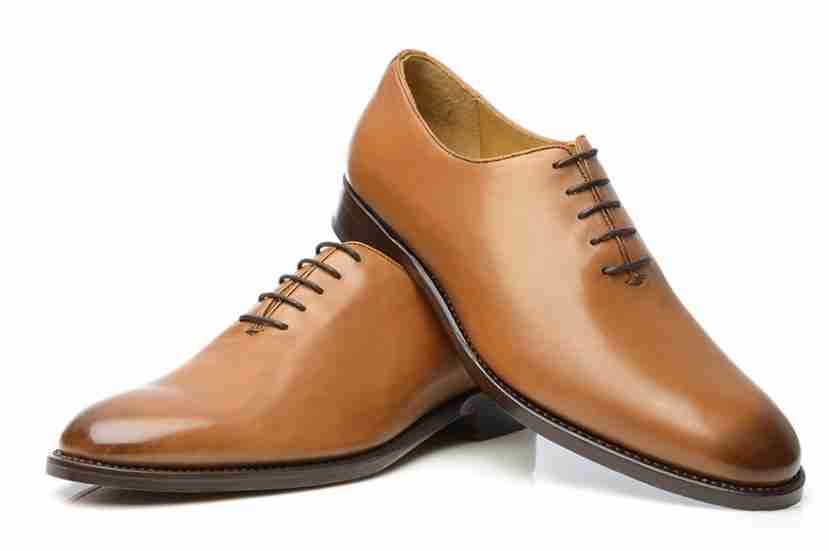 At retail, you're gonna pay two hundred to three hundred percent markup. So, the extra cost that you're paying isn't necessarily going towards the Quality of the shoe.
What you're actually paying for is the cost of the Carrying Inventory, Rent of the Store and Hedge against Risk of Mass Production.
As you are going to invest considerable funds for buying your favorite pair of dress shoes and ensure that every penny you spent is towards the quality of your new pair of dress shoes, make sure that you Buy Online from the brand's official website (not from any e-commerce website).
While making a final decision is up to you, the details provided in this section of our guide on Best Formal Shoe Brands in India – has everything that will surely level up your knowledge to make the final decision.
Which Shoe Brand Is Right For You?
If you're preparing to purchase a new pair of dress shoes, you might be wondering, how much should I spend on a shoe and on which shoe brand?
In this section of our guide on Best Formal Shoe Brands in India, We'll gonna make it even more difficult for you to go wrong (or overpay). So, let's dive right in to find out EXACTLY which shoe brand is Right for You and How Much You Should Spend on Formal shoe.
Gentlemen – The answer heavily depends on your Lifestyle, your Professional Need, your Personal Need, and your Style Wants.
In this day and age, everything is more vague and fluid , so looking at some basic elements can help you to nail a perfect brand out of those best formal shoe brands in India.
This might fell under two categories – whether your career calls for professional attire every day or you occasionally attend formal events.
If you're locating opportunities or instances (not too many) where you have to dress up and need a dressy shoe – Bata and Red Tape are brands that'll get the job done.
We (Generally) just don't wear formal shoes very often and don't really invest a huge amount of money on a pair. Bata and Red Tape – simply fantastic brands when on a budget. Their massive offerings will definitely complete your occasional formal attire.
But for style-conscious Gentlemen, Alberto Torresi is Best Bang for Your Buck. They're sleek, slightly fashion-forward aesthetic. With Alberto Torresi you'll find something that fits you with your style, your wardrobe, and your wallet.
But if you're on the other side of the camp, spending countless hours in meetings and presentations or you're standing all day or spend most of your time in a formal environment – we need to step up a for you.
Pellé Santino is a perfect brand to start with – stylish but appropriate. A good (high quality) pair of leather dress shoes that will not blow your bank account. you'll never be out of luck for a big work event with any of their model.
But if you want to stand out and showcase your style in a dapper manner – you can't do anything better than a pair of Brune & Bareskin.
If you're the kind of Gentlemen who wears a suit with some regularity but also needs a pair of shoes on hand that'll work for date night on the weekend, Brune & Bareskin won't do you wrong.
If you start involving your style and accepting that adding leather shoes to your location can actually make you look more stylish – Escaro Royalé is your brand.
Even among this pantheon of some of the best formal shoe brands in India – Escaro Royalé still stands out. You can find some Jewels at very decent prices.
Each shoe brand has its own uniqueness that is going to appeal and just connect with you differently. All the brands represent good value at their respective price points.
But Anything above ₹10k – You really begin to hit the point of diminishing marginal return. That extra money isn't necessarily going towards the Quality of the shoe.
Honestly, Majority of brands produce dress shoes that are made to be worn for a year and then be thrown away. The upper and sole are Glued (not stitched) together. Before you know it, the upper starts to peel and the sole slowly comes off.
With upper made up of Synthetic Leather – The material gives in easily to creases and cracks which you'll soon begin to see. You can polish and take good care of these shoes but they eventually degrade.
But If You Consider Formal Shoe As An Indicator of Your Status and Wealth, then don't be afraid of laying down a few extra bucks if you're able – here're 5 Solid Reasons To Invest In Quality Dress Shoes:
Now the bigger question arises – What shoe brands you should invest money in and which ones to skip?
We guarantee the brands that now we're going to revel make some of the best formal shoe money can buy. We're not talking about Gucci or other designers which automatically charge more because they have a name.
So without further ado, let's get started…
MEERMIN
If you want to step in to inside the world of Quality Dress Shoes – Meermin – An excellent introduction in the world of luxury shoes. Many consider them to be a more affordable, and sleeker alternative to Allen Edmonds. They offer well made, quality Goodyear Welted shoes at a price which is Incredible.
For $195 (₹14k) you can have REAL Goodyear Welted Dress Shoe. This means that the shoe can easily be restored and resoled for years and years of wear to come. If you really don't know what's a Goodyear Welt, It might sound expensive.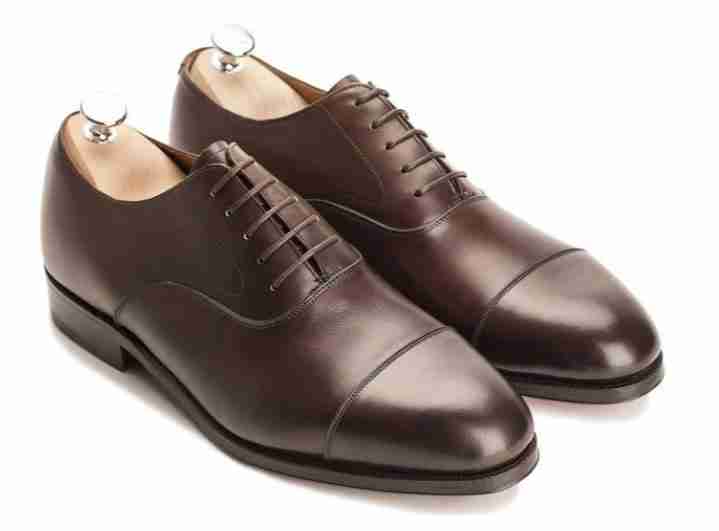 With the finest materials sourced directly from the tanneries, these Handcraft shoes are directly distributed to customers to eliminate those extra layers of cost.
There is not a single doubt in my mind: Spending ₹14k for a pair of shoes from Meermin is almost an infinitely better investment than spending any amount on a pair of shoes from any formal shoe brands in India.
Meermin is an Excellent Value Specifically for the price. With all that in mind, Meermin is definitely a solid place to consider.
J.FITZPATRICK
With Justin FitzPatrick Footwear, We might be crossing the majority of readers' comfort zone (Budget wise). But if money is of no concern to you and if you're passionate about Quality Dress Shoe – J.FitzPatrick is the perfect halt for Gentlemens like you.
With such a saturated shoe market and competition at every price point, it is very difficult for a new player to infiltrate it. This is exactly what Justin FitzPatrick has done with EXCELLENT shoes. Not only that, he just started in 2013!
Believe me, for $400 to $450 ( ₹29k to ₹32k) you'll get a pair of classic, Full Grain Leather, Goodyear Welted timeless dress shoes that will last for years.
The brand has an extensive line of Dress Shoes and Boots with different styles.
J.FitzPatrick's Made to Order program gives you the ability to customize many of the components that make up one's shoes; such as the last shape, the leather, the sole choice as well as many others.
Little details in the shoes show that the Brand really thought about everything from start to finish. Very Good Investment -name to remember Justin FitzPatrick Footwear.
There is no better way to end this ultimate guide on Best Formal Shoe Brands In India with the Most Iconic Dress Shoe Maker In The World. The brand continues to be recognized around the world for its classic English Aesthetic and Uncompromising Quality. In my opinion – The Best Formal Shoes that money can buy. Gentlemen, It's Edward Green.
Edward Green
Edward Green. Aficionados of smart dressing nod their heads in familiarity when they hear this name, a synonym for quality and style for over a century.
When we're talking about Edward Green, in fact, we're talking of an extremely limited amount people on the earth. $1000 (₹ 72k) without question Exceptionally Expensive, which makes each pair of Edward Green Dress shoe an Investment Piece.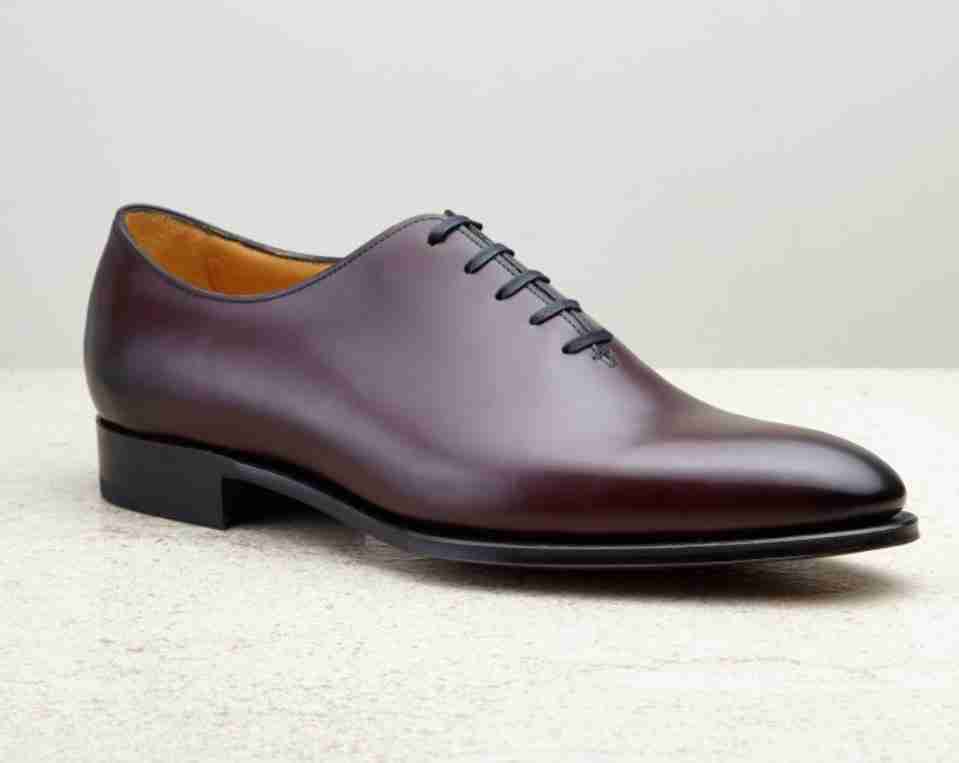 This historical footwear manufacturer has been around a lot longer than (1890) any other formal shoe brand we've considered in this guide.
Northampton based brand has over sixty skilled artisans making around 350 pairs of shoes a week, many for export to the world's leading boutiques and department stores as well as our own shops in London and Paris.
Cut and crafted by hand from the world's best leathers, every pair that walks out of the factory is the result of an artisanal process that has remained mostly unchanged since the house was established in 1890.
Only superior leathers such as French and Italian calf are used (which gives an Edward Green shoe its signature antiqued patina), time-consuming processes – such as the hand-cutting of materials – are employed and every sole is oak bark-tanned for nine months to ensure unrivaled comfort.
Having built a reputation as one of the finest shoemakers in the world, throughout their time they have done everything they can to ensure that this prestigious reputation stays intact.
Edward Green Dress shoes are truly investment pieces for those aficionados for whom only the best will do. The Label is not a Fashion shoe, you're not paying for one way marketing. What you're paying for is an Exceptionally Well-Made Classic shoe that if maintained well – will last probably All Your Life.
How can we improve BestShoe99? Got feedback?